Tween Heaven in Beverly Hills
LA socials Elizabeth Wiatt and Jamie Tisch opened their new store Fashionology LA the other day with a party filled with as many colorful cupcakes as Birkin bag-toting moms and their on-trend tweens. The Beverly...
---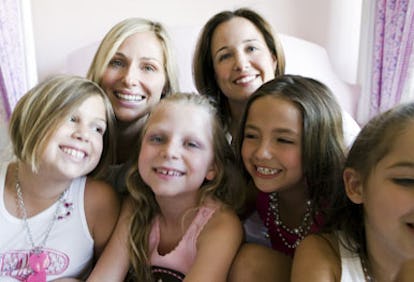 The Beverly Hills boutique allows young customers to play designer by customizing their own candy-colored t-shirts, hoodies and sweats with embellishments, appliqués, and charms on the store's oversized touch-screen design pads. Themes to choose from include Juku, Peace, Rocker, and Pop. Think of it as a retail version of Project Runway for the High School Musical set. The partners explained that their business venture stemmed out of their own lives as moms. "We were looking for a project to do together since we have four tween-age girls between us," said Wiatt.
And it really couldn't get more LA than this. The back of the store features a "stage" for photo-ops, where shoppers are invited to pose for red carpet-style photos, which are then displayed throughout the store.
Jamie Tisch (left), Elizabeth Wiatt and their daughters