If David Lynch Is Down, Showtime Is Open to Even More Twin Peaks
Showtime president David Nevins is open to discussing the idea, if David Lynch ever returns from vacation.
---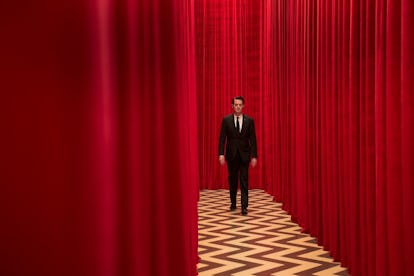 Despite the decades-long cult success Twin Peaks has found since the '90s, its director and creator David Lynch has been famously been less than happy with the way his series has been handled by TV networks—especially after ABC made him reveal the answer to the show's central question: Who killed Laura Palmer. And even Lynch and his co-creator Mark Frost's critically-adored revival of Twin Peaks currently on Showtime was fraught—there were some kerfuffles like Lynch's plans for the show ballooning to extravagant lengths, temporarily dropping out when he wasn't offered enough money, and casting no less than 217 actors, including everyone from Sky Ferreira to Michael Cera.
Still, difficulties aside, the show premiered this May to the tune of on-theme cherry pie, donut, and coffee-filled watching parties around the world, as star Kyle MacLachlan's Twitter account will readily attest. And now, 13 episodes deep, and with at least five more hours of the show on its way, it looks like there may be even more Twin Peaks coming after that—though we'll have to wait for Lynch to get back from the now months-long vacation he's reportedly taken in France since premiering the series at the Cannes Film Festival back in May—and since, you know, directing all of its episodes and generally devoting himself to their madness over the course of the last four years.
A Field Guide to Recognizing Your Favorite Twin Peaks Actors Now, 26 Years Later
Though Kyle MacLachlan has since starred in other cult series, even when he was Charlotte's impotent husband on Sex and the City and a murderer on Desperate Housewives, he'll always be known as Special Agent Dale Cooper, a man never too far away from a slice of cherry pie or cup of strong, black joe. (No word yet on whether Diane will be returning, too.)

CBS Photo Archive/Getty Images
Death be damned, Laura Palmer is coming back with a bang by starring in all 18 episodes of the new series—that is, unless Sheryl Lee, whose first post-Peaks role was Salome opposite Al Pacino, and who has since showed up in Winter's Bone and Woody Allen's Café Society, is simply reprising her role as Laura's suspiciously identical cousin, Maddy.

ABC Photo Archives/Getty Images
Dana Ashbrook has kept up acting with a steady roster of smaller films, including 2012's The Agression Scale with Ray Wise, aka Leland Palmer, and more than a few appearances on Dawson's Creek, presumably making him more than up to the job in reprising his role as the annoying ultimate bad boy Bobby Briggs—even now that his hair's gone gray.

CBS Photo Archive/Getty Images
Though she's now a long way from a schoolgirl, the ever flirtatious Audrey Horne may have a chance at getting together with Coop after all, especially since actress Sherilyn Fenn has been keeping up her acting chops on shows like Gilmore Girls and Shameless (not to mention appearing on the cover of Playboy in the '90s).

ABC Photo Archives/Getty Images
At 70, Peggy Lipton scarcely seems to have aged since she last played Norma Jennings, the owner of the Double R Diner, though she has since raised another actress, her daughter Rashida Jones.

ABC Photo Archives/Getty Images
Richard Beymer's eyes seem only bluer than ever since the now 79-year-old actor last turned up as Benjamin Horne, Audrey's father and the owner of the Great Northern Hotel (not to mention an appearance in West Side Story, which helped to earn him a Golden Globe for New Star of the Year that he shared with Warren Beatty). Not that viewers have been able to appreciate them: Twin Peaks is only Beymer's fourth on-screen appearance so far in the 2000s.

Sylvain Gaboury/Getty Images
From blue streaks to twin top knots, Kimmy Robertson seems to have as much appreciation for an out-there hairdo as Lucy Moran, her curly-haired secretary in the sheriff's office. Robertson has since lent her high-pitched voice to shows like Batman and The Simpsons, plus appeared onscreen on an episode of Drake & Josh—all good practice for appearing on all 18 episodes this season.

ABC Photo Archives/Getty Images
Like Leland Palmer, Laura's potentially murderous father, actor Ray Wise has since gone gray, a new look he's shown off in shows like Mad Men, Fresh Off the Boat, Gilmore Girls, 24, and How I Met Your Mother. That's range.

ABC Photo Archives/Getty Images
Another face who'll be showing up in the full series, Mädchen Amick has lately turned up on Riverdale, plus a host of cult shows like Mad Men, Gossip Girl, ER, Gilmore Girls, and Dawson's Creek. Fortunately for her character, the waitress Shelley Johnson, though, her abusive husband Leo won't be back.

CBS Photo Archive/Getty Images
Since playing Deputy Hawk, one of the most reasoned voices in the sheriff's office, Michael Horse has gone on to not only appear in shows like Malcolm in the Middle, but pick up a full-on artistic career as a jeweler and painter.

Steve Snowden/Getty Images
Though Michael Ontkean has maintained his curly head of locks since starring as Sheriff Harry S. Truman, the actor, who last showed up in The Descendants in 2011, has decided to leave Coop hanging and won't be returning to Twin Peaks.

ABC Photo Archives/Getty Images
Lara Flynn Boyle won't be returning to this season but she'll always live on as Donna Hayward, Laura's best friend of sorts who was never short on spectacular sweaters.

CBS Photo Archive/Getty Images
Russ Tamblyn's daughter Amber has since gone on to become an actor and even director herself, but Tamblyn has kept up an acting career of his own since playing the ever eccentrically-outfitted psychiatrist Dr. Lawrence Jacoby, recently picking up roles in films like Django Unchained.

ABC Photo Archives/Getty Images
Like the actor who plays fellow bad boy Bobby Briggs, James Marshall, aka James Hurley, Big Ed's nephew who can't get enough of riding his bike, has also gone gray, but still showed up on-screen with a few films and an appearance on CSI.

ABC Photo Archives/Getty Images
Like her on-screen daughter, Laura, the grief-stricken Sarah Palmer will be returning for all 18 episodes, although actor Grace Zabriskie has turned up in shows like Charmed and Big Love.

Tibrina Hobson/Getty Images
Fittingly, like her beau Sheriff Harry S. Truman, sawmill owner Josie Packard won't be returning to the series—like fellow mill worker Piper Laurie, aka Catherine Martell, David Lynch apparently never asked her back. But actor Joan Chen has been looking young as ever lately in shows like Netflix's Marco Polo.

ABC Photo Archives/Getty Images
At least, that's how Showtime president and CEO David Nevins explained his and the director's lack of continued conversation about the show's future this week at a Television Critics Association press conference; indeed, he told reporters he'd "promised" Lynch they wouldn't discuss until the full Showtime season had wrapped, with a two-hour finale airing over Labor Day weekend.
Still, as IndieWire reports, Nevins admitted "he's not racing to approach the auteur"—not exactly a surprise, given the reboot's tortured, years-long process, which seems to have drained Nevins along with Lynch. ("Yeah, probably," was his response when asked if he'd wait till Lynch calls him to proceed with the series.)
There's also the fact that, since it premiered, the series, which Nevins admitted was "such an unusual show for us," hasn't garnered as much of a fanatic response in terms of viewership as one would expect; it took until the eighth episode, in which Lynch exploded everything, for the director to really get back into gear and cause an internet uproar. Live viewers are somewhat scarce, though Nevins did say the series has had a more robust streaming audience than any other of its shows, and "has had a very palpable effect on our subscriber (levels) for multiple months now."
Rather than another season, there's also of course an option of a "recut" of the Showtime episodes, though Nevins is equally unclear how Lynch feels about that: "If he wants to, I'll support him, I'll pay for it, I would love it, but I can't imagine he would do that," he added.
Perhaps Nevins should simply check in with Naomi Watts: Since the actress, who also starred in Lynch's 2001 film Mulholland Drive, reunited with the director—and her bestie Laura Dern—the pair seems to have once again gotten quite close. Lynch may not be answering Nevins's phone calls, but even while meditating, he definitely seems to be answering Watts's texts.
Related: Read all of W's Twin Peaks recaps here.