Twin Peaks, The Young Pope, and 8 Other New TV Shows That Will Dominate 2017
TV just won't stop being great. Here's our list of the 10 new shows to look forward to next year.
---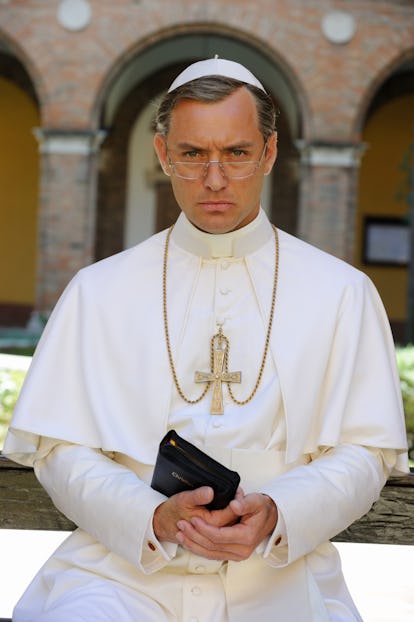 Gianni Fiorito/HBO
If 2016 brought a flood of quality television that hasn't been seen since before the Writers Guild of America strike nearly a decade ago—we're looking at you, Atlanta and Stranger Things—2017 seems only destined to find even more exciting new TV that demands your attention. From David Lynch's long-awaited reboot of Twin Peaks to Reese Witherspoon piling on the mom drama in Big Little Lies, here are the 10 shows we're most excited to see coming to the small screen.
The Young Pope
Diane Keaton is here in full habit as Sister Mary, and Jude Law has a chain-smoking and cherry Diet Coke habit as the Vatican's resident delinquent in The Young Pope, premiering on HBO in January. It's the latest opulent, over-the-top vision from Paolo Sorrentino, the Italian director behind 2013's Oscar winner The Great Beauty.
Legion
Noah Hawley, the creator of Fargo, is also diving into the Marvel universe with Legion, premiering on FX in February. Also stepping into new territory is Dan Stevens of Downton Abbey, who plays the title character, a mutant who first appeared in the X-Men and suffers from schizophrenia.
Iron Fist
While FX has Legion, which is somehow only the first X-Men series, Netflix is serving up its fourth Marvel show with Iron Fist, premiering February, which follows on the heels of Luke Cage, Jessica Jones, and Daredevil. The latest stars Finn Jones as a martial arts expert returning to New York after 15 years, where he discovers plenty of drama and costars like Rosario Dawson.
Twin Peaks
In typical Lynchian manner, the trailer for season two of Twin Peaks features little more than the director eating a donut—not much in revealing whether the series will continue to center around the small-town disappearance of Laura Palmer, but a definite confirmation that Lynch is staying true to his strange ways. And while he may have lost some cast members along the way—most notably, Margaret Lanterman, aka the Log Lady—the reboot, set for later this year on Showtime, features plenty of new names to compensate, including Amanda Seyfried, Michael Cera, Trent Reznor, Sharon Van Etten, Sky Ferreira, and, of course, Kyle MacLachlan, reprising his role as Special Agent Dale Cooper.
Godless
Steven Soderbergh seems set to follow up the surprising feminism of The Girlfriend Experience, one of the best new shows of 2016, with Godless, a new Netflix series starring Jeff Daniels as a gang leader whose manhunt through the West leads him to a town in New Mexico populated entirely by women, including his costar, Michelle Dockery.
Big Little Lies
Along with an all-star cast including Nicole Kidman, Shailene Woodley, Laura Dern, Alexander Skarsgård, and Zoë Kravitz, Reese Witherspoon gets really real in Big Little Lies, an HBO miniseries based on the novel of the same title by Liane Moriarty about three mothers' apparently perfect lives unraveling spectacularly. If that were not enough, it marks the big-deal return of creator David E. Kelley.
Dear White People
After getting off the ground via crowdfunding in 2014, the film Dear White People, directed Justin Simien, is getting a Netflix adaptation several years later—a time period that, in "post-racial" America, has no doubt provided more than enough additional material. Former cast members like Brandon Bell will be returning to the satire, which will still take place at an Ivy League university, but this time Logan Browning will step in for Tessa Thompson.
Taboo
With a little help from Ridley Scott and his father, Chips Hardy, Tom Hardy essentially returns from the dead in Taboo, premiering on FX in January, which follows his sinful return to Britain from Africa along with stolen diamonds, a taste for revenge, and more than a little nudity.
Gypsy
Naomi Watts plays therapist with Fifty Shades of Grey director Sam Taylor-Johnson for Gypsy, a psychological thriller on Netflix that has her getting a little too involved in the life of her patients, much to the chagrin of her husband, played by Billy Crudup.
Room 104
In their latest, the Duplass brothers seem to have taken all the fine-grain intimacy of their 2015 HBO comedy, Togetherness, and shrunk it to a single hotel room in America, telling the stories of each of its passing visitors.
See W's most popular videos: