L.A. Confidential
Twin Shadow's confessions of the heart on his new album, Eclipse.
---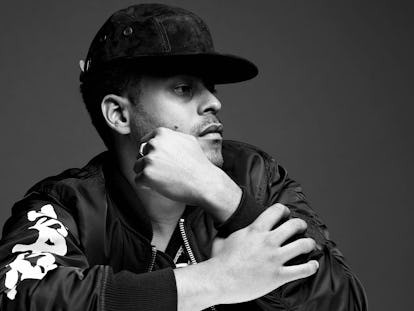 After the pop singer George Lewis, Jr., who goes by Twin Shadow, released his 2012 album Confess—which was adored by critics even if some complained about his dispassionate view of sex and love—he left New York, where he'd lived for a decade, and moved permanently to Los Angeles. It did wonders for his psyche. The artist behind his latest record, Eclipse, out March 17, is a reborn romantic. Lewis's streetwise New Wave-inflected cool is still there—and continues to draws stylish admirers like the designers behind Public School, whose runway shows Lewis has scored since 2012—but the lyrics are less bitter than hopeful. The chorus to "I'm Ready" crests with the optimistic-sounding "I'm trying/I'm ready/I need this love." The song also serves as a paean to the healing effects of his new home. These days, Lewis gets up early. He works on his vintage Datsun. He cruises around on his motorcycle. He even surfs. "My late twenties were dark," he confesses. "Now, I'm happier."
Digital Technician: Gray Hamner; Photography Assistant: Sean Costello; Fashion Assistant: Mitchel Brumsted.