Double Vision: Raquel Zimmerman & Aaron De Mey
For these twosomes, style is a joint effort. Meet three fashionably dynamic duos.
---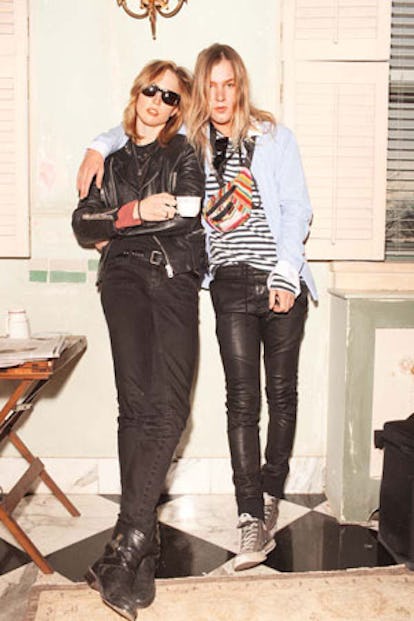 Like her fashion icon Patti Smith, model Raquel Zimmermann describes her style as androgynous. She shops the men's department at Barneys, counts Hedi Slimane in his Dior Homme days as one of her favorite designers, and regularly sports low-slung jeans, waffle shirts, and a leather biker jacket that she bought on Manhattan's St. Mark's Place 10 years ago. "Raquel dresses how a boy does in his dreams—and makes it look sexy," says her good friend, makeup artist Aaron De Mey. The two met backstage at a Givenchy show six years ago and bonded over Nirvana. "I always try to channel Kurt," De Mey says of his own style. Hence, a penchant for grungelike layers, Chuck Taylor sneakers, and offbeat accessories (a Smurf charm and a silver elastic from a Godiva box hang around his neck), which he effortlessly mixes with such high-end labels as Balmain, Givenchy, Lanvin, and Prada. "I dress differently every day but always a little undone," he says."I don't like anything to look too perfect."
Zimmermann and De Mey photographed at Cafe Gitane, New York.