Ty Dolla $ign and Kanye West Came Up With "Fade" in 5 Minutes
The singer on working with Kanye and his politically-charged new album, Campaign.
---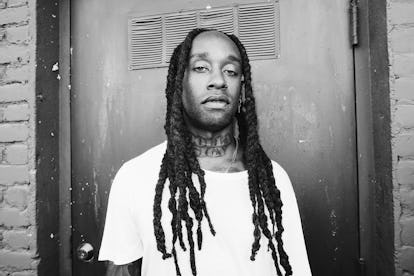 Gabe Shadow
Today, the singer, songwriter, and producer Ty Dolla $ign, who you might know as the co-author of Kanye West's "Fade," is releasing his latest album, Campaign, for which he's enlisted the likes of Travis Scott and Future to address the fans of his trap-inflected soul. Lately, that sound has been taking an increasingly political turn, with his protest song "No Justice." Here, he sounds off on Trump, Black Lives Matter, and why he is his own greatest style inspiration.
What was your recording process for Campaign? I was recording on the bus with Future on the Purple Reign tour. We just put shit together; I kept the songs that we did and I just kept on recording. I put together a dope ass body of work and called it Campaign. It's f—ing crazy, I can't wait for y'all to hear it.
You teamed up with Respect My Vote! and their mission is to try to get young people to vote in November. What do you think of the presidential candidates? Specifically, Donald Trump. I mean, I agree with YG, haha. Everyone knows what YG said about Donald Trump.
You have a song entitled "No Justice" featuring your brother Big TC [who is incarcerated]. Given everything that is happening, what are your thoughts on the Black Lives Matter movement? I love my brother and I love working with him. There is no justice out here for us so that's probably one of my favorite songs off of Campaign. It really means something. It the first video ever fully released on Instagram and we only used camera phones to shoot it. It came out cool and a lot of people heard it out here in L.A. on this station called KJLH every hour on the hour, so it's nice to hear my brother on the radio and to see that the radio is actually playing some shit that means something, you know? The Black Lives Matter movement is real shit. I f— with them.
You're featured on Kanye West's song "Fade." What was it like in the studio with him making that? It was amazing working with 'Ye. He's one of the dopest musicians I know and I've always been a fan of him, so when we actually got in the studio, it was dope. We came up with that song in five minutes [Laughs].
Five minutes! Yeah.
You recorded it in five minutes? The lyrics and the idea. He did the beat on the spot, like from scratch. It was really dope. It was just dope seeing it all come together and actually come out, and then to see the video. I just like it when you actually see something start and then finish, you know? Teyana killed it.
She did. You and Kanye have collaborated a few times. How would you describe your creative relationship with him? It's incredible. I love it when we get together and work.
Will he be on any of your upcoming projects? Who knows what may happen [Laughs].
How would you describe your personal style and who would say are your inspirations? I think some of my inspiration comes from like Kendrick Lamar, Lenny Kravitz, motherf—ing Jim Morrison. I like old school rock star fly shit. At the same time, I like H.R. and Bad Brains and just punk shit. I like so many different flavors, like I may throw on a basketball jersey one day. I think I might be the flyest [man] alive. I inspire myself when it comes to style.