Ty Dolla $ign Has Finally Found Himself
On his latest solo album, Featuring Ty Dolla $ign, the singer known for supporting some of the biggest names in music remains true to his own sound and identity.
---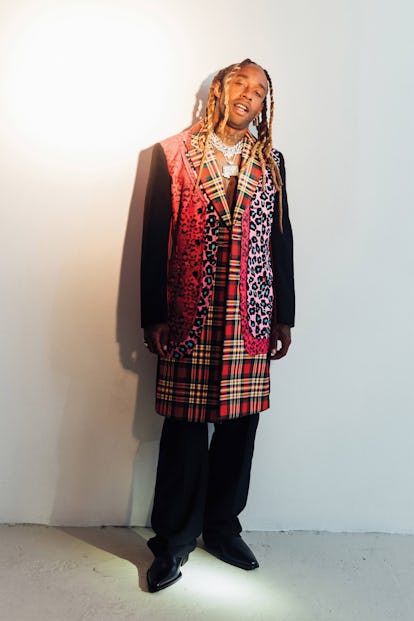 Ty Dolla $ign photographed by Trotter and styled by Anastasia Walker for W Magazine. Photographed at Blackheart Studio. Ty Dolla $ign wears a Comme des Garçons Homme Plus coat; stylist's own trousers and shoes; own jewelry throughout.
Ty Dolla $ign is a lot of things: an artist, a father, a boyfriend, and a self-proclaimed chef, to name a few. For the past few months, he's been inside his California home nurturing all of these roles and applying his finesse in the kitchen. Among his tried recipes, he's most proud to share that he's finally mastered the art of cooking the perfect piece of chicken. "Fall-off-the-bone type shit," he boasts over a Zoom video call. I tell him the new culinary skill seems "useful" and he repeats the word with a slight bob as if he's building a hook in his head. "That's hard," he says with a smile that curves underneath his tinted black shades. He's always in music mode.
It's a Tuesday afternoon and Ty is sitting at a desk in his home studio. He's juggling our conversation with his duties of tending to his 15-year-old daughter Jailynn who walks in the frame during the interview. "I was trying to be Ty Dolla $ign, but shit, we at the house. It's daddy time," he says proudly about being able to hang out with her even more these days.
Behind him, the walls are decked with guitars and nearby are keyboards and a Wurlitzer baby grand piano. He takes a break from the joint he's smoking and pans the laptop to show off the "Wurly," which is clearly one of his most treasured instruments. The studio has been a retreat during this more simplified time of isolation that's provided Ty with the space to jam out. For the last decade, the multi-hyphenate R&B/pop star has spread his smoky, kick-backed sound across just about every contemporary genre. This year, his 2018 single "Something New" featuring Wiz Khalifa became a viral TikTok Challenge. In September, he opened up SZA's surprise single, "Hit Different" with his gritty vibrato and winning melody. Ty's dexterity as a singer-songwriter and producer makes him one of the most coveted musicians to collaborate with—among a scale of peers like Jeremih, Fifth Harmony, and The Carters.
While being a featured artist has been a key to his mainstream success, Ty's solo music always holds its own. It's been four years since he released his 2016 debut album Free TC—a stellar opus dedicated to his younger brother Big TC, who Ty believes is wrongfully incarcerated on a life sentence—and three years since his follow-up record, Beach House 3. Now, after three EPs and singles with peaks on the R&B, rap, and electronic charts, the crooning savant is ready to present Featuring Ty Dolla $ign in late October. "It's been a two-year process," he says. One that's involved quite a few tweaks to the original idea for his third album, but simultaneously, lots of personal growth.
The ups and downs of 2020 have been calling him to go inward. In April, he lost his grandmother, whom he affectionately called "Googie," and this summer, a close friend named Big B, whom he shared with DJ Mustard and YG, passed away. The loss seems heavy on Ty and it's given him new life perspectives. In July, he dropped the single, "Ego Death" featuring Kanye West, serpentwithfeet, FKA Twigs, and Skrillex as an ode to the raw humanness that he and so many of us felt around the world in the midst of inescapable turmoil and grief. "Shit's been crazy, and of course the pandemic. I'm just getting to sit down and take life back in, and I have to deal with everything instead of just being on the constant go," he says. "It's been a life lesson and what's really important now is not all the shit that was important before. It's definitely made an impact on my music, but I like it."
At this bright arrival in Ty's career, it feels he's reached a big part of a lifelong aspiration. And while he's gracious and always willing to learn from his peers and other musicians, it feels good to touch the success he's been envisioning since he was a child. Ty Dolla $ign, born Tyrone Griffin Jr., mostly grew up in the South Central section of L.A. but moved around as a child to areas like The Valley and Inglewood. "As a kid, my parents took me to this spot and they were talking about how they were going to build a house right there," he remembers. During every visit to the empty lot, they would map out the floor design and deliver the promise of a view with a swimming pool. But then his mom and dad split up.
His father, who played in the 1970s and 1980s funk band Lakeside, still had a strong influence over his connection to music. At home, he made Ty appreciate groups like The Isley Brothers, Slave, and the Commodores. His dad introduced him to music in a much more integrative way, not limiting his exploration to one instrument. "He played trumpet, he played keys, he played bass, he played guitar. He sang in this band, he sang in that band. That's where I learned from," Ty says. With friends, Ty discovered his interest in rock groups like Sublime and Bad Brains while also listening to the radio's constant rotation of house and 1990s L.A. rap. It's how he explains all of the textures in his work.
For most of his life and at the start of his career, he wanted to be a producer. Since his feature and production credit on YG's 2009 breakout single "Toot It & Boot It," he's been consistent in crafting his unmistakable sound. It's been a careful dance to find the sweet spot between showing his influences and making sure it translates once they're blended together. In the early days of his career, when a music executive told him to bring back something "more cohesive," he learned that not everyone would understand his method.
"It fucked me up a little bit because I felt like I was more fire than a lot of these other people who were out here doing music and I knew I could do all these different styles," he says. "But, instead of me being a sore loser, I took it into consideration and I went back and I made Beach House. That's when I cracked the code of, All right, you got your style down, and whether you do any other kind of beat, it's going to cut through."
With a catalog that runs the gamut of electronic dance records and verses on chest-rattling rap hits, Ty gives the audience facets of his artistry to connect with. He doesn't want to close himself off from the possibilities of any sound. A huge part of that openness is rooted in the collaborative spirit that he brings to his work. While he commands behind the scenes and in the spotlight, Ty conceptualizes what sounds good and who'll sound the best doing it. "It's different every time. It could be as soon as I hear a beat or who made it. If Southside brings me a beat, I'm probably going to want Future on it automatically, just because I'm used to that frequency together," he says.
The journey to nailing down the vibrations for Featuring Ty Dolla $ign wasn't linear. Two years ago when he first started ideating, he was completely sober and in a more experimental creative space. The album he finished at that time was totally different—more trippy than the LP he's releasing later this month. There were no tempo songs, lots of strings, a "weird-ass" organ that he found in Philly. "It was more fully me. This was before the pandemic. Just fully in my zone, not trying to make any type of singles and not giving a fuck," he says. Not smoking weed opened a vortex of ideas, but Ty also thinks it made the music-making process feel much more serious and way less fun. He stops to wonder how things would be now if he hadn't broken his hiatus from weed, especially while cooped up in the house. "Crazy," he replies.
Ty was close to dropping the way-out project, but a person close to him suggested that he add songs that would mesh well with his classic top-down bops and club tracks. So, he changed gears and moved toward songs that felt a bit more familiar, closer to his recognizable sound. He also didn't want to rush it. "I just wanted to get my shit right and have something for all of my listeners," he explains. "I wanted to make sure I gave everybody something to vibe with and at the same time, I wanted to love everything that I was saying." Catering to his multitudes of fans may have curtailed the reveal of more of his dimension, but Ty also isn't the type to stick to just one sound throughout a project.
And Featuring Ty Dolla $ign is still dynamic. It's textured with more guitar than any of his earlier work. There are chord changes, six songs with Thundercat on bass, and two more with astral harmonies alongside vocals from Young Thug. It features an assortment of moods and a blend of other artists like Kid Cudi, Jhené Aiko, and Nicki Minaj. On the sincere ballad "Your Turn," Ty's album favorite (co-written with Tish Hyman) he shows a softer and more heartfelt side as he sings from his core about the transient nature of love with help from Hyman, 6lack, and neo-soul paragon Musiq Soulchild. "Even if we're together for life, we all have an ending point," he says about its meaning.
Ty's even more confident in his vocals now and has been intentional about elevating as a songwriter. He understands that a lot of the songs that we still listen to from the past are the ones with vivid or unforgettable words—and Ty's striving to be timeless. At 38, he feels it's time to work a more mature gaze into his music. As he moves toward greater inner growth, Ty credits some of the women in his life like his girlfriend, his mother, and the tight bond that he has with his daughter for some of the gems that he's picked up along the journey. "She's 15 and definitely paying attention to everything I'm doing. She came to that stage last year when we were having a conversation and she hit me with the, 'But Dad, you did this' when I was telling her what to do,'" he says. "That made me realize, Alright. You can still be who you are as an artist, but at the same time, she's paying attention."