Ready Player One's Tye Sheridan Is Hollywood's Most Talented Young Chameleon
The young Texan star of Steven Spielberg's virtual-reality epic Ready Player One, is most at home on the ranch—but he's down to play a wild host of characters.
---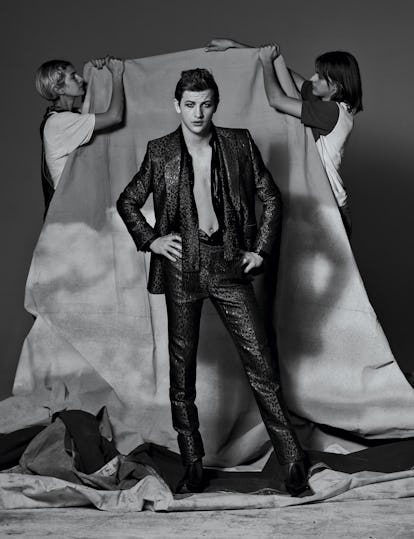 Photograph by Ethan James Green; Styled by Carlos Nazario
A missed call from Palestine, Texas. It's four minutes past our appointment, and Tye Sheridan—21, with blue-green eyes, a pencil-shavings moustache, and pooch-y lips honestly come by—is too courteous to let the grace period elapse without signaling he's on his way. When he arrives a minute later, at a coffee shop around the corner from his buddy's place where he slept the night before, no one does an almond-latte spit take or snaps a stealthy selfie with him in the background. No one seems to register his presence at all, though in a few weeks, Ready Player One, Steven Spielberg's technologically ambitious treatment of virtual reality and massive multiplayer online games, will come out, with Sheridan, who was cast in his first film at 10 and recently wrapped his second X-Men film, in one of the starring roles.
"People keep asking me," he says, when I wonder out loud if he's ready for an onslaught, or at least a modicum, of attention. "But I've had people say this to me for years, and it still hasn't happened." Partly, it's the formative years he spent in the independent-film scene in Texas, working with directors like Terrence Malick and Jeff Nichols. Partly, it's wardrobe: In X-Men, he plays Cyclops, and wears a visor over his eyes.
For Ready Player One, which is set in 2045, Sheridan swapped the visor for a VR headset, through which his character, Wade Watts, enters the OASIS, a virtual ­universe that is the only source of pleasure left in a world devastated by a global energy crisis and a multitude of other horrors that await humanity in the coming decades. In the OASIS, Watts competes against a host of corporate baddies in a quest to find an "Easter egg" left by the OASIS's founder; whoever discovers the egg will inherit the founder's multibillion-dollar fortune and win control of his lucrative realm. To do so, Watts must steep himself in the 1980s pop culture that was dear to the founder. For Sheridan, born in the Xbox era, that meant having Spielberg himself teach him how to use an Atari joystick.
Working with Spielberg was a crash course in film history from the person Sheridan calls "the greatest film nerd of all time." Want to hear a firsthand story about Stanley Kubrick or Brian De Palma? Sheridan says, ­"Steven's just not only the greatest filmmaker of all time, he's surrounded by the greatest filmmakers of all time. He's the epicenter of modern film knowledge."
"One day, we were on set waiting on something," he says, smiling, broad and mellow, as he remembers. "Steven's sitting there on the edge of the bed, and he's got his headset on and his little monitor, and he's just looking around, waiting, and he looks at me and he goes, 'It's not the take that takes the time to take a take, it's the time between the takes that takes the time to take a take.' " I make him repeat that one, slowly, and he bursts out laughing. "Steven goes—so humbly, by the way—'Yeah, I made that up on Jaws.' "
A decade ago, Sheridan was in East Texas, dreaming of playing professional baseball. His town has a ­population of 1,300, and approximately half of the residents are related to him. "I did ancestry.com on my dad's family, back to the early 1800s, before Texas won its independence from Mexico," he says. "Since then, they've all come from within a 30-mile radius of where I was born."
Mornings, in the prefab trailer home he shared with his parents and little sister, on an 80-acre parcel where his grandparents lived too, Tye would drag his blanket over to one of the vents in the floor, letting warm air fill the blanket and envelop him. "I still miss that house," he says. "I still remember the smell." (His parents have since moved to a different part of the ranch.) Evenings, after playing with his cousins, he'd wait in the yard till his dad, a driver for UPS, got home; no matter how long the shift he had just worked, if there was any light left, Tye's dad would toss a ball with him.
The boy-ball bond was how it all started. One day, in fourth grade, Tye got a letter in the mail, asking him to come to an audition. Malick was casting for The Tree of Life, an epic experimental film that flashes from a 1950s Texas boyhood to the creation of the universe and is patient enough to involve a minutes-long take of a murmuration of starlings. The casting, equally ­process-oriented, took a year and a half. Scouring more than a thousand public schools in Texas, scouts had visited Tye's and taken note of his unselfconscious, I-don't-want-to-be-in-a-movie affect.
In Tye's first audition, A.J. Edwards, Malick's ­­second-unit director, gave him a tennis ball to distract him. Watching Tye bounce the ball against a wall for 10 ­minutes, Edwards was mesmerized by his sincerity, charisma, and interiority. His eyes would well up with emotion, he'd laugh unexpectedly. That, along with the then-heavy (now mostly gone) Texas twang and the authentic "Yes, ma'am's" and "No, ma'am's" with which he seemed to tamp down—rather than flaunt—­feeling, sealed it. "He was a little 10-year-old James Dean," Edwards says, and Malick thought so too. Malick, Edwards says, still talks about Tye's audition tapes.
After working alongside Jessica Chastain and Brad Pitt, the leads in The Tree of Life, Tye went back to the ranch, the vent, the yard and ball, his cousins, and his school. For the next three years, he tried hard, on his own, to get another acting job, sending in homemade audition tapes, to no avail. "I would always hear the same thing," he says. " 'This kid has a superstrong Southern accent.' 'Never heard of him.' I never booked one job in three years, and then Mud came around, and it was like, 'All right.' "
Mud, a gripping coming-of-age story set in Arkansas, was written and directed by Jeff Nichols and costarred Sheridan and Matthew McConaughey, with Reese Witherspoon in a supporting role. That film marked the end of Sheridan's baseball dreams and the beginning of a full-fledged life in the arts. The scripts started rolling in. Sheridan moved to Austin, entering a ­community of eminent Southern storytellers who have become ­mentors and colleagues. (Family ties still mean the most to him. Until recently, when he bought his own place, he lived with his aunt and uncle, whom he counts among his closest friends, and their "kiddos.") Nicolas Gonda, a producer who worked with ­Sheridan on several films, says, "The success he has in the mainstream he'll always parlay back into the independent realm."
In March, in addition to Ready Player One, Sheridan starred in Friday's Child, a movie shot in Waco that his old friend Edwards wrote for him, and which Edwards directed. Their next project together is set in the early days of Hollywood. "He's a very unusual kind of actor," Edwards says. "He almost seems from an older mold—like a young Paul Newman or Henry Fonda or Gary Cooper, or Montgomery Clift in A Place in the Sun."
Sheridan, in one way at least, is a man of his time. He and his buddy, the one down the block, a Serbian visual-effects designer he met on a film, are launching a company, Aether Inc., focused on interactive VR-based software. In the coffee shop, Sheridan riffs on an Onion joke he read recently—"Whaddayou call three guys in their 20s? A tech start-up." Aether's business seems drawn right from the set of Ready Player One, though it has been in the works for several years.
"I was completely obsessed with VR before I even heard about Ready Player One, or even knew that Steven was doing a film," Sheridan says. "So when the script came around and I had the opportunity to audition for it, I was like, 'Hoooly shit. This is going to be huge!' " Soon, he tells me, Aether will unveil its product, about which Spielberg has provided invaluable advice.
Some time during our meeting, Sheridan's dad calls to check in. It seems normal, probably one of many calls they trade in a day. "My dad and I are, like, best friends," he says. Sheridan flips through his phone, giggling, to show me a gentle prank he'd played on his old man the other day. While posing for the cover of W, Sheridan, with typical humility and malleability, dressed up as a number of off-the-wall characters, including a David Bowie–esque glam rocker. On his phone, he presses play on a video he shot of himself, shirtless, a bank of powder-blue shadow above each eye, hair mulleted. In the clip, without acknowledging the unusual state of his appearance, he tells his dad how much he's looking forward to an upcoming trip home to the ranch. He says, "My dad just wrote back, 'You've been in L.A. too long.' "
See Ready Player One Star Tye Sheridan Rave, Strip, and Get Presidential
Photograph by Ethan James Green; Styled by Carlos Nazario
The actor, paying tribute to glam rock, wears a Givenchy blazer, pants, shirt, scarf, and boots.

Beauty note: Stay slick with Redken Brews Wax Pomade.

Photograph by Ethan James Green; Styled by Carlos Nazario
As a raver, Tye Sheridan wears a Gucci jacket, pants, and sunglasses; Abril Barret necklaces; Richard Mille watch; stylist's own pendant necklace and bracelets.

Photograph by Ethan James Green; Styled by Carlos Nazario
Remembering the early '90s Manchester music scene in a Prada top, pants, and hat; Balenciaga sunglasses; Adidas Originals sneakers.

Photograph by Ethan James Green; Styled by Carlos Nazario
Feeling presidential in a Corneliani suit; Tom Ford shirt; Ralph Lauren tie and pocket square; Tiffany & Co. watch; Bruno Magli shoes.

Photograph by Ethan James Green; Styled by Carlos Nazario
Channeling Hollywood power agents in a Berluti suit; Giorgio Armani tie; Jimmy Choo shoes; stylist's own shirt.

Photograph by Ethan James Green; Styled by Carlos Nazario
Going back to his Texas roots in a Calvin Klein 205W39NYC shirt, pants, and boots; Stetson hat.

Photograph by Ethan James Green; Styled by Carlos Nazario Hair by Jawara for Oribe Hair Care at Bryant Artists; makeup by Hannah Murray at Art + Commerce; manicure by Michelle Saunders for Essie at Forward Artists. Set design by Julia Wagner at CLM. Produced by Wes Olson at Connect The dots; Production Coordinator Kaitlyn fong at Connect the dots; Retouching at Dtouch NY; Digital Technician: Nick Rapaz; Photography assistants: Wilder Marroquin, Cris Ian Garcia; Fashion assistants: Anna Devereux, Mohammad Diallo, Alexandra Rose Grandquist; Tailor: Susie Kourinian; Production Assistants: Nikki Patrlja, DeMarquis McDaniels, Cedric Adajar; Special Thanks to Kitchen Mouse, Quixote, Studios 60