Tyra Banks Agrees: America's Next Top Model Did Not Age Well
The supermodel acknowledged its "insensitivity," which ranged from blackface to fetishizing homelessness.
---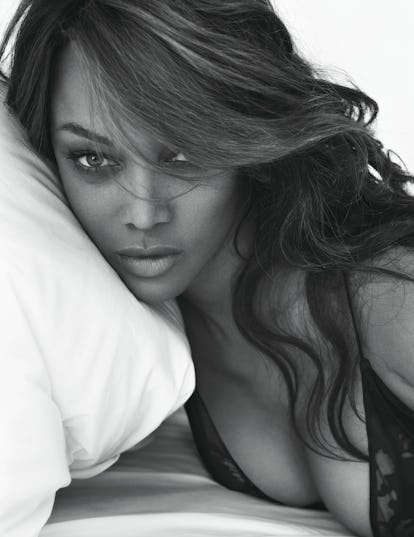 Mert Alas and Marcus Piggott
There's nothing like social distancing to give you time to revisit all 24 "cycles" (aka seasons) of America's Next Top Model, all of which are now available on Amazon Prime. But it only takes a few minutes, if not seconds, to make an unfortunate discovery: While groundbreaking for its time, the reality series has not aged well in the 17 years since it premiered.
Last week, Twitter and TikTok hosted what was essentially a retrospective of the show's host, creator, and executive producer, Tyra Banks, at her absolute worst. For example: In terms of LGBTQ+ representation, the show was ahead of its time. (GLAAD awarded Banks in 2009, after ANTM featured its first transgender contestant.) But at least one gay contestant found themselves less than welcome in cycle five. "I want to be out. Like, I'm gay and really proud of it," she told Banks, who urged her to tone it down nonetheless: "I'm black and proud … but I'm not, like, walking down the red carpet [saying] 'I'm black, I'm black.'"
Several years later, the contestant, Kim Stolz, reflected on her experience on ANTM. "As much as we should applaud the subversive topics that 'ANTM' has covered in its reign thus far — physical and sexual abuse, homelessness, female circumcision, gayness (hi!!)—we must also accept that there were moments when those issues were clearly exploited for entertainment value," she told MTV. "Maybe we can't blame Tyra for this—after all, it's business, right?"
But when it comes to issues like blackface, plenty are more than happy to play the blame game. For a challenge in the previous cycle, contestants pose as different ethnicities by darkening their skin. Evidently, it wasn't that offensive at the time; the series from pulling the same move nine cycles later, in 2009.
"Remember when Tyra Banks pretended to be homeless for a day with a camera crew and security?," a Twitter user named Amy Green asked last week. At that point, the word "Tyra" had already been trending for days. "Then she said on ANTM that because of it 'she could relate to being homeless' and made all the girls do a homeless themed shoot?"
To many, the most egregious moment was when Banks chastised the contestant Danielle Evans for opting not to close the gap between her two front teeth. "That episode fucked up little simone/slick," the model Slick Woods captioned the 15-year-old clip on Instagram.
The next day, Evans shared a bit more about what went on behind the scenes. "What you saw was compromise," the model said in a seven-minute video, explaining that she would have done anything to escape her hometown of Little Rock, Arkansas. Evans didn't mind Banks's comments, which were all too familiar; she minded that the show's crew, which never communicated Banks's order to close her gap, tried to play her to make good TV. (Nine cycles later, Banks would encourage a white model to widen her gap so as to look more like Lauren Hutton.)
These days, though, Banks couldn't be more silent. Since the outpouring of clips began, she's only posted a single tweet: "Been seeing the posts about the insensitivity of some past ANTM moments and I agree with you," Banks wrote at the end of the week. "Looking back, those were some really off choices."
Related: Tyra Banks, "Inspired by Disneyland," Is Opening a Theme Park