It's Time to Embrace the "Ugly Shoe," Summer's Must-Have Footwear
How fashion, and one writer, learned to love the quirky sandal.
---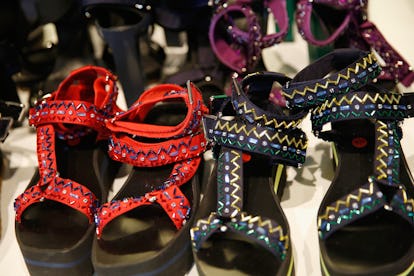 Tristan Fewings
Now that it seems that the weather has finally turned, I am bracing myself for something I abhor: the onslaught on ugly summer shoes pounding the city's streets. And I don't mean adult men walking around in their college Rainbow flip-flops sans pedicure—though, that surely makes me cringe—but rather grown women in Adidas shower slides or nursing-esque Birkenstock sandals.
Blame my uber-feminine mother, but balmy footwear, even in the blistering Laredo, Texas, heat where I grew up, was always supposed to be a pretty punctuation mark, not a who-gives-a-damn, no-one-is-going-to-notice statement. But as of late my opinion is being challenged by none other than high fashion set itself, as Adidas slides and Birkstenstocks are now considered the pinnacle of cool. Case in point: the latter has been reimagined by everyone from Celine's perpetually chic Phoebe Philo to Sacai's Chitose Abe, who officially collaborated with the German brand.
But the quirky summer shoe seems to be taking hold more than ever this season—just look at Net-A-Porter or Barneys. "We're beyond the tip of the iceberg," said stylist Elizabeth Saltzman, who works with A-listers including Gwyneth Paltrow and Saorsie Ronan. Simone Rocha, for instance, bedecked a thick black slider sole reminiscent of the '90s era Steve Madden chunky shoe with floral jacquard ruffles, giving them a feminine allure. "There is always a balance in order to keep things feeling fresh, so the workwear or athletic vibe of footwear is paired with the hand-crafted and developed fabrications and embellishments to create a modern form of femininity," she explained of the juxtaposition. "Comfort and practicality are very important to me." What's more, Steve Madden is even bringing back those original throwback slinky slides for a mere $69.95.
Elsewhere, Alexander Wang ventured into the flip-flop territory with his clear, plastic versions accented with a wide, buckled ankle strap (the style also came in leather). Paired with lace-trimmed short suit sets or wraparound bikini tops and flouncy miniskirts on his Spring 2017 runway, the sandals seemingly dressed up and dressed down the looks purposefully, unlike like say Amanda Bynes wearing flip flips on the red carpet circa 2003. Donatella Versace also reinvented the nail salon shoe with a multicolor wedge sole, as well as a sporty vision. And she didn't stop there, designing a Teva-style sandals festooned with metallic hardware. Even Saltzman has her own collaboration with '90s purveyor of cool Rocketdog. The pair created a flatform flip flop accented by charming pearls, as well as strapped sandals with rainbow-striped heels, including a pair washed in degrade pink. "Today it's all about pretty-slash-ugly, and that's what these shoes are," she said. "More and more women understand that you can't wear five-inch Manolo Blahniks or Paul Andrews all day long, so this collaboration was about happy feet—comfortable with a bit of whimsy."
Perhaps, the most notable of the "ugly" shoe trend is Christopher Kane's Crocs, which have just hit stores. Washed in marbled prints, the stone-embellished offering may be cute on a bow-haired seven-year-old, but at 34, could I myself justify wearing them? Kane himself made the case: "They have a very naïve and childlike shape, and I especially like when they look extra clunky on the foot." The designer is no stranger to opposing combinations, and the whole concept for this spring collection was "make-do and mend" or, the idea of taking something humble and considered discarded and combining it with the unexpected to make something extraordinary. "I find it exciting to transform the everyday into desirable luxury," he said. "You'll find doctors, factory workers, gardeners, and babies wearing Crocs for different reasons around the world. I wanted to make another reason to wear them."
Mario Batali sure would be pleased.
Watch all of W's top videos, here:
In Christopher Kane's Space Age, the Uniforms Come with Fur-Lined Crocs
A scene from Backstage at Christopher Kane Fall 2017

Photo by Jason Lloyd-Evans
A scene from Backstage at Christopher Kane Fall 2017

Photo by Jason Lloyd-Evans
A scene from Backstage at Christopher Kane Fall 2017

Photo by Jason Lloyd-Evans
A scene from Backstage at Christopher Kane Fall 2017

Photo by Jason Lloyd-Evans
A scene from Backstage at Christopher Kane Fall 2017

Photo by Jason Lloyd-Evans
A scene from Backstage at Christopher Kane Fall 2017

Photo by Jason Lloyd-Evans
A scene from Backstage at Christopher Kane Fall 2017

Photo by Jason Lloyd-Evans
A scene from Backstage at Christopher Kane Fall 2017

Photo by Jason Lloyd-Evans
A scene from Backstage at Christopher Kane Fall 2017

Photo by Jason Lloyd-Evans
A scene from Backstage at Christopher Kane Fall 2017

Photo by Jason Lloyd-Evans
A scene from Backstage at Christopher Kane Fall 2017

Photo by Jason Lloyd-Evans
A scene from Backstage at Christopher Kane Fall 2017

Photo by Jason Lloyd-Evans
A scene from Backstage at Christopher Kane Fall 2017

Photo by Jason Lloyd-Evans
A scene from Backstage at Christopher Kane Fall 2017

Photo by Jason Lloyd-Evans
A scene from Backstage at Christopher Kane Fall 2017

Photo by Jason Lloyd-Evans
A scene from Backstage at Christopher Kane Fall 2017

Photo by Jason Lloyd-Evans
A scene from Backstage at Christopher Kane Fall 2017

Photo by Jason Lloyd-Evans
A scene from Backstage at Christopher Kane Fall 2017

Photo by Jason Lloyd-Evans
A scene from Backstage at Christopher Kane Fall 2017

Photo by Jason Lloyd-Evans
A scene from Backstage at Christopher Kane Fall 2017

Photo by Jason Lloyd-Evans
A scene from Backstage at Christopher Kane Fall 2017

Photo by Jason Lloyd-Evans
A scene from Backstage at Christopher Kane Fall 2017

Photo by Jason Lloyd-Evans
A scene from Backstage at Christopher Kane Fall 2017

Photo by Jason Lloyd-Evans
A scene from Backstage at Christopher Kane Fall 2017

Photo by Jason Lloyd-Evans
A scene from Backstage at Christopher Kane Fall 2017

Photo by Jason Lloyd-Evans
A scene from Backstage at Christopher Kane Fall 2017

Photo by Jason Lloyd-Evans
A scene from Backstage at Christopher Kane Fall 2017

Photo by Jason Lloyd-Evans
A scene from Backstage at Christopher Kane Fall 2017

Photo by Jason Lloyd-Evans
A scene from Backstage at Christopher Kane Fall 2017

Photo by Jason Lloyd-Evans
A scene from Backstage at Christopher Kane Fall 2017

Photo by Jason Lloyd-Evans