Showing Their Stuff
Who needs museums? Britain's richest collectors are opening art spaces of their own.
---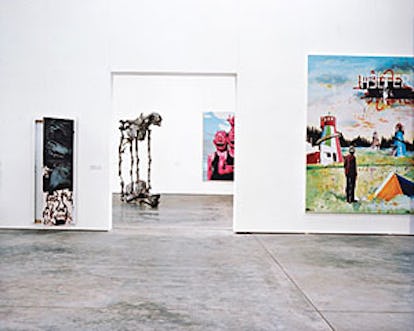 Wolverhampton, a small city northwest of Birmingham, doesn't offer much in the way of tourist attractions. Formerly a wealthy mining center in the heart of the West Midlands region of central England, it's known today for its big Hindu and Sikh populations, its aerospace industry and a clutch of red-brick Victorian and Tudor-style buildings, relics of its heyday in the 19th century. In short, it's an unlikely place to build a contemporary art space, but that's just why it suits Frank Cohen. Cohen, 64, is one of England's top collectors, with 2,000 works ranging from British art of the Fifties to contemporary Chinese painting. He opened his first exhibition space, Initial Access, at an industrial park near Wolverhampton earlier this year. Neighbors include a limousine service, a bus maintenance center and a carpet warehouse.
Frank Cohen at Initial Access in front of Yue Minjun's Between Men and Animal.
Cohen's gallery is composed of two prefab sheds, much like the ones that used to house his home-improvement stores. After starting his career selling wallpaper from market stalls, Cohen went on to make millions with a Home Depot–like chain in the Midlands and in the north of England. Despite the far-flung, glamour-deprived location, he's confident that art lovers will eventually make the trip to Initial Access, where admission is free and much of the work has never been seen in the UK. "You look at cities like Manchester or Leeds or Birmingham—they have museums but no art galleries and no dealers," says the dapper Cohen, a former Turner Prize judge and a force behind the new Manchester Arts Festival, where Matthew Barney, Doug Aitken and Trisha Donnelly recently staged a live-performance show. "What I want to do is bring contemporary art to the Midlands, bring the big league to this part of the world."
Cohen is not alone. Back in 1985, when the UK's best-known and most voracious collector, Charles Saatchi, opened his first gallery in north London, he was an anomaly. Today collectors on both sides of the Atlantic are increasingly opening their own spaces, handpicking curators and dusting off beloved works that have been sitting in storage crates for years. They say they want to enjoy their collections, share them with the public and promote emerging artists. In the U.S., rabid collectors Don and Mera Rubell have led the way with a museum- quality showplace in Miami, and others, like billionaire Mitchell Rales, have followed suit. In August, Gap founders Doris and Donald Fisher announced their plans to build a contemporary art museum in the Presidio of San Francisco instead of giving their substantial trove to the city's Museum of Modern Art, where Don has been a longtime trustee. In mid-September the Maramotti family, founders of the MaxMara fashion label and owners of one of Italy's biggest contemporary art collections, opened a private museum in their hometown of Reggio Emilia. Unlike the patrons of days past, today's collectors are not holding on to their stashes until they die, nor are they satisfied with loaning or donating select works to art institutions. "Loaning is great for the artists—and for the provenance of the piece—but the collector can't enjoy it," says Anita Zabludowicz, one of London's biggest collectors, who opened the private 176 gallery in north London with her husband at the end of September.
Anita Zabludowicz in front of Cris Brodahl's The Bauhaus Child, 2006, oil on canvas.
For years, collectors had little direct control of the art market: Galleries were largely calling the shots and managing the flow of work between the artists and the collectors. Auction houses weren't even selling new art. But over the past decade the boom in the contemporary art market has changed all that. Suddenly there was serious money to be made, and collectors began leapfrogging over the galleries to flog their de Koonings and Hirsts for increasingly high prices at auction. "The shifting balance of power in the art world means that collectors are more empowered than ever before," says Kenny Schachter, the London-based dealer and entrepreneur. "Of course there's a certain amount of ego in opening your own gallery, but what's the alternative? Fill the coffers of a museum with $100 million to have a room named after you? Why not open a private gallery to show your vision and boost your standing as a collector?"
Artist Margaret Salmon, whose video triptych, Ninna Nanna, won the inaugural MaxMara art prize last year, said she was relieved to know her work was going straight into the Maramotti family's new private museum. "You never know what collectors are going to do with your work—sometimes it can just disappear into a closet," she says. Still, Salmon acknowledges that the new private collections bring risks for artists and the public. "We could be seeing certain artworks in a whole new light—which could be a positive or a negative." Indeed, the question remains whether these new galleries can provide the necessary filter—much like established museums and galleries do via curators, committees and the inevitable caps on spending—to separate the good art from the bad. The sheer number of private collections is another issue. Can there ever be too much contemporary art on view? "There is so much going on in London already—too much," says one London dealer. "Why does the city need more art galleries? I think what these collectors are doing is a travesty. Why can't they just give everything to the Tate and shut up?"
Nothing, however, was going to stop Zabludowicz, a 46-year-old redhead with a wide smile, and her Finnish-born husband, Poju, from realizing their dream of opening their own space. The two have been collecting since the mid-Nineties and now own more than 1,000 works by 300 artists. Poju ranks 24th on the Sunday Times Rich List, with a fortune estimated at about $4 billion, from real estate, hotels and Las Vegas casinos. (The original family business included Soltam, an Israeli defense contractor.) Before establishing their gallery, near Primrose Hill, the couple had been opening their London home and garden regularly to private tours for members of the Guggenheim, the Whitney and the Tate. Ever the hosts, the pair anchored their yacht in Venice during this year's Biennale and threw parties for 60 in honor of artists Tracey Emin and Mustafa Hulusi.
Zabludowicz, who is tight with Sir Nicholas Serota, head of the Tate, and is also a patron of the nonprofit Whitechapel gallery in London's East End, says it's a "sin" to keep art in storage. She believes she's providing a public service. "We wanted to offer something new and original: a gallery that was collector- and curator-based and promoted emerging artists," she says. The first show at 176, which is housed in a former Methodist church (and is named for its address on Prince of Wales Road), has been put together by Zabludowicz and her in-house curator, Elizabeth Neilson. Called "An Archaeology," it features works by 38 artists, including Vanessa Beecroft, Sarah Lucas, Eve Sussman and Rina Bannerjee.
In Camden, not far from 176, collector David Roberts is planning to open his second private gallery, a 14,000-square-foot space that will house exhibitions drawn from his 2,000-piece collection. (His first, smaller space, called One One One, opened earlier this year on Great Titchfield Street.) Roberts, a 51-year-old Glaswegian who made his money in the European commercial property business, has been collecting art for the past 15 years; his cache contains works by more than 400 artists, including Paula Rego, Anish Kapoor and Doug Foster, whose medium is 3-D video. Roberts says he loves subverting what he describes as the snobbery of the contemporary art world. "Galleries can be very intimidating, unwelcoming places," he says, adding that his dream is for people who are new to contemporary art to walk into his gallery and feel comfortable. "I want to do programs for students and schools too," he says.
Back at the industrial park, Cohen is on an ambitious mission to change the artistic landscape of northern England. Currently he is working with the curator David Thorp on "Unholy Truths," a show with a Gothic bent featuring work by a mix of well-known artists such as the Chapman brothers and Andro Wekua, and lesser-known ones from India, Korea and China.
"What we're showing at Initial Access is what's happening at the moment—people won't see this in museums," says Cohen. "My fun comes from being ahead of the game." Cohen's artistic taste hasn't always been received with applause: Jonathan Jones of The Guardian panned a 2004 London show of the collector's works, calling his tastes risibly tacky. "He makes Saatchi look like John Ruskin," wrote Jones. But the private London dealer Ivor Braka, who sells works by such artists as Kippenberger, Hockney, Freud and Hirst, says England desperately needs collectors like Cohen. "Outside London—in Liverpool, Manchester and Birmingham—the museums are largely dead," says Braka, a Manchester native. "They're increasingly strapped for cash because the Labour government doesn't care about the arts outside London. Private collectors and foundations have an immense role to play, and they can have a terrific cultural input in those places." Indeed, since Britain's museums are far more dependent on state funding than are their American counterparts, the UK may well be staring at a new generation of Guggenheims, Mellons, Vanderbilts and Whitneys. "Charles Saatchi changed the face of contemporary art in London with his groundbreaking exhibitions," says Julia Peyton-Jones, the director of London's Serpentine Gallery, adding that Cohen, Zabludowicz and Roberts are following in the tradition of the great art patrons. "They're fleshing out the cultural life and are integral to the fabric of the country."