Ulla Johnson Loves Romantic Jewelry, Shopping Abroad
The fashion designer shares a page from her style notes.
---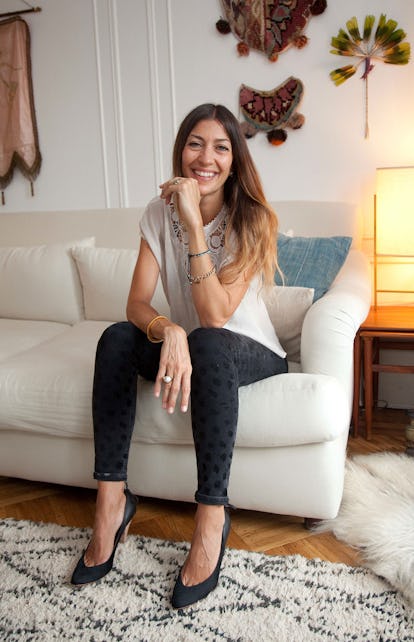 Fashion designer Ulla Johnson may have been born and bred in Manhattan, but she has always been inspired by her far-flung travels. Here, she shares her favorite shopping destinations both locally and abroad, best recent discoveries, and go-to daily uniform.
Define your style in three words: Easy, layered, nomadic.
Daily uniform: I vacillate between really boyish days—jeans and oversize sweaters with high tops—and super feminine days, with heels and silk eyelet frocks.
Greatest hits: I am not that loyal and it changes every season or even every month but right now I am loving my hot pink fluffy alpaca sweater and cream curly sheepskin jacket.
Preferred footwear: Total flats or high heels—nothing in between.
Finishing touches: I love a big hat. I wear the same jewels every day, I love romantic pieces that carry warmth and spirit, like Edwardian lockets and rose-cut diamonds.
Nighttime look: I add a red lip and a clutch.
Best recent discovery: Astier de Villatte incense and Leif Ritchey paintings.
Favorite stores: BDDW for furniture, my favorite souk in Marrakech for rugs, and Saipua in Red Hook for the most gorgeous flowers and soaps.
Style pet peeve: Clog boots.
Style icons: My mother.
Last purchase: About 20 incredible hand-embroidered Huipil shirts on holiday in Mexico City and San Miguel de Allende. I can never have enough.
Lusting after: The perfect country house.
Favorite haunts: Roman's or Reynard in Brooklyn, Balthazar near my studio for champagne and oysters, Cafe Sabarsky at the Neue Galerie uptown for a delicious and chic breakfast.
Winter survival tips: Cozy knits and warm getaways.
What's always in your bag: Dr. Hauschka lip balm.
New year's resolution: Play more.
Photos: Ulla Johnson Loves Romantic Jewelry, Shopping Abroad
Ulla Johnson. Courtesy of the designer.
Ulla Johnson pink turtleneck. Courtesy of the designer.
Johnson wearing her Adelaide boot. Courtesy of the designer.
Johnson wearing a pair of her printed heels. Courtesy of the designer.