Why Michelle Williams and Sarah Paulson Can't Get Enough of Ulla Johnson's New Store
Inside the designer's millennial pink new store in the heart of downtown Manhattan.
---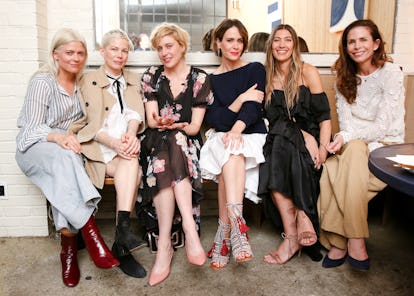 Benjamin Lozovsky/BFA.com
When the weather warms up in New York City come April, it's hard to find the urge to spend your time shopping, when the alternative activity includes lounging in a park with a solo cup filled with rose. That is, unless you are shopping at Ulla Johnson's brand new store on Bleecker Street, which itself feels like springtime in the park, four walls be damned. Tucked away on a quiet block of SoHo, the airy space is largely decorated in the welcoming hue of Millennial pink, including blooming cherry blossoms that decorate the store's walls and sit perched on various counters. It's an aesthetic that pairs perfectly with the designer's fashions: billowing, printed dresses that make for the ideal warm weather uniform. It's a look that has amassed the designer a dedicated following, included celebrities like Carolyn Murphy, Alexa Chung, and Rihanna. Here, a breakdown of why the designer's first New York store is soon to be a must-stop shop.
Interior Decor:
The designer worked with architect Elizabeth Roberts and interior designer Alexis Brown to create a space that emulates the feel of a 19th-century brownstone. The store-face is flanked by windows on three sides, with marble and raw travertine making up much of the interior. Additional details include wicker and Danish cord wrapped racks and furnishings crafted by local designers commissioned especially for the space, hand loomed roman shades made in Brooklyn, and vintage Scandinavian and Italian furnishings in brass, glass, mohair, and sheepskin.
A-List Fans of the Brand:
Michelle Williams, Sarah Paulson, and Greta Gerwig, all of whom came out to celebrate the store's opening on Thursday evening at an intimate dinner held at De Maria.
Pièce De Résistance:
Custom light fixtures by Lindsey Adelman, including a show-stopping piece towards the front of the store incorporating glass plates and a globe-like base.
Related: Michelle Williams Could Sleep Under a Banner of Barbra Streisand's Face
Michelle Williams' Style Evolution, From Teenage Starlet to Vuitton It-Girl
A spaghetti strap moment at the 1999 Primetime Emmy Awards.

Getty
Donning a grey pantsuit at the GLAAD Media Awards in 2000.

Getty
Short and sweet at the now defunct Blockbuster Entertainment Awards, 2000.

Getty
Flip-flops as formalwear at the Seventh Annual Women in Film Lucy Awards in 2000.

Getty
Celebrating Dawson's Creek's 100th episode in 2002

Getty
Embracing the feminine side of things at the 2005 Brokeback Mountain premiere.

Getty
Debuting bangs and a dark ensemble in 2006.

Getty
A frilled mini-dress at the 2006 Whitney Gala.

Getty
Gorgeous in marigold Vera Wang at the 2006 Academy Awards.

Getty
Short and sparkly for the 2007 Film Independent's Spirit Awards.

Getty
At the New York Film Festival in 2008.

Getty
Attending the Salute to American Heroes in 2008.

Getty
Continuing her streak of short, white dresses at a 2010 screening of Blue Valentine.

Getty
Channeling Marilyn at the My Week with Marilyn premiere.

Getty
Going golden at the 2011 AFI Fest.

Getty
A plunging look at the 2011 New York Film Festival.

Getty
Trading in Blue Valentine for blue velvet at the Golden Globe Awards in 2012.

Getty
At the Ireland Alliance Oscar Wilde Pre-Academy Awards Event, Williams opted for a mod-inspired LBD.

Getty
Embracing spring at the 2012 Tribeca Film Festival.

Getty
At a Take This Waltz screening, the actress opted for a lace-up LBD.

Getty
Embracing the quirk of Comic-Con in a printed frock.

Getty
Another chic LBD at the 2013 Whitney Gala.

Getty
For the 2013 Oz: The Great and Powerful premiere, a strapless peacock blue dress.

Getty
Going punk at the 2013 Costume Institute Gala.

FilmMagic
Wearing Louis Vuitton to the Cabaret opening night on Broadway.

Getty
With Nicolas Ghesquiere at the Foundation Louis Vuitton Opening in 2014.

Getty
In Louis Vuitton, once again, at the 'Charles James: Beyond Fashion' Costume Institute Gala in 2014,

Getty
Sequins and combat boots at the Suite Francaise Paris Premiere in 2015.

Getty
Attending the Louis Vuitton show during Paris Fashion week.

Getty
For the InStyle Awards in 2015, Williams wore a tough leather look.

Getty