Uma Thurman and Lars von Trier's Trump-inspired Serial Killer Movie Sounds Beyond Horrifying
Uma Thurman has signed on to director Lars von Trier's latest: a serial killer flick apparently inspired by Donald Trump.
---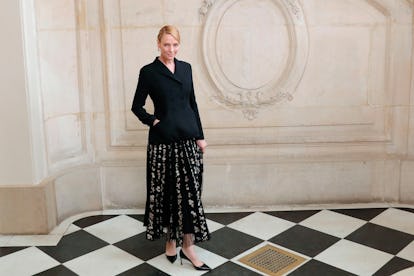 PATRICK KOVARIK/AFP/Getty Images
Controversy-courting director Lars von Trier thinks that only reason Uma Thurman and Matt Dillon took roles in his next film The House That Jack Built is because they can't read. That's because most other actors who read the script were too horrified to sign on.
"There were so many people we sent the script to, who said they would do anything to work with me, except this script," he said during a press conference this week according to Screen Daily. "And then there were two, who said yes and I asked, 'are you sure?' And they said, 'yeah yeah yeah.' I think we should make a little test of their reading abilities."
One expects a von Trier to push the limit. His films have portrayed graphic scenes of debasing sex, heartbreakingly brutal scenes of capitol punishment, and twisted scenes of hallucination involving animals ripping their own guts out. That he managed to pen a script that turned off even those familiar with his ouvre and still willing to work with him otherwise is something.
This is, however, von Trier's take on the serial killer genre. In the film, Dillon plays the titular serial killer, Jack, over the course of a 12-year-long crime spree. Screen Daily suggests that he makes art out of his victims remains, but other outlets covering the press conference don't confirm that detail. Thurman will play one of his five main victims, and Riley Keough will play another.
It also seems that the reason the director is feeling even darker than usual is none other than Donald Trump.
"The House That Jack Built celebrates the idea that life is evil and soulless, which is sadly proven by the recent rise of the Homo Trumpus – the rat king," he previously told The Guardian in February.
Von Trier has famously never been a fan of America, even though he seems to be infatuated by the country. Many of his films are based in the U.S. and the tragedies of the American way of life are a frequent theme, but the Danish director has never actually set foot on U.S. soil. Maybe it's not a surprise that one of the darkest hours for American democracy is bringing out the darkest in von Trier. The only question is how hard the supposed Trump inspiration will be hit home.
In any event, it's notable that von Trier was holding a press conference to promote the film alongside his two stars in the first place. Filming had only gone on for a few days. Uma Thurman's casting had only been publicly known since Tuesday. Von Trier has also been more media-adverse in recent years, as well.
The outspoken director was humbled back in 2011 when a controversial joke about Hitler and the Nazis he made while promoting his film Melancholia during the Cannes Film Festival backfired. He was temporarily banned from the festival, and gave fewer interviews as a restul.
Of course, he's back to public speaking as evidenced by the press conference and hopes to go back to Cannes with this film.
"I have talked to the people I know in Cannes and … yeah, maybe," he told The Guardian when asked if he's ready to make a return to the festival that had otherwise historically embraced his films.
As for what to expect for The House That Jack Built, Thurman chimed in to say that despite the film features her in a main role, an outspoken and violence-happy director in control, and someone who ends up killing five people as its main plot, no one should expect it to be anything like Kill Bill.
"This is not The Bride. The film is about a serial killer and she doesn't survive. I don't choose my parts because of how they end up. I usually choose to work with a filmmaker, writer-director, quite often. Believe me, the script for Kill Bill was terrifying also," she said according to Screen Daily. "I don't like to compare directors. Lars and Quentin are totally different. There is nothing to compare … Well, you are both stubborn."
Von Trier says he's making a serial killer movie, because, well, people are fascinated by serial killers.
"I thought I could fool people to go into the cinema. There are so many books and films and TV-shows about serial killers," he said. "But still I picked it up – of course I know I can't do something drastically different but I had fun writing it."
Somehow though we wouldn't be surprised if he does end up doing something completely different with it.
The film will continue to film through May in both Sweden and Denmark and then will go into a lengthy post-production period. So there's no word on when the world will actually get to see this apparently ghastly Trump-inspired serial killer project. Perhaps Cannes 2019.
Watch W's Most Popular Videos: