The Outsider: Not afraid to iron, or chat up Kelly Bensimon
There's so much going on during New York Fashion Week that doesn't actually involve runways, that if one isn't extremely careful, one's head could easily explode. That's why any "happening" that isn't major major major...
---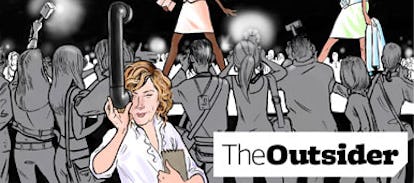 Or the not so little, as in the case of the extremely tall Kelly Bensimon, who hosted a cocktail party at Bryant Park Hotel to celebrate the debut of her Kelly Collection of Native American-inspired blinginess. Dressed in a microscopic M Missoni frock, the bronzed glamazon said she isn't the least bit surprised that her sparkly bijoux are already a hit at Intermix.
"When I was the Ambassador for Wool—not even when I was the editor of Elle Accessories, it was really when I was the Ambassador for Wool—I traveled the country and saw this huge void," said Bensimon, casting a watchful eye over her daughters Sea and Teddy, who were clad, rather adorably, in their school uniforms. "I really wanted to do costume jewelry," Bensimon elaborated. "That's what America needs."