Primary Source: Untitled at the Whitney
I've lived on the Upper East Side for practically my entire life, college excluded, and while there are many cuisine options, especially along Second Avenue, the old school, luncheonette-style diner (no offense, but Googie's...
---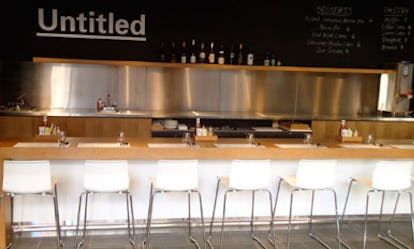 This was exactly the void that Danny Meyer and his team were looking to fill when they took over the former Sarabeth's space in the basement of the Whitney and remade it as Untitled, currently in a soft opening stage.
Inspired by coffee shops of the 1940s, 50s and 60s, Untitled offers an all-day menu of breakfast and lunch dishes to hungry museumgoers and local business workers, alike from 7:30am-3pm on weekdays and 10am-3pm on weekends (Saturday and Sunday prix fixe dinner service will arrive later this spring). A Stumptown fueled coffee bar stays open until the Whitney closes, offering beverages and pastries.
And it all goes down in a setting designed by the Rockwell group. White oak tables and room dividers ground the space, there will be chrome seats with red felt upholstery and felt-backed white oak benches and there is a large bar area backed by a chalkboard paired with chrome and white leather stools, all created to meld with the famous Marcel Breuer building, rather than distract from it. Everything can be quickly cleared away and stored in two hours for one of the Whitney's many nighttime events.
"The museum [basement] is used eighty percent in the evenings for functions so it basically had to be breakfast-lunch business…so we said, Wouldn't it be amazing if we could reimagine that with exceptional ingredients?" says Meyer's partner Richard Coraine, who oversees new business. After all, this is a Danny Meyer enterprise—Bisquick and Jimmy Dean sausage don't cut it.
Instead, chef Chris Bradley, formerly of Gramercy Tavern (and also an Aureole and Café Boulud alumnus) and his team have focused on sourcing the freshest of ingredients: bread baked at Brooklyn's Scratchdrop; fresh eggs from Urban State Garden Farms in Newark; five apple pies every other day courtesy of Four & Twenty Blackbirds (they only produce 100 pies a day from their Brooklyn kitchen), and artisanal Brooklyn Sodaworks drinks (I got to sample a delicious apple-ginger one. Still waiting to test-drive the food. Hint, hint.). The bacon, ham and pastrami are cured in house and any meat smoking is done at Meyer's catering company, Union Square Events' kitchen.
And the menu is gimmick-free—no Kandinksy omelettes or Rothko waffles here.
"I had some lngonberries in to make a jam and was going to call it 'Ligon berry jam' [in honor of the current Glenn Ligon exhibit], but too jokey," says Bradley.
His offerings cover ample ground from cheesy scrambled eggs on toast and pork sausage gravy and a biscuit to Matzoh ball soup and one of Bradley's favorites, kale, beet and almond salad with a yogurt vinaigrette. Heartier fare includes a pastrami reuben, Greek lamb burger and parmesan-crusted grilled cheese.
"This is an 'unlearning.' I have to learn how to not make it elegant, make it look homey so people can come in and feel relaxed," says Bradley, who will get to display his fancier skills in the weekend dinners. Themes being tossed around include "Meet Your Maker," in which he'll craft a meal around one of the purveyors and invite them to join and Sunday roasts. "I'm not holding back in here. I'm just doing a different style and then taking the weekends and really show off."
As for the café's curious title, or lack thereof, it was the product of indecision ("Over six months time we couldn't come up with a name and the director of the museum Adam Weinberg said 'It's called Untitled. Great works of art are called untitled sometimes,'" says Coraine.), whose effect continues to comically rear its head.
"I got an email today from one of the purveyors that said, 'Let us know when you decide on a name,'" laughs Bradley. "And I was like, 'No, it IS Untitled.'"