All Four U.S. Open Women's Semifinalists Are Americans
An American will win the U.S. Open this year, finally.
---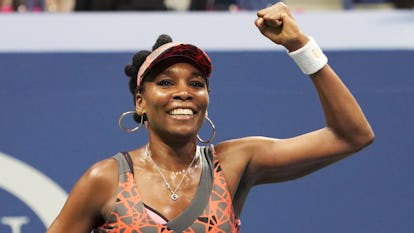 Don Emmert/AFP/Getty Images
For the first time in more than three decades, all four women in the U.S. Open semifinals are Americans, guaranteeing that an American will be crowned the winner this Saturday—despite the fact that Serena Williams, the only American woman who's even made it to the tournament's finals in the last decade, is out on maternity leave.
Thursday night's two semifinal matches will see Venus Williams and Sloane Stephens] face off at the Billie Jean King National Tennis Center's Arthur Ashe Stadium in New York City before CoCo Vandeweghe and Madison Keys take the court. Williams, 37, grew up in California; Stephens, 24, is from Florida; Vandeweghe, 25, was born in New York; and 22-year-old Keys hails from Illinois. Of the four, only Williams, who won the tournament in both 2000 and 2001, has ever made it to the U.S. Open's semifinal round.
After Keys beat Estonia's Kaia Kanepi in her quarterfinal match on Wednesday night, she spoke to the New York Times about the upcoming all-American semifinal round. "I think we were all rooting for each other today, and I thought it would be a very special moment," she said. "I'm glad I helped everyone out and got my name in there." And on Tuesday, after her own success in the quarters, Williams told ESPN, "It's been a great two weeks for American tennis, seeing all the American players in the draw and all of them advancing so deep and competing so well. It's great to see this resurgence, and I hope it can continue."
According to the Washington Post, the last all-American women's semifinal at the U.S. Open was all the way back in 1981 — before Stephens, Vandeweghe and Keys were even born. That year, Chris Evert lost to Martina Navratilova and Barbara Potter lost to Tracy Austin in the semis before Austin went on to beat Navratilova in the finals. Since then, only six different American women have made an appearance in the U.S. Open finals, with the Williams sisters winning a combined eight championships. (Most recently, Serena scored an impressive hat trick by taking home the trophy at the 2012, 2013, and 2014 events.)
American men have an even worse track record: The tournament's last all-American men's semifinal session was in 1979 and the last American man to win at Arthur Ashe Stadium was Andy Roddick in 2003.
Related: U.S. Open 2017: The Essential Guide to This Year's 8 Must Know Players
10 Famous Couples Spotted at the US Open Over the Years: