U.S. Open 2017: The Essential Guide to This Year's 8 Must Know Players
From the so-called "Baby Fed" to Serena Williams' likely successor, here's the eight players to watch at this year's tournament.
---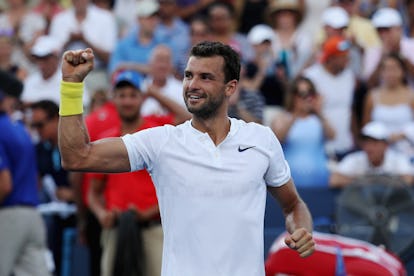 Rob Carr
In tennis, as in life, the more things change the more they stay the same. When the U.S. Open kicked off earlier today in New York, there were some new features (a state of the art Grandstand Court!), some newish fixtures (that much appreciated, and delayed, retractable roof on center court), and then the usual colorful parade of fashion brands breathlessly serving up flamboyant looks for the players.
But for as long as anyone can remember the Big Four (Roger Federer, Rafael Nadal, Novak Djokovic and Andy Murray) have owned the men's competition at the grand slams, with only Marin Cilic and Stan Wawrinka occasionally crashing the party. However, with Djokovic, Murray and Wawrinka out with injuries, and questions lingering over Federer's tweaked back (to say nothing of Nadal's playing on his least favorite surface), we may well have a first-time winner at Flushing Meadows.
The women's field is even more wide open. The all-conquering Serena Williams, a six-time champion in New York, is off the tour as she awaits the birth of her first child; two-time finalist Victoria Azarenka is sitting out the tournament because of a custody battle with her ex; and 2006 champion Maria Sharapova is struggling with injury on her comeback trail from a 15-month doping suspension. Sharapova will be looking to re-establish her reputation with an impressive performance here, especially as she's flogging a new autobiography, but the grunters' grunter has drawn a tough first-round opponent tonight at Arthur Ashe Stadium: Romanian second seed Simona Halep, who was this close to winning the French Open final in July before her circuitry went haywire and her opponent, Jelena Ostapenko, a sometime ballroom dancer, waltzed off with the trophy. (You can stream the matches starting 11 a.m. here.)
With tennis once again in the headlines over match-fixing allegations, we wouldn't dream of besmirching the sport by betting on a winner. But if you're the gambling type, the smart money is on the following rising stars and middling veterans.
The Men to Watch
Alexander Zverev The most hyped young player in the sport is quickly living up to his considerable promise. Sascha, as the 20-year-old German is better known, already has scalps against the world's top players, including Federer and Djokovic, and two prestigious Masters titles this year. (He is the only player outside of the Big Four to win two Masters events in the same year since David Nalbandian, in 2007). Despite his early stumble in Cincinnati two weeks ago, and the not insignificant fact that he has yet to advance past the quarters of any major, don't be surprised if he walks away with the trophy—especially now that his part of the draw has opened up with the last-minute withdrawal of Andy Murray.
Dominic Thiem With his big backswings, and a jam-packed schedule that would leave others spent this late in the season, The Dominator should by rights be disqualified from the start, given the fast hardcourts at the Open. But this hard-working 23-year-old Austrian, trained by starmaker Günter Bresnik, is as strong as an ox and can hold his own over five sets, as his impressive semi-final run at this year's French Open attests. Although he is in the toughest part of the draw, alongside Federer and Australia's superbrat Nick Kyrgios, another deep run into the second week of a major would surprise exactly no one.
Grigor Dimitrov Dubbed "Baby Fed" since he joined the pro ranks in 2008 because his playing style so resembles that of his idol, Roger Federer, this handsome Bulgarian (and Sharapova's ex) has fallen well short of RF's prodigious accomplishments. But having recently won his first Masters title in Cincinnati, becoming the first of his generation to do so, this might finally be his moment. OK, he still has Nadal and then potentially Federer to get by if he wants to make the final, but for once he has to like his chances against these legends. We do. Plus, we love a straight man who's comfortable enough in his own skin to admire his sexy fellow players.
Denis Shapovalov Prior to this month, the 19-year-old Canadian with the hockey hair was best known for being forfeited from a match after a ball he whacked in anger accidentally hit an umpire in the eye. But with recent upset wins in Montreal against Juan Martín del Porto and Nadal, and a tough-fought semifinal loss versus Zverev, Shapovalov is beginning to get attention for all the right reasons. His ranking was too low to get an automatic entry into the Open, but he managed to fight his way though the qualifying rounds and has landed in the weakest part of the draw. Watch this face, and learn to spell his first and last name. This kid's here to stay.
The Women to Watch
Garbiñe Muguruza Having followed up her victory in last year's French Open by winning this year's Wimbledon, then having a great U.S. summer hardcourt series, the 23-year-old Venezuelan-born Spaniard is the favorite coming into this (with Halep a close second). But before you start breaking out the vuvuzelas for Muguruza, remember that she has yet to advance past the second round in New York, a city that she previously deemed to be too rowdy. Still, as the only one of the top five seeds to have won a grand slam title, it's hard to see her not making plenty noise of her own.
Karolina Pliskova Don't sleep on last year's runner-up who still remains unknown beyond tennis fans and her immediate family. Now 25, the Czech has grown into her statuesque frame and seems primed to make a name for herself. Her serve is reliably huge (and as big as a lot of the men's) and she has proven in the past year that she can handle the pressure in big moments. And having recently become only the 23rd player to assume the Number 1 ranking (by the narrowest margin since 2009) she will dig deep to at least make it to the final, thus securing the top spot.
Elina Svitolina The euphoniously named 22-year-old Ukrainian has noticeably improved her serve and is at a career-high ranking of Number 4. An aggressive baseliner who now believes that she belongs at the top, she leads the tour with the most titles this year (5), including the Rogers Cup in Toronto two weeks ago, defeating seeds Venus Williams, Muguruza, Halep and Caroline Wozniacki. She has a tricky first-round encounter against Katerina Siniakova, but assuming she gets through that she is poised to do serious damage.
Madison Keys Of the five American women in the draw who can realistically threaten here—Venus Williams, CiCi Bellis, CoCo Vandeweghe, Sloane Stephens and Madison Keys—we're leaning towards Keys. Now coached by 1998 champ Lindsay Davenport, and fully healed from a persistent wrist injury that required surgery earlier this year, she's striking the ball with her signature ferocity and has arguably the kindest draw of the American women. Tipped by none other than Serena Williams to be a future Number 1, this might be the tournament where the 22-year-old begins to make the augury come true.
Time!
Here's the 8 Bright Young Players to Watch at the U.S. Open
The most hyped young player in the sport is quickly living up to his considerable promise. Sascha, as the 20-year-old German is better known, already has scalps against the world's top players, including Federer and Djokovic, and two prestigious Masters titles this year. (He is the only player outside of the Big Four to win two Masters events in the same year since David Nalbandian, in 2007). Despite his early stumble in Cincinnati two weeks ago, and the not insignificant fact that he has yet to advance past the quarters of any major, don't be surprised if he walks away with the trophy—especially now that his part of the draw has opened up with the last-minute withdrawal of Andy Murray.

Michael Reaves
With his big backswings, and a jam-packed schedule that would leave others spent this late in the season, The Dominator should by rights be disqualified from the start, given the fast hardcourts at the Open. But this hard-working 23-year-old Austrian, trained by starmaker Günter Bresnik, is as strong as an ox and can hold his own over five sets, as his impressive semi-final run at this year's French Open attests. Although he is in the toughest part of the draw, alongside Federer and Australia's superbrat Nick Kyrgios, another deep run into the second week of a major would surprise exactly no one.

Rob Carr
Dubbed "Baby Fed" since he joined the pro ranks in 2008 because his playing style so resembles that of his idol, Roger Federer, this handsome Bulgarian (and Sharapova's ex) has fallen well short of RF's prodigious accomplishments. But having recently won his first Masters title in Cincinnati, becoming the first of his generation to do so, this might finally be his moment. OK, he still has Nadal and then potentially Federer to get by if he wants to make the final, but for once he has to like his chances against these legends. We do. Plus, we love a straight man who's comfortable enough in his own skin to admire his sexy fellow players.

Rob Carr
Prior to this month, the 19-year-old Canadian with the hockey hair was best known for being forfeited from a match after a ball he whacked in anger accidentally hit an umpire in the eye. But with recent upset wins in Montreal against Juan Martín del Porto and Nadal, and a tough-fought semifinal loss versus Zverev, Shapovalov is beginning to get attention for all the right reasons. His ranking was too low to get an automatic entry into the Open, but he managed to fight his way though the qualifying rounds and has landed in the weakest part of the draw. Watch this face, and learn to spell his first and last name. This kid's here to stay.

Minas Panagiotakis
Having followed up her victory in last year's French Open by winning this year's Wimbledon, then having a great U.S. summer hardcourt series, the 23-year-old Venezuelan-born Spaniard is the favorite coming into this (with Halep a close second). But before you start breaking out the vuvuzelas for Muguruza, remember that she has yet to advance past the second round in New York, a city that she previously deemed to be too rowdy. Still, as the only one of the top five seeds to have won a grand slam title, it's hard to see her not making plenty noise of her own.

Craig Barritt
Karolina Pliskova Don't sleep on last year's runner-up who still remains unknown beyond tennis fans and her immediate family. Now 25, the Czech has grown into her statuesque frame and seems primed to make a name for herself. Her serve is reliably huge (and as big as a lot of the men's) and she has proven in the past year that she can handle the pressure in big moments. And having recently become only the 23rd player to assume the Number 1 ranking (by the narrowest margin since 2009) she will dig deep to at least make it to the final, thus securing the top spot.

Matthew Stockman
Elina Svitolina The euphoniously named 22-year-old Ukrainian has noticeably improved her serve and is at a career-high ranking of Number 4. An aggressive baseliner who now believes that she belongs at the top, she leads the tour with the most titles this year (5), including the Rogers Cup in Toronto two weeks ago, defeating seeds Venus Williams, Muguruza, Halep and Caroline Wozniacki. She has a tricky first-round encounter against Katerina Siniakova, but assuming she gets through that she is poised to do serious damage.

Vaughn Ridley
Of the five American women in the draw who can realistically threaten here—Venus Williams, CiCi Bellis, CoCo Vandeweghe, Sloane Stephens and Madison Keys—we're leaning towards Keys. Now coached by 1998 champ Lindsay Davenport, and fully healed from a persistent wrist injury that required surgery earlier this year, she's striking the ball with her signature ferocity and has arguably the kindest draw of the American women. Tipped by none other than Serena Williams to be a future Number 1, this might be the tournament where the 22-year-old begins to make the augury come true.

Matthew Stockman
Watch: Chris Hemsworth Got a Surfboard He Couldn't Wax on His Favorite Birthday
Chris Hemsworth Got a Surfboard He Couldn't Wax on His Favorite Birthday