Meet the Panama Hat Designer Carried by Colette
With her hat company, Valdez, Gabriela Goldbaum has created jobs for nearly 500 Ecuadorian women.
---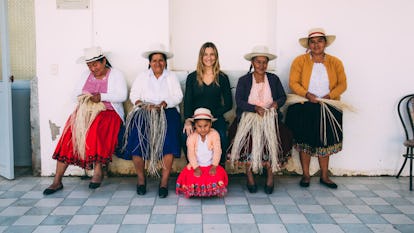 Los Angeles-based milliner Gabriela Goldbaum is setting out to preserve the Ecuadorian Panama hat with her company, Valdez. Creating jobs for nearly 500 Ecuadorian women thus far, the designer is challenging the norms of production with her locally manufactured hats, made with organic toquilla straw and natural seeds from the Amazon and the Andes. Festooned with bright embroidery and decorations, Goldbaum's aim is to "add a touch of happiness" to a woman's look. Here, Goldbaum talks finding inspiration in nature, the earthquake that hit Ecuador in April, and her expansion plans. This summer, she'll add Theory to a list of stockists that already includes Colette and Opening Ceremony.
Where do you find inspiration? I find inspiration in nature and culture. As I live in a diverse country such as Ecuador, I love to be active outdoors, either running on a trail or doing stand up paddle board in the ocean. I feel very relaxed and able to be creative when I'm surrounded by nature and wildlife. Being a creative person, I appreciate and enjoy art and music. I'm influenced by the work of other artists, musicians, photographers and filmmakers.
What it like getting your business off the ground? I don't have any partners so it all depended on me from the beginning. I've enjoyed the journey but it has been a steep learning curve, definitely. To balance working with artisans and keeping the business together has been very challenging and rewarding at the same time. When my business began growing so did theirs, so it was really an experience I got to share and enjoy with them organically. ­At the beginning it was like trial and error, but then I achieved a balance and was able to really get the brand going.
How does traveling inspire you? What is your next travel plan. I get inspired when I travel because it takes me out of my environment and I get to see and experience different things. It is quite a contrast to go from the tropics to the Mediterranean or from the mountains to the city. For me, the contrast is what gives me inspiration. For example, the Resort 2017 collection was inspired by the contrast between ­the city and the seaside; how your day and life changes the moment you leave the city and arrive to a carefree spot by the ocean. I'm currently in Los Angeles, I have family here that are all involved in Valdez so it is great to be able to collaborate with them while spending time together. I'm then going to Milan for work and crossing over to Greece to meet with friends.
What accessories trends are you seeing among women right now? Women are really looking for the statement piece to complement their look, colorful and fun pieces that add a touch of happiness to their outfit and luxurious pieces that elevate their look. ____
How would you describe your personal style? My personal style is versatile; I'm naturally attracted to many looks and concepts. In my wardrobe I have artisanal and earthy accessories but also tailored and fine garments. I travel a lot so I get to shop unique pieces from local stores but also like to have special pieces from designer collections. On a typical day I would wear a tailored pant or skirt, a flowy top, simple jewelry and a statement flat.
Has there been a favorite moment since you launched? One of the most exciting moments was when we received our very first order from Opening Ceremony. It wasn't a large order, but it was very important for the beginning of the brand. When we got our first large order from Club Monaco, I basically had to move to the town in Ecuador where the artisans are based, and I got to experience the impact this business would have on their lives. So far, Valdez has created jobs for nearly 500 women from different local communities. My favorite moment though has been when Colette contacted us to purchase our Summer 2016 collection.
Talk about your plans for the future. What's next? I am partnering with a group of architects and urban planners to develop sustainable living models within the communities of artisans that were affected by the earthquake that hit Ecuador on April 16, 2016. We will provide training to build shelters and house models designed by the architects using materials from the area and teach them sustainable principles for living within their community. The program also organizes different artisanal groups within the community and provides them with a model for production, development and commerce. Another exciting development is that a few custom Valdez styles will be arriving at Theory stores this summer.
Photos: Meet the Panama Hat Designer Carried by Colette
Ecuadorian artisans make hats for Gabriela Goldbaum's brand, Valdez. Photo courtesy Valdez.
Ecuadorian artisans make hats for Gabriela Goldbaum's brand, Valdez. Photo courtesy Valdez.
Ecuadorian artisans make hats for Gabriela Goldbaum's brand, Valdez. Photo courtesy Valdez.