House Proud
For the seasoned design team at Valentino, craftsmanship and couture flourishes are key.
---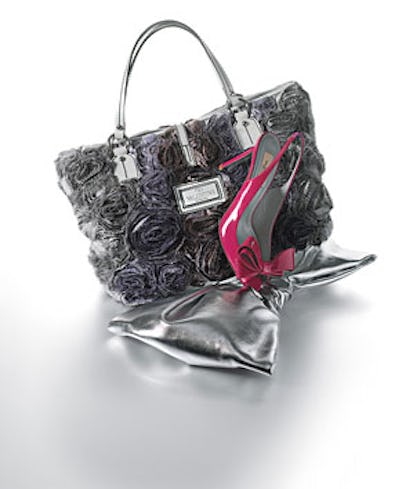 In the nine years they've spent forging the template for Valentino's accessories division, designers Pier Paolo Piccioli and Maria Grazia Chiuri have gone to great lengths to translate such iconic house couture elements as ribbons, flowers, lace, tulle and basket weaves into shoes and bags. And the fact that Valentino laid down his sketchbook in January isn't altering their vision one bit.
After personally wooing the duo from Fendi, Valentino gave Piccioli and Chiuri carte blanche to create his accessories collection. And since then, the pair has garnered a loyal following of red- carpet regulars. Angelina Jolie, for example, has been spotted with a white braided-handle bag, while Sarah Jessica Parker recently donned silk satin sandals in coral pink.
The designers' latest undertaking, a line of bags slated to arrive in stores in November, exemplifies their design sensibility—working one shape in myriad ways. Though they've stuck with a no-fuss, medium-size tote, it's rendered with an array of complex embellishments. One pearl gray style, for instance, features numerous circular layers of leather applied to form large flowers. For another offering, a sun motif is achieved with cuts in the leather that fan out in rays. This endless-variations approach is one that Piccioli and Chiuri have honed throughout their careers, most famously with the Fendi Baguette, for which they're credited. "It's a constant work in progress because we experiment, experiment and experiment," says Chiuri.
A stark white design studio in Valentino's Rome offices serves as the base of the accessories operation. Once they're briefed on the direction of the next fashion collection by Alessandra Facchinetti, Valentino's Milan-based women's wear designer, Piccioli and Chiuri work independently.
In pursuit of luxe materials, they search the Italian peninsula. While Milan is a great source for crocodile, the designers travel to Parma for hides and to Florence for hardware. That legwork is repaid with a high level of craftsmanship, says Chiuri, who illustrates her point by proffering a yet-to-be-mounted gold metal closure with a turquoise embossed flower. "Our artisans assembled every single component," she says, "just like the seamstresses do with couture."
But, as Piccioli points out, incorporating intricate fashion concepts into accessories isn't always easy. "It took us forever to figure out how to do a georgette bag woven in the same way as a gown," he says. "All our products need to be contemporary yet intrinsic to the brand's memory."