Pierpaolo Piccioli Takes His First Solo Bow at Valentino, and Karl Lagerfeld's Affair with the 'Twilight' Cast Grows
The start of a beautiful friendship.
---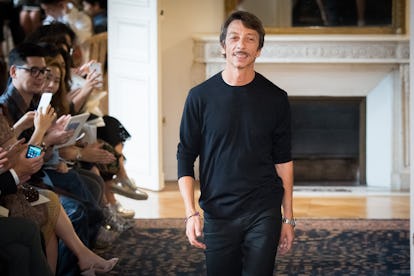 WireImage
Brown, Millie Bobby The 12-year-old British star of Stranger Things encountered a lot of firsts on set and screen: first shaved head, first kiss, first run-in with a record player. But she's taking it all in stride.
Creator, Tyler the Odd Future frontman and Golf Wang designer making leopard-print polos with pink collars — and about to branch out into footwear.
Kardashian West, Kim Reportedly robbed at gunpoint in her Paris hotel room Sunday evening. In case anyone doubted the utter devotion of Kanye West, 2,000 miles away, the rapper ended his set headlining the first Meadows festival in New York City.
Lebowitz, Fran Doesn't do Twitter, email, cell phones, or contemporary novels. In her culture diet, she weighs in on Adele vs. the Pope, the presidential election, and why she is "the world's greatest voter."
Moncler Amid work with Thom Browne, cult Japanese illustrator Friends With You, and Off-White, Moncler's CEO Remo Raffini is turning around the old-school outdoor apparel label, which once dressed the French Olympic ski team.
Pattinson, Robert The one-time Twilight star makes his debut as the face of Dior Homme, photographed by Karl Lagerfeld, who also has cultivated an enduring relationship with Pattinson's co-star Kristen Stewart as the face of Chanel.
Valentino Minus one-half of fashion's superstar design team, Valentino's Pierpaolo Piccioli strikes out on his own. It's like the Beatles, he explains: As great as they were together, it was only with the genesis of their solo careers that "Imagine" came to be.