Meet the Italian Street Artist Who Paints Superheroes For Valentino
Known as Solo, he was discovered by Maria Grazia Chiuri and tapped with painting enormous murals featuring a modern Wonder Woman.
---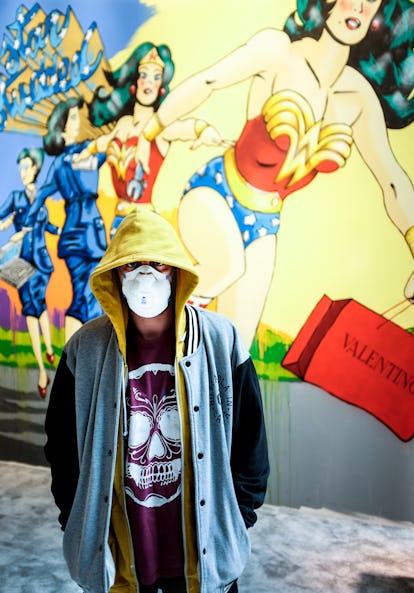 On Friday afternoon at the Valentino flagship on Fifth Avenue in Manhattan, the Italian street artist known as Solo, 32, was puting the finishing touches on his "Wonder Woman" mural. He stood in the store's shimmering marble lobby wearing a paint-splattered jeans and a hoodie, looking up proudly at his work while customers looked inquisitively at this character with the Spiderman earring. One might mistake him for the Gucci Ghost. He'd been working on the piece ten hours a day for three days straight and his final cutoff time was when the store closed that evening. This was not his first Valentino "Wonder Woman" mural, however. Discovered by designer Maria Grazia Chiuri, he was now working on his fifth for the label, if you count the one he did in the goop Christmas pop-up (plus Milan, Rome, where he was born, and now New York) in honor of the "Wonder Woman" capsule collection. "I paint superheros in every day life," said Solo. "Like Spider-Man drinking a coke, Superman eating a hamburger, or a pregnant Wonder Woman." New York's Wonder Woman? She holds a wrench in one hand and a shopping bag in the other.
What drew you to comics? Do you remember your first one? For me, comics are the meaning of life. I've learned everything by comic books. They make me feel strong and courageous; I use them for work and I use them for a release. I remember my first comic book perfectly. I was nine years old and I went to the newspaper shop with my father in the mornings. He put a comic book in my hand and it was Nathan Never, an Italian comic book. It was the second one and now it's on it's 300th or something. It's a sci-fi comic and as a kid it was amazing.
Do you have a favorite comic book character? Spider-Man. He's the most normal super hero. He's an average guy with girl problems and bullies in school. For a young person reading comics, he's the closest character to them. He's a little bit unlucky, and me too. I feel close to him.
What do you like about Wonder Woman? She was the first real female character in comic books. She's a woman who does everything herself. She's strong and she's beautiful. She's the perfect woman.
How did you interpret her character for the mural? We tried to make a portrait of the modern woman. I grew up with my mom, who was a super strong figure and multi-tasker. She worked, took care of me and my brother, took care of the home, and is also a beautiful woman. I would come home from school one day and she would be working with a screwdriver, and then another she was all dressed up to go out with her friends. For me, Wonder Woman is 360-degrees. She's the full picture. When I spoke with [creative directors] Maria Grazia and Pierpaolo [Piccioli]about this project, we wanted to do a portrait of a beautiful, independent woman. In the mural, she has lipstick in one hand to represent beauty, a baby bottle in another to represent family, another with a laptop, then a wrench and a shopping bag. We tried to represent a woman in her everyday, who is able to do anything.
What was it like working with Maria Grazia and Pierpaolo? I wasn't used to working in the fashion world, but it was very easy to introduce myself to Maria Grazia and Pierpaolo because they are very easy people. They're so smart and so friendly. For me, it was amazing because they taught me everything. I paint a lot around Rome, and Maira Grazia saw my Wonder Woman and called me up.
What makes someone a modern superhero? For me, superheroes are a modern version of religion; they are like gods. Jesus was kind of like a superhero — he walked on water and came back from death. I think humanity in real life has so many problems that we need help from something bigger. Today, we've replaced religion with superheroes. There are so many movies and Internet series. In parallel, normal life is totally in crisis. I think everyone can be a superhero. Every day we make choices, big and small. I love Spider-Man because there's this great claim that "with great power comes great responsibility." I believe that everyone can make a difference in any way. You don't need to fly — I could call my friend and give him courage or help my mom with something. It's just giving five minutes of my life. Comic books taught me this. I try to apply it in everyday life and explain to others what I've gained from comic books.
Photos: Meet the Italian Street Artist Who Paints Superheroes For Valentino
Solo. Photo by Biel Parklee.
Solo. Photo by Biel Parklee.