Vanessa Beecroft Insults Beyoncé, Basic Concept of Race
The Italian performance artist raises eyebrows in a new interview, and reveals she's been relieved of her duties with Kanye West because of Kim Kardashian.
---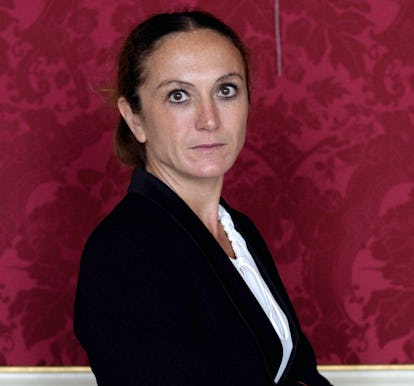 Getty Images
Do you hear that? It's the clack of a hundred keyboards churning out think pieces, the clicks of a thousand outraged retweets and, perhaps most fiercely of all, the angered buzz of the Beyhive. It is the sound of the only possible reaction to New York's absolutely bonkers profile of performance artist and frequent Kanye West collaborator Vanessa Beecroft.
Back in March, Beecroft set more than a few eyes rolling after she told W that she believed her work with West entitled her to identify as black.
"I am protected by Kanye's talent. I become black," she said after collaborating with West on Yeezy Season 3. "I am no longer Vanessa Beecroft and I am free to do whatever I want because Kanye allows it."
Apparently learning nothing from the backlash, Beecroft has only doubled down on her choose-your-own-race views.
"I have divided my personality," she told New York. "There is Vanessa Beecroft as a European white female, and then there is Vanessa Beecroft as Kanye, an African-American male."
She later reveals that she was upset that a recent DNA test she took revealed no African heritage.
"I was kind of disappointed, and I don't want to believe it," she said of the results.
Yet, that's just the tip of the iceberg.
On choosing an image of refugees fleeing genocide in Rwanada as the inspiration for the Yeezy show staging: "The image came out of one of my books, and I thought, 'Perhaps this is Woodstock, because it looked really fashionable and glamorous, but no. That was a refugee camp … I wanted the people to look poor."
On apparently thinking that West is the first real inspirational African-American figure: "Look, if Kanye's there to help people of color start to identify and go on a new form of awareness and revolution, then I am happy about that because he is doing it in a gentle way."
On her inspiration to start using black participants in her performance art in the first place: "My first black project was originated by the fact that I met a bluesman from Chicago in Italy and he was white and he was really, really upset by being white, he kept saying, 'If only I was black.' He felt discriminated against. And that really triggered something for me. I said, 'I'm going to be black, too.'"
On America's racial diversity in comparison to her native Italy: "I had wanted to move to the States because of the presence of African-Americans…I was so happy to see mixed races. In Italy, they are in the street selling gadgets."
As if that wasn't all enough to guarantee a perfect internet controversy storm, Beecroft also seems to pick a bit of a fight with Beyoncé.
Apparently Beecroft's husband, the photographer Federico Spadoni, thinks that Bey's "Formation" video borrows from Beecroft's work.
While discussing an upcoming collaboration with Mattel's Barbie Doll line, Beecroft mutters, that some of the dolls might have "caramel Beyoncé skin," though she clarifies she's barely aware of who Beyoncé is. (Mattel did not respond to a request from the magazine to confirm that an official collaboration is actually in the works.)
Beecroft's work is noted for people, mostly women, standing in arranged positions, often decked out in a muted, monochromatic color scheme. "Formation" includes one recurring setup of Yoncé, dressed in all black, standing in front of men, also in black. Unless you happen to believe Beecroft has a claim to creating the idea of arranged standing in coordinated colors, it's an odd claim to make.
Beecroft, who came to artistic prominence for her performances in the '90s (and now is mostly known for applying the aesthetic developed from that art to the projects of paying collaborators, Kanye included), has always courted racial controversy with her work, but the point came to the forefront due to the 2008 documentary The Art Star and the Sudanese Twins. After reading a short article about the plight of Darfur, Beecroft decided to fly to Africa to help only to wind up in an entirely different part of the continent. Once in Sudan, Beecroft breastfeeds and then later tries to adopt two twins whose mother died during childbirth. In the film, Beecroft worries that she may come across as a "white monster." Audiences at Sundance, where the film premiered, tended to agree.
"I really enjoyed this criticism," she told The Washington Post after the brouhaha. "It is what I work for. I want people to exercise their thoughts, and I provoke with this image. Because the image was intentional also, not only a souvenir. But it had an intent to provoke. So I was happy with this reaction. That is part of my work. To create a little bit of irritation for the audience."
Interestingly, the article later reveals that Beecroft's biggest professional drive at the moment is to earn money to pay for her four children's idyllic lifestyle.
"I need to generate value," she tells New York, "because there are nannies and tutors and trainers. I do not like for my children to go to group classes; I prefer that they have the best."
She's a mother who wants to make sure her children can continue traveling the globe and eating healthy lunches out of woven baskets wishing to be black in a country where many actual black mothers are worried that their own children may be shot.
Perhaps in the least controversial part of the story, Beecroft, who used to be on Kanye's full-time payroll, believes she was relieved of duty due to West's reported debts and the insistence of Kim Kardashian. Which shouldn't be a surprise. If we can give her anything, it's that Kim Kardashian makes wise financial decisions.
Watch Vanessa Beecroft's performance for Tod's at Milan Fashion Week here.
After Yeezy at MSG, Vanessa Beecroft Strikes Again at Tod's during Milan Fashion Week