Vanessa Seward Is Coming Into Her Own
After years of designing for Azzaro and A.P.C.
---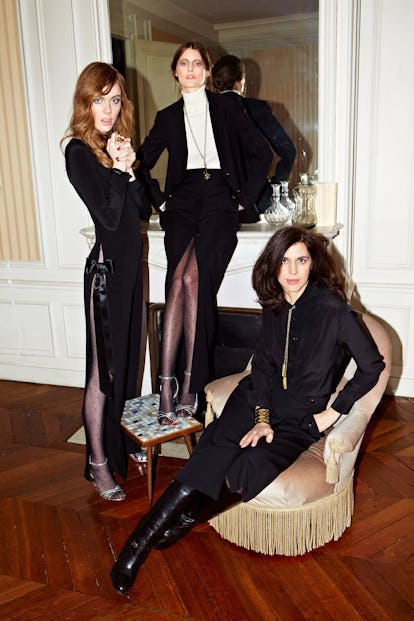 Though there are as many ways of being a woman designer as there are women designing, the best of them have one thing in common. In the case of Phoebe Philo, Clare Waight Keller, Isabel Marant, or now, Vanessa Seward, who launched her namesake label during Paris Fashion Week in March, there's a synergy between the clothes they make and the life they live. The output of this group—many working mothers among them—is informed by a sense of allure, practicality, even dignity. "No woman wants to be a fashion victim or too much of a bohemian or a rock chick or whatever tribe," says Seward, herself stylishly neutral in an A.P.C. denim jumpsuit and a pair of black patent mary janes of her own design. "As a woman designer, I think I can hit the sweet spot of what a real woman wants to look like. You tell the story you want to tell; you don't want to have it written all over your clothes."
Seward's 95-piece 1970s-tinged collection of shirtwaist silk dresses, soft tweeds, high-waisted jeans, and the world's most versatile stack-heeled boots is backed by A.P.C. founder Jean Touitou, for whom Seward has, for the past three years, produced a capsule collection. Similar themes come up in both: The clothes are ladylike but flirty, casual but pulled together. The difference with Seward's new line is that it comprises a full, versatile wardrobe suited for workday or weekend, with prices starting at $235. There will be two stores opening in Paris, and the clothes will be sold on Net-a-Porter and at Paris's Le Bon Marché and Maria Luisa, starting in July.
It took becoming a mother for Seward to conceive a collection this grounded. She wasn't always such a sensible dresser: She recalls that during the nine years she worked for Karl Lagerfeld at Chanel, she "took taxis to work and wore heels and cocktail dresses every day." Then came two years under Tom Ford in the accessories department at Yves Saint Laurent. "I had no idea how to dress casually," she says, grimacing. In 2002, Seward became the No. 2 at Loris Azzaro, a 1970s eveningwear powerhouse that had gotten "a tad dusty," she says. When its namesake founder died of cancer a year later, Seward took over the top job, her insouciant, retro-ish cocktail dresses already a hit with influencers like Carine Roitfeld, then the editor in chief of Vogue Paris. Living with the record producer Bertrand Burgalat in a rambling 17th-arrondissement apartment, Seward was pushed by Azzaro's owners to take a more public role as the face of the brand, but that proved a challenge for the designer, who is quite shy. Following the birth of her daughter, in 2010, she admits to having "a bit of a midlife crisis." She left Azzaro, and soon Touitou and his wife, Judith, came calling. For the first time in her career, Seward wore flats to work—and found that she really liked it.
That's not to say, of course, that Seward eschews sexy glamour—in fact, it's part of her DNA. She grew up in London, where her father, an Argentine diplomat, was posted, and where her mother became known as something of an outré fashion plate. "She would wear tweed capes and really high-heeled boots to go to the country—great-looking, if a bit useless," recalls Seward with a laugh. "Compared to her, I sometimes feel like the daughter in Absolutely Fabulous. But clearly I have a bit of her in me."
Hair by Shuko Sumida at Walter Schupfer Management; Makeup by Mickael Noiselet t Calliste; Models: Marie Piovesan at Viva Model Management Paris, Kiki Willems at IMG Models; Prop Stylist: Daphnee Lanternier.