Vanessa Seward Is Bringing Her French-Girl Chic to London's Notting Hill
The Buenos Aires-born designer is opening shop in London.
---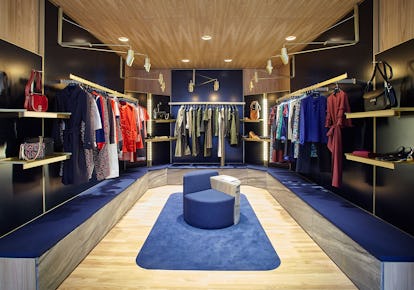 Although she was born in Buenos Aires, Seward grew up in between London and Paris. After coming up the ranks at Chanel, and then under Tom Ford at Yves Saint Laurent, Seward helmed Azzaro for eight years before shifting gears and collaborating with A.P.C. Her A.P.C. collaboration is perhaps the main route through which Londoners had been introduced to Seward. Her flirty-meets-preppy pieces for A.P.C were a hit, and in 2015, Seward launched her namesake brand in partnership with A.P.C's Jean Touitou. Et voilà, a mere two years later, Seward is bringing her Parisian cool to the city that she calls the 'European New York.'
"It seemed like a natural choice after Paris," the designer said of London. The Ledbury Road shop carries the pieces that Seward's customers cherish. Sweet but not saccharine printed dresses, caramel-hued leather bags, and great trenches in navy and khaki are peppered throughout the shop. "I think it is refreshing not having to compromise elegance and comfort, and this resonates with women in London as well as anywhere in the world."
To a certain extent, opening her first store was a bit of a homecoming. "As I lived in London as a child there are many things I enjoy doing which are linked to my childhood, like going to Fortnum & Mason for lunch and glamorous grocery shopping," Seward shared. While those things happen every so often, "the lifestyles we have today don't allow us to change clothes five times a day–from morning to evening we work, walk around, pick up our kids, we go out–we need a wardrobe that follows us in all of that. The pieces are timeless and you can build up a wardrobe rather than constantly changing it." And to that, we say, Merci!
Tribes Notting Hill locals, working women, glamorous mums on the run.
Fans of the Store Caroline Issa, Kim Sion, Lea Seydoux, Lou Doillon,Catherine Deneuve
The Mix Jacquard silks, Japanese denim, trenches and coats, belted dresses.
Best Sellers Dresses to wear from day to evening, silk blouses to pair with the Japanese denim.
Price Point Small accessories start at £75 and suede and leather pieces are around £2000. Pièce De Résistance "I love the basement which Laurent Deroo, the architect, transformed in a very chic and comforting changing area," Seward says. "It's all padded in beige felt with a very flattering lightening and looks onto a tiny garden."
For those who prefer to shop from home Vanessaseward.com
London Street Style Stars Aren't Afraid to Let Their Sartorial Freak Flag Fly
A scene from London Fashion Week Fall 2017 Street Style

Photo by Julien Boudet
A scene from London Fashion Week Fall 2017 Street Style

Photo by Julien Boudet
A scene from London Fashion Week Fall 2017 Street Style

Photo by Julien Boudet
A scene from London Fashion Week Fall 2017 Street Style

Photo by Julien Boudet
A scene from London Fashion Week Fall 2017 Street Style

Photo by Julien Boudet
A scene from London Fashion Week Fall 2017 Street Style

Photo by Julien Boudet
A scene from London Fashion Week Fall 2017 Street Style

Photo by Julien Boudet
A scene from London Fashion Week Fall 2017 Street Style

Photo by Julien Boudet
A scene from London Fashion Week Fall 2017 Street Style

Photo by Julien Boudet
A scene from London Fashion Week Fall 2017 Street Style

Photo by Julien Boudet
A scene from London Fashion Week Fall 2017 Street Style

Photo by Julien Boudet
A scene from London Fashion Week Fall 2017 Street Style

Photo by Julien Boudet
A scene from London Fashion Week Fall 2017 Street Style

Photo by Julien Boudet
A scene from London Fashion Week Fall 2017 Street Style

Photo by Julien Boudet
A scene from London Fashion Week Fall 2017 Street Style

Photo by Julien Boudet
A scene from London Fashion Week Fall 2017 Street Style

Photo by Julien Boudet
A scene from London Fashion Week Fall 2017 Street Style

Photo by Julien Boudet
A scene from London Fashion Week Fall 2017 Street Style

Photo by Julien Boudet
A scene from London Fashion Week Fall 2017 Street Style

Photo by Julien Boudet
A scene from London Fashion Week Fall 2017 Street Style

Photo by Julien Boudet
A scene from London Fashion Week Fall 2017 Street Style

Photo by Julien Boudet
A scene from London Fashion Week Fall 2017 Street Style

Photo by Julien Boudet
A scene from London Fashion Week Fall 2017 Street Style

Photo by Julien Boudet
A scene from London Fashion Week Fall 2017 Street Style

Photo by Julien Boudet
A scene from London Fashion Week Fall 2017 Street Style

Photo by Julien Boudet
A scene from London Fashion Week Fall 2017 Street Style

Photo by Julien Boudet
A scene from London Fashion Week Fall 2017 Street Style

Photo by Julien Boudet
A scene from London Fashion Week Fall 2017 Street Style

Photo by Julien Boudet
A scene from London Fashion Week Fall 2017 Street Style

Photo by Julien Boudet
A scene from London Fashion Week Fall 2017 Street Style

Photo by Julien Boudet
New York's Best Street Style Gets a Technicolor, Electrified, Animated Treatment