Vanessa Traina Loves Her Mother's Hermes Bags, Wearing Heels at Work
The style icon, who recently launched a retail site, shares a page from her style book.
---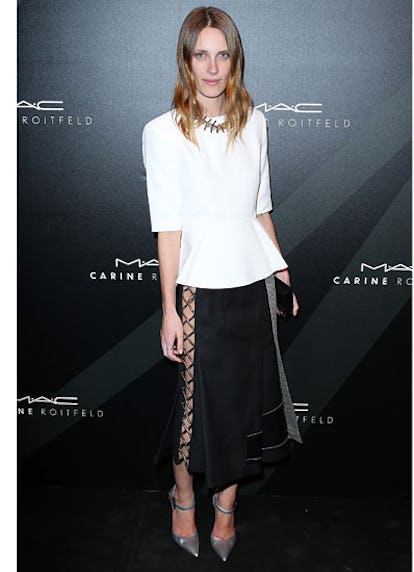 Vanessa Traina, the San Francisco-born daughter of Danielle Steel, has been a muse to designers like Alexander Wang (a longtime close friend), Proenza Schouler, and Altuzarra (whose show she's walked in multiple times). Now Traina, who wed the artist Max Snow last year, is bringing her enviable eye to The Line, a retail site she co-founded with the stylist Morgan Wendelborn. The online endeavor went live on October 3 and offers a smartly curated selection of home, fashion and beauty goods from brands like Reed Krakoff, JW Anderson and Rodin. And the site is also the launch pad for Protagonist, a women's line of tailored shirts, sweaters and silk tops, designed by Morgan's sister Kate Wendelborn. Those looking for a non-cyberspace experience can find the offerings at The Apartment in New York.
Here, Traina shares some of her favorite things.
Define your style in three words: Clean, subtle, comfortable.
Daily uniform: Celine sweaters, Protagonist tops and vintage Levis.
Greatest hits: My mother's old Hermes Kelly bags, vintage jeans from What Goes Around Comes Around, statement classics from Celine, my husband's Hermes shirts, a perfect smoking jacket from Pallas and old Helmut Lang heels and flats.
Preferred footwear: Heels at work, Loro Piana slippers at home and Adidas sneakers on the plane.
Finishing touches: My family crest ring from Agry in Paris, Repossi earrings, an antique Schlumberger choker that belonged to my husband's great grandmother and Serge Lutens Fleur D'Oranger perfume.
Nighttime look: I try to get the most mileage out of my closet and not treat anything as too precious so my nighttime look doesn't differ much from my day wear, I may just add a touch of mascara and switch from my work bag to a clutch.
Best recent discoveries: Valleybrinkroad.com and Joelle Ciocco moisturizer.
Favorite stores: Of course The Line for all of my essentials, Edon Manor in Tribeca for great shoes, Astier de Villatte to keep my home fragrant and fresh, Angelica for fresh flowers, Harper's in East Hampton for an incredible and inspiring collection of books, JF Chen in Los Angeles for fabulous furniture, Dover Street London (and soon NY!).
Style pet peeve: When a look is wearing someone rather than the other way around.
Style icons: My mother for her grace, ease and sense of humor when it comes to fashion.
Last purchase: Furniture and design books, continuous sources of inspiration!
Lusting after: A great bookshelf and a vacation!!
Favorite haunts: New York: The Smile To Go, Blue Ribbon Sushi, Candle Cafe, Kaffe 1668, Wallsé, Il Buco. Paris: Yen, Kai, Rose Bakery, Le Stresa. San Francisco: Rose's Café, Marina Submarine, Hog Island Oyster Co., Okoze, Swensen's Ice Cream.
Fall must-haves: Protagonist deep V-neck wool pullover, Celine thigh-high boots, chunky knits, and a good stack of books for cozy nights in.