Variety Show
Ring in the New Year with hair-pampering potions, wrinkle-fighting florals and cosmetics that range from girly to goth.
---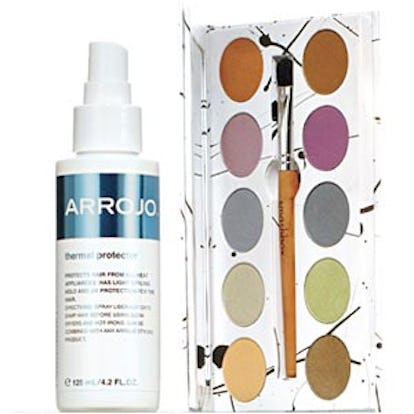 Hairy Situation Exposure to the sun's rays and too many run-ins with a blow-dryer can leave hair dull, frizzy and prone to split ends. Arrojo Thermal Protector (left) safeguards strands against these everyday aggressors. Vitamin B5 helps counteract styling damage by moisturizing hair, and benzophenone-4 (a common sunscreen ingredient) deflects UV rays before they can fade color. $14; arrojoproduct.com
Color Me Mine With its funky shadows and splatter paint–style packaging, the Smashbox Cosmetics Artist Eye Palette in Muse (right) is certain to light a creative spark. Lilac, emerald and azure shades are colorful and on trend, and the addition of no-brainer neutrals will appeal even to tortured-artist types. $48; smashbox.com
Playing Doctor New York– and Miami-based dermatologist Fredric Brandt is bringing his wrinkle-filling know-how to Lines No More (left), a topical plumper for those too squeamish for needles or too busy for an in-office treatment. The quick-drying formula works by attracting moisture to the skin with lipids and hyaluronic acid, the stuff of injectable fillers like Restylane. Fortunately, using the precise, penlike applicator doesn't require an M.D. $55; at Sephora.
Full Blossom Badgley Mischka Couture's bouquet of jasmine, gardenia and violet notes is warmed by musk and wood accords for a wintry take on traditional florals. Fruity purple plum and pear nectar notes lend the parfum (right, available in February) an extrafeminine touch. $90; at Neiman Marcus.
Black Magic Chanel made goth lips chic in the Nineties with its iconic Rouge Hydrabase in Vamp. Now the company is revisiting its dark side with three new Rouge Allure lip colors. All are variations on black: Obscure (not shown) has brown undertones, Maniac a tinge of red, and Hysteria a trendy hint of violet. The brains behind the colors, Chanel Makeup global creative director Peter Philips, explains that while these are not everyday lipsticks, "they are great shades to wear when you're feeling a bit dangerous and daring." $30 each; chanel.com
Four Scores Emerging fashion designer and former ad exec Juan Carlos Obando is a jack-of-all-trades. The Colombian Renaissance man recently debuted Number 4 (left), a vegan hair-care line that focuses on color protection. The new Volumizing Shampoo and Volumizing Condition give strands a shiny boost with yogurt, black currant extract and yerba maté tea. $45 for the shampoo, $48 for the conditioner (shown here); at Studio at Fred Segal.
The Boss's Blush The mention of the Nars Blush Duo in Hungry Heart (right, available in February) is sure to make Bruce Springsteen fans take note, but a glimpse of the glittering shades inside will have all devotees of the brand hooked. The delicate golden powder is ideal for highlighting, and the soft peach is perfect for creating subtle contours. $37; narscosmetics.com
This Bud's for You Guerlain Orchidée Impériale Treatment (left) is a monthlong boot camp for the complexion. Four vials aim to fight lines and age spots during the skin's 28-day renewal cycle with increasingly potent concentrations of orchid root extracts, from blooms grown in Asia and, bien sûr, France. $1,500; at Bergdorf Goodman.
Take Cover Simply Ageless Foundation's swirly disk (right) calls to mind penny candy, but the compact, a collaboration between CoverGirl and Olay, is for a more mature audience. The makeup base conceals imperfections without settling into—and exaggerating the look of—wrinkles. The hydrating formula also promotes collagen production with the same combination of vitamins B and E that powers Olay's best-selling Regenerist line. $14; at drugstores.
Coach Class Luxe leather-goods house Coach is unveiling an unexpected line of accessories this winter. The Legacy Lipstick Collection (left) features six tubes decorated with the brand's trademark cheery striped print, along with pretty, wearable rose and tan lip colors with mouthwatering monikers like Toffee, Spice and Pink Grapefruit (shown here). $28 each; coach.com
Lighten Up Once popular skin-lightening agent hydroquinone has come under scrutiny as a possible carcinogen, leaving beauty companies scrambling for alternatives. Thankfully, Zelens Skin Science Advanced Luminescence Serum (right) promises to even skin tone with vitamin C, which is also said to encourage collagen production. Vitamin E provides antioxidant protection, and licorice extract helps reduce the appearance of acne scars. $180; spacenk.com