Family Gathering
With new creative projects on deck, Carleton and Nicholas Varney share the spotlight.
---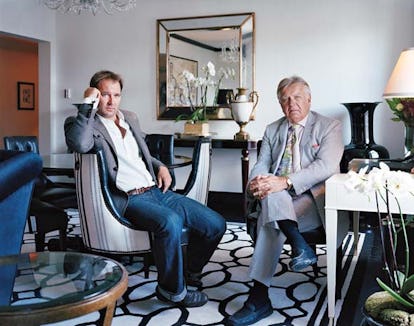 Would you like a Starburst?" jewelry designer Nicholas Varney asks by way of introduction. He pops one in his mouth, tosses a handful to a visitor and proceeds to delve into the pros and cons of various gummi-bear brands. It's a peculiar start to an interview. Given Varney's design forte in extravagantly pricey baubles, one expects perhaps a tonier amuse-bouche than candy fruit chews.
Carleton Varney's new book, Houses in My Heart.
But Varney, one soon finds out, is all about this banal-fancy contrast. He's a former college baseball player–turned–jeweler, one who has resided in Manhattan's Trump Tower but now wants to live in a barn (and is, in fact, building himself one in Pine Plains, New York). Then there's the almost too-perfect point-counterpoint between him and his father. "I'm an introvert; he's an extrovert," says the son, 37. "He's a bigger-than-life guy. His persona and bravado force you at a young age to find yourself."
But then, Dad is the splashy Carleton Varney, owner and president of Dorothy Draper & Company, the interior design firm founded by the most über theatrical decorating doyenne of them all. In early October father and son will get their joint moment in the spotlight with a bash at Bergdorf Goodman celebrating Nicholas's latest collection and Carleton's new book, Houses in My Heart: Carleton Varney, an International Decorator's Colorful Journey.
Appropriately, this chat is taking place in the elder Varney's midtown office—its walls covered in a busy French toile, its window shades the color of a summery mint julep. Quirky knickknacks—bronze horse heads, a pair of sequined baby shoes—are everywhere, coexisting with chintzy floral rugs, plaid carpeting and a garden hose that snakes through the room and out onto the balcony. In the middle of it all sits the younger Varney, looking like a fish out of water. It's just that he's so low-key, and the surrounding flash factor ranks high.
But the conversation soon reveals the father's influence on the son's work. Like Carleton (and Draper), Nicholas has a serious thing for bold color and dramatic proportions. "I was never a minimal guy. Lobbies of fabulous hotels were normal to me," says Nicholas, who is now based in Palm Beach. (Carleton decorated such showy spaces as the Greenbrier resort in West Virginia and the Waldorf Towers in New York.) "I'm a more-is-more guy. I didn't know any better. A lamp should be half the size of the room, or a sconce, enormous." Still, the talk never skews too sentimental. And while his brother Sebastian now heads the fabric house Carleton V., Nicholas has pretty much steered clear of all things decor-related. "That wasn't my domain," he says matter-of-factly.
Nicholas Varney's 18k yellow gold cuff, $36,000, at Bergdorf Goodman, New York, 212.753.7300.
Until now. His new collection takes a high dive into that world, starting with its very obvious inspiration: textiles. Nicholas renders fabrics, from nubby herringbone tweeds to silky damasks, into shiny, textured rings and cuffs. He splices together, for instance, amethyst, lemon chrysoprase and 18-karat gold for a plaid-based bracelet pattern. But as lavish as that sounds, it's actually a departure from the over-the-top statement pieces—a crab claw–shaped bracelet set with 2,000 precious stones, for example—for which he's best known. "It's a bit more simple," says Nicholas. "I did this collection based on what I remember about my childhood, and I wanted to see it as I saw it then. There's a simple, happy feeling to these pieces."
While Proust had his tea-soaked madeleine to jog cherished memories, Nicholas has his bolts of cloth. "It wasn't just the family fabrics," he reminisces, "but going to Venice and [textile manufacturer] Rubelli's with my father, shopping. I wanted to approach jewelry with those remembrances in mind." To that end, the herringbone design recalls his childhood trips to Ireland (the family has a home there); the damask motif connects the dots to Fortuny fabrics his father used; and the tartan—well, anyone familiar with the Draper oeuvre knows she and, by extension, Carleton were mad for plaid.
Nicholas Varney's 18k yellow gold, lemon chrysoprase and amethyst bracelet, $36,000, at Bergdorf Goodman, New York, 212.753.7300.
It seems this is a time of serious reflection on Planet Varney. The new book, an in-depth monograph published by Pointed Leaf Press, covers the considerable scope of the senior Varney's career, including his early beginnings as a Spanish and English teacher and his ascent, at age 26, to the helm of the Dorothy Draper company. To shed some light on the book, Carleton, 68, conducts his portion of this interview via telephone from a terrace in St. Croix that overlooks the Carib­bean. He peppers his conversation with anecdotes from such diverse characters as singer Ethel Merman and politicos Jimmy Carter and Dan Quayle—all past clients of his. He also touches on his 20-odd-year stint as interior designer to Joan Crawford, one of the greatest influences on his career. Indeed, a section in his book is devoted to the MGM grande dame. Crawford, he adds, "actually wanted me to marry her daughter, Christina." You know, the tell-all author of Mommie Dearest. (That relationship went no further than a couple of dates.)
Press the younger Varney about growing up in this star-filled galaxy, and he's cagey. And what few celebrity tales he does divulge come scraped of any gloss. Meryl Streep, for instance, was merely the woman he sold corn to on the weekends at the Varney country home in Stanfordville, New York. "We'd fill a truck and park it," he recalls. "And everybody would come by." His other Streep story takes place at the Hôtel Plaza Athénée in Paris. Varney was 11, upset with his parents and "trying to get the concierge to check me into an orphanage." The actress, who recognized him from his corn peddling, talked him out of it.
As for what inspired Carleton to write another book—he's penned 26 to date, from tomes on Draper to decor how-tos—he says, "I needed to set the record straight," and then goes for a laugh. "One of the first things everybody wants to know is, Did I push Dorothy down the elevator shaft to become president of the company?" he deadpans. "I did not." A mix of public and private moments, Houses in My Heart chronicles Carleton's own numerous households in all their dramatic design glory, as well as hotels and other residences. There are social shots (Carleton with Prince Charles) and candid family images featuring his then wife Suzanne, from whom he's now divorced, and sons Nicholas, Sebastian and Seamus. (Seamus, who has Down syndrome, lives in Florida.) The book, however, hardly represents an end to Carleton's projects. He's also writing a screenplay of Draper's life and is working on an Errol Flynn furniture collection with the actor's widow, Patrice Wymore. (Though Flynn was known for activities far afield from furniture design, he and Wymore met Carleton in 1957 during his study abroad, and they became friends.)
Nicholas, it so happens, is working on a book of his own, as removed from Draperville as possible. It's a collection of gritty photographs he's taken on trips to Ireland. And the window on the country he hopes to show? "Modern day," he says. "One generation is acclimating to the next, and they don't even understand each other."
Which, for all their differences, does not seem to be the state of affairs between Nicholas and Carleton. Certainly not now. The jeweler reflects on his marriage of baubles and childhood memories: "In the
equine world, you have something called hybrid vigor, where you put two things that aren't the same together and it gets better as a result. That's the feeling I have about this."