Fashion Forecast: Varsity Jackets Rule Menswear
If you follow menswear trends even in passing, chances are you've been hearing this buzzword over the last few seasons: heritage. Editors, buyers, and consumers alike are obsessed with all things Americana, from sock...
---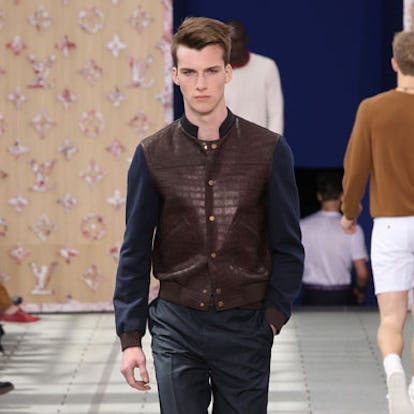 An ivy-league prepster staple first introduced in the 1950s as a new take on the knit letter sweater, the varsity, or "letterman's," jacket became synonymous with the all-American guy. Upon hearing the name, who doesn't immediately conjure up the image of a strapping young athlete lording over high school hallways or college quads?
Today, the varsity jacket has been reinterpreted for Spring 2012 in modern and luxurious ways. Both Shipley & Halmos and Tommy Hilfiger showed bright, color-blocked yellow versions with contrasting sleeves (one of the hallmarks of the classic letterman's jacket). European designers Acne and AMI both had supple suede iterations, in deep blue and brown, respectively. Even super-luxurious brands are on board: Louis Vuitton showed a version in gorgeous crocodile skin with canvas sleeves (top).
While staying loyal to the ultra American idea of the varsity jacket, these designers have created new versions for today's man. A versatile garment, it can be weekend-casual paired with jeans and sneakers but also dressed up for the workday with trousers and brogues. In addition, it's perfect for a transitional season, especially when made in leather or wool; it offers warmth without excess bulk, and functions as the perfect layering piece. These sleek, sophisticated pieces transcend convention and transform what can sometimes become an overly literal fashion reference into classic leather jacket territory.
There is something youthful and yet unmistakably masculine about the varsity jacket—it can be retro and expressly current at the same time. With all the amazing options this spring, this W editor is ready to go back to school.