The Gold Medal For Most Stylish Young Olympian Goes to Vashti Cunningham
The sporty scion will compete in the high jump on Saturday, but here's why you should get to know her now.
---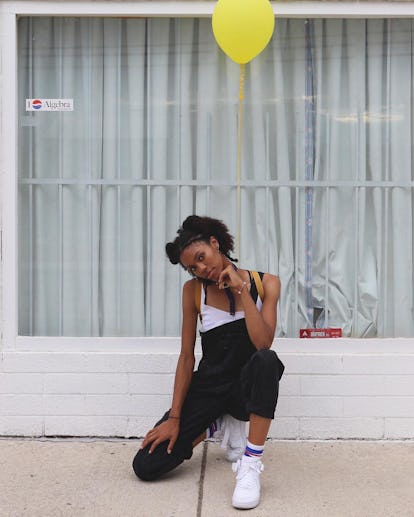 Vashti Cunningham / Instagram
The 18-year-old U.S. Olympian Vashti Cunningham is a winner on and off the track.
In high school, she was already setting junior world records for the high jump, and her qualification for the Rio Olympics makes her the youngest U.S. track and field athlete to compete since 1980. It's no surprise then that Cunningham comes from a long line of winners: She is the daughter of former Philadelphia Eagles quarterback Randall Cunningham, the niece of former New England Patriots fullback Sam Cunningham, and her older brother, Randall Cunningham II, is also a football and track champion. Plus, her mother, a ballerina with the Dance Theatre of Harlem.
It's clear that this sporty scion is poised for athletic greatness, but in our book she's also got winning style. On her Twitter, she shows off her best Goodwill finds, like a cropped denim jacket, and on Instagram, her brother often helps to capture her best looks. She's also a huge fan of Tyler the Creator, who recently showed his own line, Golf Wang, at Los Angeles Fashion Week. When it comes to athletic gear, however, she's loyal to Nike, who signed her back in March.
And on Saturday, she'll attempt to add some gold to her collection. In the meantime, see her best looks below.
Olympian Vashti Cunningham's Coolest Looks
Vashti Cunningham / Instagram
Vashti Cunningham / Instagram
Vashti Cunningham / Instagram
Vashti Cunningham / Instagram
Vashti Cunningham / Instagram
Vashti Cunningham / Instagram
Vashti Cunningham / Instagram
Vashti Cunningham / Instagram
Vashti Cunningham / Instagram
Vashti Cunningham / Instagram