Skin Cream from a Vending Machine?
An inventive vending machine dispenses with mass-market snacks in favor of prestige beauty goods.
---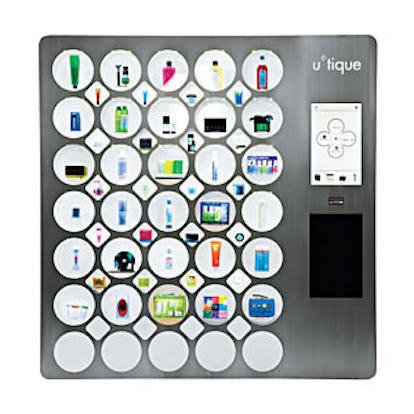 The term "luxury vending machine" might sound like an oxymoron. The bulky boxes have long been situated in gray-tinged office break rooms and stocked with Cheetos and Coke—certainly not the sort of things that would leave anyone feeling good, much less looking fabulous. But a new, ritzy rendition of the high school cafeteria staple is challenging that tradition. In lieu of snacks and sodas, the contraption, called U*tique, will dispense gadgets, skincare and hair-care items, and makeup by high-end and niche labels. "I wanted to bring luxury personal-care products to women who are racing from a hotel to a meeting or a workout and perhaps forgot a lip balm," explains 29-year-old creator Mara Segal, a former consultant for companies including Absolut and Dove.
Segal has big plans for distribution. During the next two years, she hopes to install U*tiques in boutique hotel lobbies, swanky gym locker rooms, nightclub lounges, premium shopping malls and airports. The machine is scheduled to debut in January at Studio, the specialty boutique in Los Angeles's Fred Segal that has become a beauty mecca thanks to founder and creative director Robin Coe-Hutshing's discerning eye. "This invention is by far one of the most innovative concepts that I have seen in a very long time—and I make it my business to try to see everything," she boasts.
The design of the apparatus matches the sleekness of its contents, and the selection of goods inside can be tailored to fit a location. Locker-room versions, for instance, might offer headphones, Frédéric Fekkai hair products and Phix natural energy supplements, while those at airports will feature travel-size sundries. Among the other companies that have secured real estate inside U*tique's walls are New York–based apothecary Malin + Goetz, indie skincare company Clark's Botanicals, MD Skincare (a line formulated by New York dermatologist Dennis Gross) and popular makeup brand Smashbox Cosmetics.
An easy-to-maneuver touch screen offers brand profiles as well as product ingredient lists and video demonstrations, combining the efficiency of the Web with the instant gratification of in-person shopping—minus the hassle of a cosmetics counter. Products are displayed behind circular and diamond-shaped bubbles, which can be programmed to turn various colors when touched; to complement MD Skin­care's orange packaging, for example, the brand's space might turn tangerine. To purchase an item, one need only press on its display, which certainly beats punching in b12. The interactive facade was created in collaboration with Rux, a product design and architecture firm run by Russell Greenberg (husband of W's Jamie Rosen). "I was asked to make the Ferrari of vending machines," Greenberg says.
Despite its originality and fancy look, U*tique still has one nod to its predecessors: The machine will tempt passersby with a chocolate bar. However, you can bet it won't be a Snickers or Kit Kat—Segal will replace those standbys with treats by Dylan's Candy Bar. "It's about the basic things that we like," says Segal, "but better versions of them."