The Merchants Of Venice
With 82 international artists, 88 national pavilions, and a host of unofficial ventures scattered throughout the city, the Venice Biennale remains the unparalleled event in contemporary art. Eric Banks walks us through the highlights—from a 16th-century debut and a new Prada museum to a James Franco collaboration.
---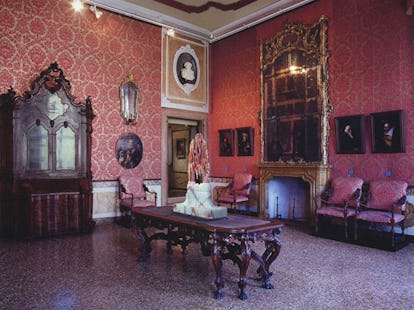 Curator Bice Curiger takes an old-meets-new approach to the city's 54th International Art Exhibition, titled "ILLUMInations." The Swiss critic (and cofounder and editor of the contemporary art magazine Parkett) mixes works by veterans James Turrell and Christopher Wool with those of Biennale first- timers, 32 of whom were born after 1975. Of course, contemporary art in conversation with both itself and its forebears has always been part of the Biennale. This exhibition, which opens on June 4, simply underscores the idea, most notably with the inclusion of Jacopo Tintoretto (1518–94), who makes his Biennale debut as a reminder of the city's art-historical glories.
In an inspired twist on how painters and sculptors influence and interact with one another, Curiger asked four artists—Song Dong, Monika Sosnowska, Oscar Tuazon, and Franz West—to create "parapavilions" around the Giardini to host the work of others. All four are known for their provocative uses of space and bravura sculptural productions—from Song's obsessively arranged displays of detritus to Sosnowska's heady play with building elements.
The national pavilions are a balance of the established and the up-and-coming. Reversing its recent tendency toward career-surveying retrospectives, the U.S. pavilion, organized by Indianapolis Museum of Arts curator Lisa Freiman and sponsored by Hugo Boss, has tapped the team of Jennifer Allora and Guillermo Calzadilla for a new installation combining performance, sculpture, sound, and video. Elsewhere, new works by Mike Nelson (representing Britain) and Thomas Hirschhorn (Switzerland) keep company with projects by the late theater impresario Christoph Schlingensief (Germany) and the stalwart installation artist Christian Boltanski (France).
Other exhibitions opening in tandem with the Biennale draw on Venice's legendary architectural magnificence. For example, most contemporary art would look orphaned amid the rococo mirrors and Tiepolo frescoes of Ca' Rezzonico—the white-marble palazzo housing a museum of 18th-century Venetian art, across the Grand Canal from François Pinault's Palazzo Grassi—but the work of American sculptor Barry X Ball should be comfortably at home. For his exhibition of 24 works installed in 19 rooms, Ball spent three years researching the palazzo's riches. The results, including dramatic statuary carved from milky Iranian onyx, inky black Belgian marble, and veined Mexican onyx, offer a vibrant contrapuntal note to Ca' Rezzonico's operatic interiors.
Of course, the Ca' Rezzonico is not the only site mixing the historic and the contemporary. The formerly grand Ca' Corner della Regina once belonged to a pope; now the Fondazione Prada is collaborating with the municipal Fondazione Musei Civici on a six-year project to rejuvenate the 1720s palazzo (though not at the expense of its shabby charm). To christen the space, Prada is expected to exhibit highlights of its extensive art collection, selected by star curator Germano Celant, as well as newly commissioned work by Francesco Vezzoli and Thomas Demand. And in a nod to Venice's place in history as an international crossroads of global trade, Prada is said to be importing art and antiques on loan from far-flung institutions—juxtaposing, say, a Jeff Koons sculpture with china and ceramics from Saint Petersburg's Hermitage Museum.
Last year, several websites fell for an April 1 Internet hoax announcing that James Franco had been selected as the U.S. representative to this year's Biennale. He wasn't. Nonetheless he'll be close by with a project on the Isola della Certosa, the former home of a centuries-old monastery. The ruins that dot the island will form the backdrop for "Rebel," a collaborative Franco farrago of film, installation, painting, and sculpture based on the fatal glamour of James Dean. Among the plans of Franco and his suitably macho cast—which includes Douglas Gordon, Paul McCarthy, Ed Ruscha, and Aaron Young—is an installation of a customized, life-size replica of the Chateau Marmont's Bungalow 2, where Nicholas Ray developed Rebel Without a Cause. Six thousand miles from Los Angeles and that other Venice, Tinseltown is still a predominant muse.
Two other things foreign to Venice: billboards and bamboo. The former will be found during the Biennale's opening week in a project created by Moscow's Garage Center for Contemporary Culture and curated by Neville Wakefield. Short digital works by artists (from Maurizio Cattelan and Ryan Trecartin to Barbara Kruger and Mika Rottenberg) will be broadcast as part of a short-lived look at advertising in a city where it is almost completely absent. The latter will be found next to the Peggy Guggenheim museum, courtesy of Doug and Mike Starn. The twins' Big Bambú combines 1,500 bamboo poles imported from France with 1,000 poles grafted from their project on the roof of New York's Metropolitan Museum of Art last summer. The result is a 50-foot tower of green and a jungle in the heart of Venice—yet another meeting of old and new.
Ball: Courtesy Of Barry X Ball; Prada Museum: Courtesy Of Fondazione Prada