At the 2017 Venice Biennale, There Is Art to Treasure Above and Underneath the Canals
A preview of the major exhibitions opening concurrently with the 2017 Biennale, including Philip Guston's first museum show and Damien Hirst's epic sunken shipwreck.
---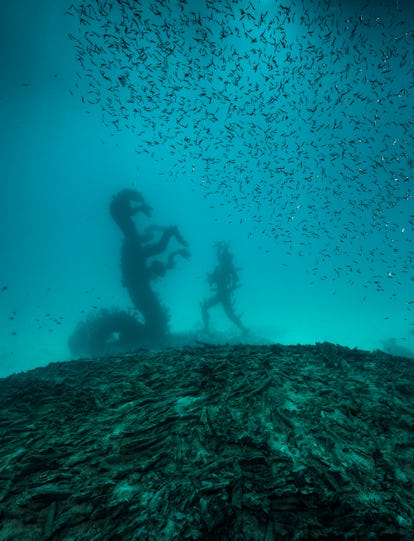 Christoph Gerigk, Damien Hirst, and Science Ltd
National identity may reign among the pavilions of the Giardini, where the 57th edition of the Venice Biennale opens May 13, but in the city's myriad palaces and villas–turned–exhibition spaces, cross-cultural exchange holds court. The American artist Philip Guston gets his first museum show in Venice, at the Gallerie dell'Accademia, whose trove of Italian masters keenly inspired him. "Philip Guston and the Poets" will feature 75 paintings and drawings dating from 1930 to his death, in 1980, and trace his development through the prose and poetry of D.H. Lawrence, W.B. Yeats, Wallace Stevens, Eugenio Montale, and T.S. Eliot. Across the Grand Canal, the Fondazione Querini Stampalia presents the Israeli artist Hadassa Goldvicht's meditative multichannel video installation House of Life, the result of hours of filmed interviews with the 86-year-old keeper of the cemetery in Venice's 500-year-old Jewish Ghetto. "The materials of my work are words and gestures," says the artist. Meanwhile, Le Stanze del Vetro, which twice a year dedicates its Annabelle Selldorf–designed exhibition space to the work of masters of glass art and design, will celebrate the late Italian-Austrian Ettore Sottsass, whose storied career touched everything from furniture to typewriters and whose output, especially in glass, emphasized quirky color and childlike forms.
The subject of second acts is sure to be a topic of discussion as the former bad boy YBA Damien Hirst gets the star treatment at the Pinault Collection, which, for the first time, is spotlighting a single artist across both of its Venetian venues—the Palazzo Grassi and the Punta della Dogana. Ten years in the making, Hirst's Treasures From the Wreck of the Unbelievable imagines a fictional shipwreck from which the artist excavated the objects that will be on view, some in jade and malachite, glossed with a faux patina to suggest their sea-soaked history. Finally, at its 18th-century palazzo in Venice, the Fondazione Prada opens a triple-threat collaboration focused on "three giants of German culture," as the project's curator, Udo Kittelmann, refers to the artist Thomas Demand, the writer and filmmaker Alexander Kluge, and the stage and costume designer Anna Viebrock. Their unified work, The Boat Is Leaking. The Captain Lied, references global insecurities amid the new wave of nationalism. "It's about whom to trust," says Kittelmann, "with the idea of sea, wind, storm as a metaphor of our recent world. We hope that the show gives hope in these stormy times."
Watch W's most popular videos here: