Rediscovering Vera (not Wang)
For women of a certain generation, a brightly colored scarf, tucked just so under the chin, conjures one name: Vera. The New England housewife-turned-printmaker Vera Neumann launched her scarf company in 1946 using excess parachute...
---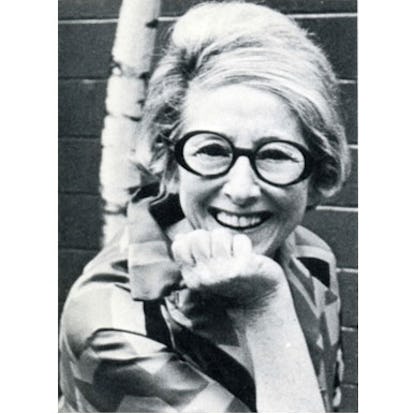 You're planning to use Vera Neumann's prints over the next few seasons in everything from skirts to plates. How did you decide to collaborate with her estate? You know, we love prints. And [Vera] had a mission to produce one print per day, and she actually did it. I mean there's 7,000 prints in the archives, which I think is just staggering. They're so strong and original, and there are so many people who grew up with her prints—maybe their mother had something, or their parents had those plates.
What was it like to go into her archives? Any surprises? We sent our print design director, home design director, and one of our head merchants. And when they came back, there were tears. She was really before her time. She used to travel a lot, she would go to India, she went to all these exotic places in her little fifties suits. And there are these great pictures of her in her printed palazzo pants that she wore in the seventies. We're actually going to do a book on her, which will be out next March.
What's the most popular Vera item at the stores right now? I would say the bedding. The melamine plates are very good, too.
I travel a few times a year to Europe and then I might do one inspiration trip with one of the design teams per year. In March, I went to Bali and Australia. The inspiration that's come out of it I think will be really unique.
Any specific hints? Well, there was a lot of green there. And a lot of humidity, which may or may not be relevant to the fashion.
You're based in Philadelphia, but you travel to New York often, I imagine—what stores are your favorites in both cities? In Philadelphia I would recommend Reward — it's in the Olde City. She has lines that you don't find everywhere but she puts them together in a really different way; she sells Opening Ceremony and Tsumori Chisato. In New York, I love Brooklyn, where I used to live — Bird, and the consignment store for butter, which is a genius store.
So besides Vera, who else is on your radar right now? I think Grey Gardens has been something that's touched a lot of people here. I don't know if that would surprise people, but that's something. I'm from Memphis, and there's an important Southern regional painter called Walter Anderson who I checked out when I was home, he's just wonderful.