For Mother's Day, Legendary '90s Supermodel Veronica Webb Looks Back at What She Learned from Her Mom, and How She Raised 4 "Good People"
"My mother was the most positive force in my life," Webb says. "She was 100 percent in my corner."
---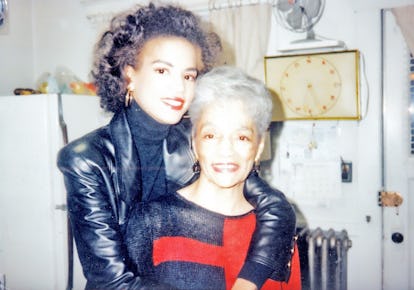 Courtesy Veronica Webb
On Mother's Day in the mid-'90s, a few years after supermodel Veronica Webb began modeling for the likes of Karl Lagerfeld, Rei Kawakubo, and Azzedine Alaïa, she bought her mom a car and paid off her parents' debts. Even now, two decades later and with four children of her own, that day remains Webb's fondest Mother's Day memory.
"My mother was the most positive force in my life," she said. "She was 100 percent in my corner." From the time Webb was young, her mother Marion, a nurse, would pose her a simple question: "How do we get started?" This applied to ballet lessons, practically unheard of for a young woman growing up in Detroit in the '70s, but which Webb began when she was 12; to her education; to embracing late-in-life career opportunities, having finished a master's degree in her fifties. It did not, however, apply to modeling, which Marion put a pause on until her daughter had finished high school. "The example that she set was that it's never too late to start something, try something, do something, or become something," she explained. "She always got better at what she was doing."
Due in part to her strong relationship with her own mother, Webb had always envisioned herself a mom as well—and specifically, a mom of daughters. (Now, she has three.) Her first daughter, Leila Rose Robb, was born in 2002, just as Webb's career had started to sprawl out from fashion and into film. She was filming Zoolander and still working frequently with longtime collaborator Azzedine Alaïa, whom she has said her children know as "Papadine" because of their close relationship. She shot spreads with Steven Meisel—immediately before she got pregnant, and again, just a month before her due date.
But all that went on hold when Leila Rose was born: "Any woman has to make the choice if you're in the career world," she said. "Your number-one priority becomes the most important cottage industry of all time, which is making and raising your own people." It was a tough pregnancy, and Webb was confined to bedrest for much of her daughter's infancy—itself a learning experience, as Webb struggled to put her "hyper-mobile, super-productive" side on hold for a moment to focus on her newborn daughter. Here, too, her own mother provided an example; like her mom, Webb put her career on pause for a moment to focus on her new family.
"When you become a mom, it's mom first," she said. Just less than two years later, she had her second daughter, Molly Blue Robb. Marion Webb died several months after her second granddaughter was born—"I was very, very lucky to have her," Webb added.
Webb had been a force of nature on the runway in the '90s, breaking boundaries for women of color during a period when there were still few black supermodels, but her work in fashion slowed after the birth of her daughters. Still, due in part to her strong relationships with designers like Kawakubo, Lagerfeld, and, of course, Alaïa, she has found the industry continues to embrace her. (She's signed with Muse Model Management.) She hosted the first season of Guide to Style alongside Tim Gunn in 2007. She put her career on hiatus again seven years ago to focus on the new "blended family" she was cultivating with her second husband, Chris Del Gatto. With her new relationship, her brood expanded from two to four—she's now mother to three daughters and a son, ages 13 through 17.
Photos: How Supermodel Veronica Webb Ended Up On Stage at Yeezy Season 3
Yeezy Season 3 Fall 2016 Collection. Photo by Isabel Martinez.
Courtesy of Sophie Theallet
Photo by Fernanda Calfat/Getty Images
Photo by Thomas Iannaccone
Courtesy of Sophie Theallet
Photo by Thomas Iannaccone
Recently, she has managed to make time for work—both on and off the runway—amid her family obligations. She walked Sophie Theallet Spring and Fall 2016 shows and alongside Naomi Campbell in Yeezy Fall 2016, Kanye West's Madison Square Garden-staged show that doubled as a listening party for his new record, The Life of Pablo. Earlier this year, she also added fashion and lifestyle blogger to her resume with the launch of "Webb on the Fly." The blog has allowed her to spend more time with her children after school, while doling out advice on balancing work, life, family, and self-care to mothers like herself. It's a balance Webb herself is still navigating, but, as she told me, "The greatest triumph as a mother is realizing you raised good people."
On Mother's Day, Webb and her family usually bring a grocery trolley to Tavern on the Green to pick up provisions for a picnic in the park; gifts have ranged from memes to sports cars. With a grim-looking forecast this weekend, Webb had made an alternate plan for a leisurely lunch at an Italian restaurant in Brooklyn her husband has frequented for years. She couldn't remember the name, but one detail is a perfect indicator of the ambiance: When the old couples residing in the neighborhood, who have been dining there for decades, step through the doors, the staff plays their wedding songs.
Lion Babe's Jillian Hervey Has Made Her Mom Vanessa Williams' Silver Sequined Leotard Her Own