Jennifer Lopez and Versace Can Still Make Google Search Magic
It makes sense that the brand, which inspired the invention of Google Images, would be included in a list of top searches 20 years later.
---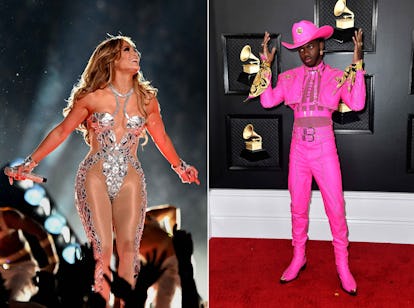 Getty Images
This past January, when IRL awards shows and events still existed, Lil Nas X was the unequivocal winner of the Grammys red carpet. W magazine named him as such at the time—when he wore a Versace hot pink leather cowboy look, complete with a wide-brimmed hat, harness, mesh shirt, and two of the Italian house's silk scarves tied around his wrists.
It turns out the Internet had similar sentiments about the outfit. Today, Google released its "Year in Search" recap: a list of the top-searched people, events, questions, and moments from 2020. Included in the compilation were the most Googled celebrity outfits of the year, and Lil Nas X's Grammy getup clocked in at number three (behind ESPN host Maria Taylor and Noah Cyrus, who snagged the number one spot with her CMT Awards bodysuit).
Another Versace favorite also appeared on the list: Jennifer Lopez's cadre of Super Bowl Halftime Show outfits (which included, but was not limited to: a sparkling, tasseled leotard; black leather bodysuit, and a sheer, sequined catsuit).
J. Lo and Versace, of course, have a long history when it comes to Google searches—her green "jungle dress," which she first wore to the 2000 Grammys then brought back to close out the Versace spring 2020 runway show, inspired the invention of Google Images. It's only fitting that the brand would make something of a splash on the search engine, even 20 years later.
But Versace wasn't the only designer that made it on twice. Gucci also entered the top 10 with Billie Eilish—who wore to the 2020 Grammys a glittery Gucci suit with matching sheer mask—at number four, and Harry Styles, Alessandro Michele's noted favorite, in a Gucci gown on the cover of Vogue taking the ninth spot. The latter fashion moment famously caused conservative pundits to yell about the magazine's effort to feminize men, claiming that America needs "manly men." Styles, in response, posted a photograph to his personal Instagram account with the caption, "Bring back manly men."
Also on the list of most-searched fashion looks: Melania Trump in neon lime gown at the Republican National Convention, which led to a slew of memes that compared her gown to a green screen.
Related: Thanks to Lizzo and Lil Nas X, Versace Won the Grammy Red Carpet Once Again