Vetements Dropped a Surprise LGBT Sweater Line That's Almost Already Sold Out
Demna Gvasalia ends his year by bringing Vetements together with Comme des Garçons for an LGBT-themed collaboration.
---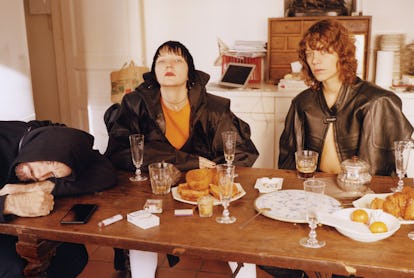 Perhaps no one in fashion had a busier or more productive year than designer Demna Gvasalia. The man managed to keep his own Vetements line as buzzy as possible while also making a successful debut at the helm of Balenciaga.
Of course, he got a little help from his friends, or, well, at least the numerous brands he collaborated with. Vetements had already worked with brands as varied as Champion, Canada Goose, Brioni, Juicy Couture and Doc Martens. So, naturally, Gvasalia decided to close out his 2016 with another surprise collaboration, this time with Rei Kawakubo's Comme des Garçons SHIRT line and Dover Street Market.
The brands dropped a surprise line of LGBT-themed–or "'Gay, Lesbian and Fetish" themed to be more precise–sweatshirts exclusively at Dover Street Market outlets. According to Racked, they're now almost completely sold out.
Dover Street Market announced the line on their Instagram just a day before their December 27th drop date.
The collection includes a rainbow-striped jumper in homage to the gay pride flag.
There's a purple and black number that features a double-sided ax or, as it's also known, a labrys. The icon has been used since the '70s by Lesbian activists as a symbol of woman's strength and self-sufficiency.
Then there's the "fetish" version which features black, blue and white stripes with a red heart in one corner. Those are the colors of the leather pride flag, in case you weren't aware.
Dabbling in LGBT and fetish culture isn't anything particularly new for Gvasalia and Vetements. He showed the brand's Fall/Winter 2015 collection in the basement of a notorious gay sex club in Paris, after all, and has reportedly cast escorts to walk his runway shows.
Each sweater cost $625 (a steal compared to some other Vetements sweaters) and while the stock may be running low in Dover Street Market's stores you can still snag some sizes on their website.