Vhernier, the Fine Italian Jewelry Brand that Counts J. Lo and Kerry Washington as Fans, Lands in New York
In just over one week, Vhernier opens not just one, but two shops in Manhattan.
---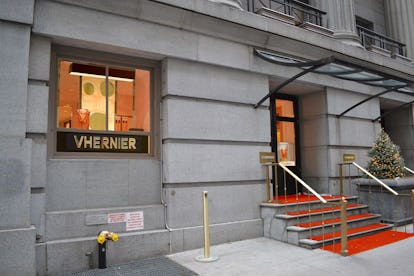 Courtesy Vhernier
Italian fine jeweler Vhernier made bold strides to establish itself within the New York market this summer by opening two stores in Manhattan within eight days of each other. Hoping to attract two distinct clientele groups, the brand has set up shop on Madison Avenue and Wall Street.
At 400 square feet, the Wall Street site is like a jewel box, situated on the first floor below Harry's Bar at Cipriani (appropriately, the space was once a First National Bank). The Financial District location is aimed to attract more men to Vhernier, and as such, on display are their iconic cufflinks and a range of giftable jewelry starting at $650. Its convenient location serves as the perfect après lunch stop or activity while waiting for a dinner date.
Meanwhile, the uptown location, between 66th and 67th Streets, is the crown jewel: a two-story, 2,600 square foot boutique well-situated within the Madison jewelry row. It feels a world away from Wall Street — and it is. But, like other trailblazing fine jewelry houses, Vhernier is playing both ends of the island.
Tribes The well-traveled sophisticate; women from their 30s through 70s with a strong personality and curiosity for culture.
Fans of the Brand Kate Beckinsale, Jane Fonda, Celine Dion, Kerry Washington, and Jennifer Lopez.
The mix Inspired by contemporary art, the collection ranges from elegant pendants on leather cords, to cufflinks and a one-of-a-kind high jewelry collection. The iconic pieces feature minimalist curved lines and architectural aspects.
Best sellers Rings in general sell best, and one in particular: the Abbraccio.
Design Both stores were designed by Milanese architect and interior designer Ezio Riva, and exhibit neutral leather, pops of orange, clean lines and yacht-like interior qualities. The furnishings are all custom and shipped from Italy.
Pièce de résistance The private viewing room with jewelry vitrines on the second floor of the Madison Avenue store.
Prices $650 and up (and up and up).
Location Uptown: 783 Madison Ave, New York, NY 10065 Downtown: 55 Wall St, New York, NY 10005