Shake Your Booty
Can a vibrating machine jiggle you into shape? Devotees of Whole Body Vibration say yes.
---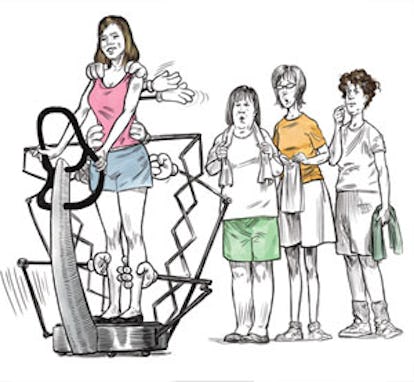 When Sahra Diament, a lawyer living in Paris, came back to New York for a visit in 2005, her friends and family were blown away by her physique. Despite enjoying her share of the capital's brie and baguettes, Diament's arms, legs and stomach were as toned as a cheerleader's, and her posture was stick straight. She hadn't taken up running or any other activity that would induce a full sweat. Instead, she'd discovered a full-body jiggling technique known as Whole Body Vibration.
"I got a lot of winks and raised eyebrows, especially from the French," the 34-year-old says, giggling. "I had to say, 'No, sorry. It's not that exciting.'"
Though it sounds like a workout more suited for a tantric couples' workshop, Whole Body Vibration (known as WBV) is actually the latest frontier in building muscle. Users stand on a vibrating platform and perform a series of stands and squats while the machine jostles the body up and down or side to side at up to 50 hertz per second. According to its proponents—including Diament's sister, an occupational therapist who was so impressed that this past spring she opened a WBV studio in New York—the method causes muscles to contract and release, building mass. Set at lower speeds, the machines send a small shiver up the spine. At higher settings, your eyeballs quiver and everything looks blurry.
WBV has been popular in Europe and Asia for more than a decade and over the past couple of years has made inroads in the U.S. The machines are starting to show up at gyms such as Equinox, at spas and beneath the feet of celebrities including Hilary Swank and Madonna, who reportedly bought one to help her recover from her 2005 spill from a horse and is now said to take phone calls mid-shakedown.
The machines were first developed in Russia in the Sixties to help cosmonauts recover bone mass depleted in space, but today's manufacturers claim a litany of other benefits that fall just short of miraculous. Besides treating osteoporosis, they say, WBV can build muscle, reduce cellulite, stimulate collagen production, release human growth hormones and serotonin in the brain, improve balance and treat cerebral palsy. Other proponents claim less tangible benefits. At the Nao Salon & Spa in New York, WBV is used during a $350 treatment meant to release body toxins. And Tomas De Lucia, director of the Asante Day Spa and Holistic Center in San Rafael, California, mixes WBV with life coaching to address emotional issues by "recalibrating the body to its natural vibratory state."
At Station Vibration Studio & Spa, the Meatpacking District gym started by Diament's sister, Melysa Diament-Remo, and Andrew Luke Barile, a physical therapist, clients can come in for group classes or one-on-one sessions on the 10 WBV machines. "This is not just a whimsical thing—WBV makes muscle fiber much bigger and more efficient," insists Barile, whose washboard abs are perhaps the duo's best advertisement.
The key to WBV is gravitational force, explains Brian Lyons, who manages training and education for Power Plate, one of the most established WBV brands. According to Lyons, each time the WBV platform shifts, the user's muscles reflexively contract because the body thinks it's falling. But don't throw out your sneakers just yet. "It's not a cardiovascular machine," says Lyons. "It's another tool in your toolbox."
The big improvement over traditional workouts, says Lyons, is efficiency: "Doing this for 20 minutes is the equivalent of an hour of strength training."
Although some studies have shown that exercises using a Power Plate are effective in reducing cellulite, Tracy Maltz, assistant chief of outpatient physical therapy at New York—Presbyterian Hospital, greets claims about WBV with a groan. She says many of the studies cited are too small and warns that the machines shouldn't be used by pregnant women or people with blood clots, which could get dislodged. "But if someone believes it works, then why not?" she says. "I don't think there are any negative side effects."
Surely Martha Mitchell, a TV director who has been doing WBV twice a week for six months, doesn't see any. "Within about three weeks I noticed that my arms were stronger and my stamina was better," she says of her 18-minute WBV routine, which includes squats, abdominal holds and push-ups.
For some, even that much exertion is too much. Barile recalls one client who was in town from Tokyo: "I started leading her through the session, and she said, 'Why are we doing this? In Japan we just stand there.'"