Vic Mensa and Kerby Jean-Raymond Are Heading to Standing Rock With Supplies and You Should Too
The rapper is returning to Standing Rock with a bus full of activists after a powerful visit over Thanksgiving weekend and he's bringing along the fashion designer. "Show solidarity," they urge.
---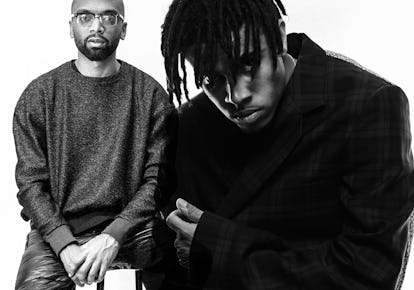 From left: Photo courtesy of Kerby Jean-Raymond; right: Photo by Bon Duke, styled by Sam Walker. Produced by Biel Parklee. Photography Assistant: Roxanne Doucet.
The Chicago rapper Vic Mensa called his friend Kerby Jean-Raymond, the designer of New York-based brand Pyer Moss, at 4:00 a.m. on Monday to tell him about his experience at the Standing Rock Indian Reservation.
The 23-year-old had visited the front lines of the Dakota Access Pipeline protest over Thanksgiving weekend in order to raise awareness and bring supplies. And what he saw prompted him to not only recruit Jean-Raymond — who canceled all his plans to go to Art Basel Miami, booking a flight to North Dakota instead — but to also charter a bus full of activists from Chicago to North Dakota on Friday morning.
"Being there, I was very inspired by the resolve and the determination of these people to protect their right to basic human necessities," Mensa said on Thursday. "I felt that it was important to bring people from a different world, who are deeply rooted in the black American struggle, to come and support them."
Native American tribes whose land will be directly effected by the building of the pipeline have been protesting for several months, enduring arrests and U.S. military resistance, including pepper spray, rubber bullets, and water cannons. There's also rapidly-dropping winter temperatures to endure. President Barack Obama responded by delaying the pipeline's construction for some time, but these tribes are facing a forced government evacuation on December 5, which has refocused attention on the site.
"I met a 60-year-old woman who owns a plot of land that the people are protesting on, who has been fighting for this for decades," said Mensa. "When I asked what she's going to do on December 5th for the planned evacuation, she said she has no plans to leave. And then I saw 15-year-old kids who are fighting felony charges for occupying land that belongs to them by treaty and by birthright. There are so many generations of people out there who are really willing to put their lives on the line for their families and for their community."
Mensa and Jean-Raymond, who are both active and vocal about the Black Lives Matter movement, saw common ground between the struggles of African Americans and the plight of the Native American people. "I think there are so many parallels with Standing Rock and the issues black America has been really vocal about these past view years," said Mensa. "There's a disregard for the lives and sovereignty of native people and their right to have clean water. The way that the government is approaching the people down there protecting the water screams Selma. You know, being on that bridge and seeing militarized police on the other side with tanks and AR-15s shooting protestors in sub-zero temperatures with water cannons. It really feels like things we've seen time and time again in civil rights struggles."
Being prominent figures in fashion and music, Mensa and Jean-Raymond have chosen to put their influence and platform in two ways: One, by trying to get as many people involved and speaking about Standing Rock by posting on social media and calling everyone they know. And two, by physically going to North Dakota with as many supplies as they can carry. When I spoke with Jean-Raymond on Thursday, he was on his way to Walmart to spend approximately $2,000 of his own money on warm weather clothing and non-perishable goods. After Mensa called him, he also cashed-in all the credit he had at Nike to purchase thermal clothes and outerwear.
"In terms of what other people can do, show solidarity by donating or sending supplies," said Jean-Raymond. In addition to donating his own time and money, he called up other designer friends and asked them to take action by sending whatever extra garments they had lying around their stock rooms. So far, he's gotten the menswear brand Mission on board. "I've also been hitting up all my rich friends to get some portable heaters," he added.
Mensa echoed Jean-Raymond: "You can donate directly to the tribe at StandingRock.org. And like Kerby said, winter supplies and winter clothes are a huge necessity there. These people are literally standing against the U.S. army in 6-12 inches of snow. They need all the bundling up they can get."