Affluence Under the Influence
Ice meets vice in Victoire de Castellane's crazy new collection of narcotics-inspired baubles.
---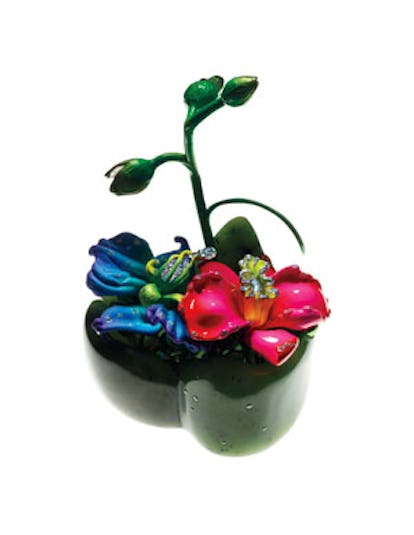 Victoire de Castellane has never touched drugs. Nor alcohol. Not even sneaked a puff of a cigarette. Even back in the giddy late Seventies, as a foxy 14-year-old gallivanting around Paris's famed dens of iniquity—Le Palace, Les Bains Douches, Le Privilege, Le Paradis Latin—she was perfectly content to observe the fashion jetset as they blitzed their minds. And boy, did they get blitzed. Fabulously chic Parisians were so preoccupied with consuming mescaline, amphetamines, Valium, quaaludes, cocaine, and heroin, it's hard to fathom how anyone was coherent enough to dress as beautifully as they did—let alone create the extraordinary collections that continue to hold such allure for contemporary fashionistas. For young Victoire, though, with her penchant for right-angled bangs, micro-miniskirts, and Mickey Mouse ears, the whole orgiastic scene was simply fuel for her already overactive imagination.
Fast-forward 30 years, two husbands, and four children later, and de Castellane's signature bangs—and eccentric creativity—are as sharp as ever. She has been Dior Fine Jewelry's designer for more than a decade, and the stuffy world of haute joaillerie has her wild mind to thank for giving it a massive shot of Technicolor adrenaline. But now, as if to say that the world of luxury fashion can no longer contain her zeal, de Castellane has created a new personal body of work inspired by recreational drugs. By some distance her most outlandish, the collection of wearable jeweled sculptures is being exhibited this month in Gagosian's recently inaugurated Paris space. The astonishing baubles blur the distinctions between the real and the artificial, the beautiful and the grotesque, the subtle and the baroque. Hers is a creative world of limitless fantasy, where Alice in Wonderland, manga characters, and Walt Disney converge with Venus flytraps, Bassett's Liquorice Allsorts, and the darkest depths of the subconscious.
De Castellane has all these elements—the decadence and excess, the whimsical and the doomed—in her genes. Born into an haute bourgeoisie family that goes back to the 10th century, she boasts an illustrious ancestry that includes reigning princes, bishops, generals, noblemen, and, most notoriously, a Parisian legend of the Belle Epoque. Born on Valentine's Day, 1867, Victoire's great-granduncle Boni de Castellane was the sort of dandy case study that makes academics' hearts skip a beat. Dashing, elegant, and full of sparkling bons mots, he married American railroad heiress Anna Gould in 1895 and immediately set about hemorrhaging $10 million of her father's riches on a lifestyle that one biography politely describes as Louisquatorzien. With natty facial hair, a flamboyant wardrobe, and a portfolio of opulent estates, Boni soon became one of Europe's most voguish gentlemen. His own mini Versailles—le Palais Rose, a pink marble hôtel particulier on Paris's elegant avenue Foch—was the scene of his era's most lavish parties, with guests including Marcel Proust and a veritable who's who of European noblesse. Predictably, Boni's big party ended in tears: A fantastically messy divorce (Gould ran off with his cousin) left our dashing hero destitute. He was forced to take gainful employment as an antiques dealer (what else?) before dying in 1932, a shadow of his former self.
Boni's roller-coaster fable is a perfect example of the bittersweet fairy tales that are key to de Castellane's creative spirit. She delights in the darker undercurrents to seemingly picture-perfect scenarios. Indeed, her own childhood is a textbook example of aristocratic solitude. When she was three, her parents went their separate ways, and she was brought up by her maternal grandmother and an uncle, Gilles Dufour, one of Karl Lagerfeld's key aides, first at Fendi and then at Chanel. To escape the pain of parental betrayal, she created a new, imaginary family made up of valiant kings and beautiful princesses, resplendent in huge, hypnotizing jewels. In reality, these extravagant, oversize treasures were the type favored by her paternal grandmother, cognac heiress Sylvia Hennessy, and her close friend Barbara Hutton. As for little Victoire's own jewelrymaking career, her first feat was accomplished at the tender age of five: She dismantled a priceless charm bracelet, given to her as a peace offering by her absent mother, and made a pair of earrings. Mother was incensed; Victoire's creativity was ignited. At 12, she created her first ring using gold melted down from the religious medals she'd received at her Communion ceremony. Indifference to convention and a sense of technical challenge: The road was paved.
"An excess of wealth provided my ancestors with freedom," says de Castellane today. "I just want an excess of freedom in which to create." It's testament to de Castellane's conceptual and narrative ambitions that her jewelry—or any jewelry, for that matter—has found its place in the art world's most influential gallery. The Fleurs d'excès collection consists of 10 pieces, each with a faux-classificatory name such as L. Es Déliriuma Flash, Quo Caïnus Magic Disco, and Héroïna Romanticam Dolorosa. While the titles barely disguise their allusion to illegal narcotics, the works themselves are more expansive, portraying wild narrative scenes in which flowers play the roles of heroes and heroines in extreme mental and physical states. Each of the intricate hybrids contains a functional element—say, a ring or a necklace—that can be detached from its base, making the pieces "jewelry at rest, waiting to be worn." The pair of delicate petal rings nestled in a jade base? For de Castellane they're "a couple, stripped of their inhibitions by Ecstasy's potent effects, having wild sex in a public place while voyeurs, creeping in the shadows, look on."
Ultimately, what makes de Castellane's work so unique is the manner in which she's able to explore contemporary human conditions through a field that has traditionally limited itself to the most basic of sentiments. With her extravagant personal history, acute insight, and penchant for the surreal, it is clear that de Castellane is, like her jewelry, quite simply on another planet.
Victoire de Castellane's new collection
"A couple, stripped of their inhibitions by Ecstasy's potent effects, having wild sex in a public place while voyeurs, creeping in the shadows, look on." — Victoire de Castellane

Photographer: Guido Mocafico
"The fantastically colorful flower has lost all sense of control and is spinning in a psychedelic haze around the agate stone base. It has willfully given in to the sensation of abandonment."

Photographer: Guido Mocafico
"Small rocks burn in a butane gas flame, evaporating into smoke that wisps around the flower-stem necklace. It lounges on an iron eye, a stone whose natural properties appear to be going up in smoke."

Photographer: Guido Mocafico
Photos: Courtesy Of Anndra Neen