Victoria Beckham Just Made Carpool Karaoke with James Corden a Little Posher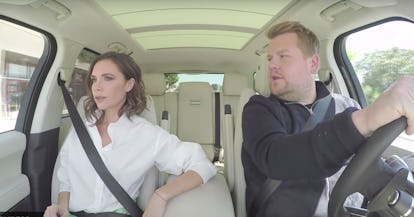 The Late Late Show with James Corden/Youtube
Victoria Beckham never manages to disappoint, even if she doesn't take the expected route. Who would have thought that a former Spice Girl would become a respected style doyenne with an established fashion empire, after all?
When the star recently teased that she would be appearing in one of James Corden's incredibly popular "Carpool Karaoke" segments in an Instagram Story, we expected nothing short of viral gold. On Friday, the video dropped, and as expected like anything from Beckham (including her new line for Target), it's pretty spectacular even if it's not quite what we expected.
Rather than engage in a typical game of "Carpool Karaoke," in which The Late Late Show host Corden and his guest drive around Los Angeles streets jamming out, he and Beckham did something a little more posh. The duo, instead, filmed a fake trailer for a remake of the 1987 movie Mannequin. In the clip, which you can watch in full below, Beckham takes on the role of the mannequin while Corden tries to find her mannequin friends—naturally. The late night host, however, is the only one who can see Beckham, whereas everyone else can see, well, only a mannequin.
Don't fret about the changes in script—CBS still gave thirsty viewers a taste of a Spice Girls moment, despite Beckham's distancing herself from the girl group. For just a few glorious moments, Corden and the former singer break out into "Spice Up Your Life." Whether she was lip-synching or not—she was probably lip-syncing—every single second of it was enjoyable enough, including the on-point crisp white blouse. Would you expect anything less from Posh, though?
Related: Victoria Beckham Explains Why She Wore That 'Fashion Stole My Smile' T-Shirt
Jourdan Dunn Thinks Victoria Beckham Is Fashion Royalty:
A Celebration of Victoria Beckham's Signature Beauty Through the Years
Beckham wears her brunette pixie with tousled bags and a light contour on the cheekbones with a nude glossy lip at the Spice Girls launch book "Forever Spice" event in London. (1999)

Photo by Getty.
Wearing her hair swept over in voluminous, tousled waves with a nude glossy lip, Beckham attends the Elle Style Awards in London. (2000)

Photo by Getty.
Beckham wears her tousled, highlighted locks in a loose, half up with with luminous skin at the Rock & Republic Spring 2005 fashion show.

Photo by Getty.
Beckham goes blonde with an ultra sleek pixie cut paired with a taupe smoky eye at the Graduate Fashion Week photo call. (2007)

Photo by Getty.
Beckham returns to her brunette locks wearing an asymmetrical bob with a brown smoky eye and a nude glossy lip. (2007)

Mike Marsland
Wearing her sleek pixie cut with an exaggerated dark smoky eye, Beckham arrives at the 17th Annual Elton John Aids Foundation Party. (2009)

Photo by Getty.
At the British Fashion Awards in 2010, Beckham wears a naturally tousled up do with a taupe smoky eye and a luminous skin.

Photo by Getty.
Victoria Beckham looked sleek with lots of black eyeliner and a teased up do at the British Fashion Awards 2011.

Photo by Getty.
Beckham let pieces loose out of a slightly voluminous pony tail at the Vanity Fair and Chrysler celebration of The Eva Longoria Foundation. (2013)

Photo by Getty.
Attending the 5th Global Gift Gala, Beckham wears her shiny, polished curls side-parted with a dark taupe eyeshadow and a matte nude lip.

Photo by Getty.
Attending the British Fashion Awards in 2015, Beckham wears an elegant up do with loose pieces framing her face, full brows and a grey smoky eye.

Photo by Getty.
Wearing her asymmetrical, long bob in tousled curls with a dark grey smokey eye, the fashion designer attends the launch of "Vogue: Voice Of A Century"book event. (2017)

Photo by Getty.