Victoria Beckham Dances to Spice Girls Song at London Fashion Week Party
Posh Spice can still shake it to the right…
---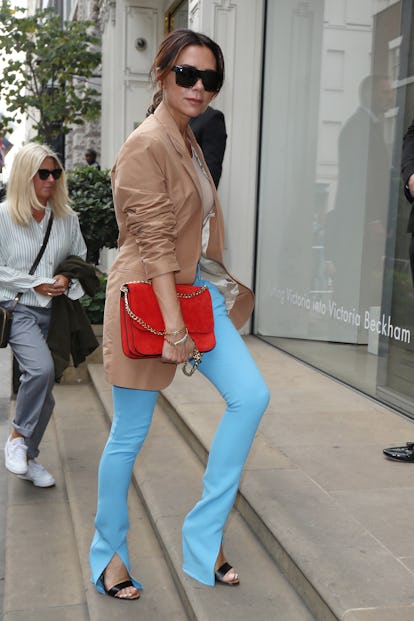 Getty
What's the next best thing after a Spice Girls reunion?
If you answered video footage of Victoria Beckham, a.k.a. Posh, fist-pumping to "Spice Up Your Life" at a London Fashion Week party, then congrats, you win a prize. The video in question was taken by Siobhan Bell, who posted it to Instagram. "Can't actually believe @victoriabeckham a living legend 'SPICE UP YOUR LIFE!'" she wrote in the caption.
According to The Cut, Bell filmed the video at the after-party Vogue threw for the 10th anniversary of Beckham's eponymous fashion label. In it, Beckham (rocking a white pantsuit) can be seen leading the room in a dance-off while lip-syncing along as her bandmates' former selves belt out the lyrics to the 1997 hit.
According to Vogue's recap of the festivities, the fashion week flash mob to "Spice Up Your Life" was actually the last song of the night. That's a pretty good send-off, and we can thank DJ Fat Tony for gifting it to us, according to Vogue.
This is the second time this month that Beckham has done some fun throwbacks to her days as a Spice Girl. In early September, she relived some of her iconic outfits for a British Vogue photo shoot, even throwing in some subtle lyrics while delivering a monologue to EIC Edward Enninful.
Unfortunately, despite Beckham's apparent enthusiasm for the Spice Girls' past of hits, it looks like she's not planning to actually get up on stage and perform them anytime soon. Back in February, she completely shut down all rumors of a Spice Girls reunion by telling British Vogue, "I'm not going on tour. The girls aren't going on tour."
But fingers crossed that she's since changed her mind. In July, Mel B (a.k.a. Scary Spice) went on the Today show and said a reunion is definitely happening. "She's always saying that," Mel B said about Beckham's comments. "Stop it." She continued, "I'm the only one that keeps on saying we're going to be performing, which, we are gonna be performing.
"We are touring. Should I have really said that out loud?" added Mel B. "Yes, we are going to be doing performances together for sure."
London Fashion Week Street Style Is a Master Class in Bright and Bold Layering
Street style during London Fashion Week on Friday, September 14, in London. Photo by Adam Katz Sinding for W magazine.

2018 Adam Katz Sinding
Street style during London Fashion Week on Friday, September 14, in London. Photo by Adam Katz Sinding for W magazine.

2018 Adam Katz Sinding
Street style during London Fashion Week on Friday, September 14, in London. Photo by Adam Katz Sinding for W magazine.

2018 Adam Katz Sinding
Street style during London Fashion Week on Friday, September 14, in London. Photo by Adam Katz Sinding for W magazine.

2018 Adam Katz Sinding
Street style during London Fashion Week on Friday, September 14, in London. Photo by Adam Katz Sinding for W magazine.

2018 Adam Katz Sinding
Street style during London Fashion Week on Friday, September 14, in London. Photo by Adam Katz Sinding for W magazine.

2018 Adam Katz Sinding
Street style during London Fashion Week on Friday, September 14, in London. Photo by Adam Katz Sinding for W magazine.

2018 Adam Katz Sinding
Street style during London Fashion Week on Friday, September 14, in London. Photo by Adam Katz Sinding for W magazine.

2018 Adam Katz Sinding
Street style during London Fashion Week on Friday, September 14, in London. Photo by Adam Katz Sinding for W magazine.

2018 Adam Katz Sinding
Street style during London Fashion Week on Friday, September 14, in London. Photo by Adam Katz Sinding for W magazine.

2018 Adam Katz Sinding
Street style during London Fashion Week on Friday, September 14, in London. Photo by Adam Katz Sinding for W magazine.

2018 Adam Katz Sinding
Street style during London Fashion Week on Friday, September 14, in London. Photo by Adam Katz Sinding for W magazine.

2018 Adam Katz Sinding
Street style during London Fashion Week on Friday, September 14, in London. Photo by Adam Katz Sinding for W magazine.

2018 Adam Katz Sinding
Street style during London Fashion Week on Friday, September 14, in London. Photo by Adam Katz Sinding for W magazine.

2018 Adam Katz Sinding
Street style during London Fashion Week on Friday, September 14, in London. Photo by Adam Katz Sinding for W magazine.

2018 Adam Katz Sinding
Street style during London Fashion Week on Saturday, September 15th, in London. Photo by Adam Katz Sinding for W magazine.

2018 Adam Katz Sinding
Street style during London Fashion Week on Saturday, September 15th, in London. Photo by Adam Katz Sinding for W magazine.

2018 Adam Katz Sinding
Street style during London Fashion Week on Saturday, September 15th, in London. Photo by Adam Katz Sinding for W magazine.

2018 Adam Katz Sinding
Street style during London Fashion Week on Saturday, September 15th, in London. Photo by Adam Katz Sinding for W magazine.

2018 Adam Katz Sinding
Street style during London Fashion Week on Saturday, September 15th, in London. Photo by Adam Katz Sinding for W magazine.

2018 Adam Katz Sinding
Street style during London Fashion Week on Saturday, September 15th, in London. Photo by Adam Katz Sinding for W magazine.

2018 Adam Katz Sinding
Street style during London Fashion Week on Saturday, September 15th, in London. Photo by Adam Katz Sinding for W magazine.

2018 Adam Katz Sinding
Street style during London Fashion Week on Saturday, September 15th, in London. Photo by Adam Katz Sinding for W magazine.

2018 Adam Katz Sinding
Street style during London Fashion Week on Saturday, September 15th, in London. Photo by Adam Katz Sinding for W magazine.

2018 Adam Katz Sinding
Street style during London Fashion Week on Saturday, September 15th, in London. Photo by Adam Katz Sinding for W magazine.

2018 Adam Katz Sinding
Street style during London Fashion Week on Saturday, September 15th, in London. Photo by Adam Katz Sinding for W magazine.

2018 Adam Katz Sinding
Street style during London Fashion Week on Saturday, September 15th, in London. Photo by Adam Katz Sinding for W magazine.

2018 Adam Katz Sinding
Street style during London Fashion Week on Saturday, September 15th, in London. Photo by Adam Katz Sinding for W magazine.

2018 Adam Katz Sinding
Street style during London Fashion Week on Saturday, September 15th, in London. Photo by Adam Katz Sinding for W magazine.

2018 Adam Katz Sinding
Street style during London Fashion Week on Sunday, September 16th, in London. Photo by Adam Katz Sinding for W magazine.

2018 Adam Katz Sinding