Victoria Beckham Documented Her Daughter's Reactions to Watching Spice World
Harper is just as obsessed with the Spice Bus as we were.
---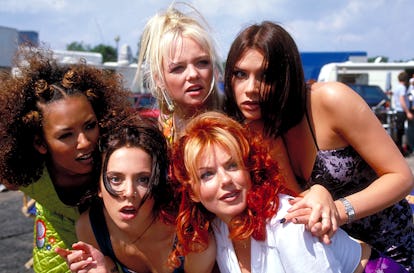 ©Columbia Pictures/Courtesy Everett Collection
Despite harsh initial reviews, the world has grown kinder to Spice World as the Spice Girls' foray into film as it celebrated its 20th anniversary. Props from the film take center stage in a current exhibit in London after all. Though, maybe we were all too harsh on the film back in 1997. People seem to enjoy it for what it is, and even kids who didn't live through Spice-mania get a kick out of it. Take the example of one seven-year-old who recently watched it for the first time (though this particular seven-year-old might be a bit biased).
As it turns out Victoria Beckham recently screened the film for the first time for her daughter Harper Beckham.The former pop star–turned–fashion designer documented Harper's "nap time" recently on her Instagram Stories, where it seems the mother and daughter indulged in some movie time.
"Nap time with Harper! Spice World has been on heavy rotation this holiday!!" Beckham captioned part of her story that showed a still of her singing face as well as a glittery red gif that read "Girl Power."
Harper is apparently "obsessed" with the group's tour bus. And rightfully so—the iconic Spice Bus had everything. A room full of toys and a swing for Baby Spice, a gym for Sporty Spice, and a runway for Posh where she could model her "little Gucci dress." Speaking of the "little Gucci dress," Harper told her mom she wants one of her own.
"Not only is Harper obsessed with the Spice Bus….," Beckham captioned along with the crying laughing emoji. "She now wants 'a little Gucci dress.'" Harper is truly a girl after our own hearts!
The youngest Beckham child also wondered why her mother was the only Spice Girl in the boot camp sequence wearing a dress instead of Army fatigues. In Posh's defense, the dress was camo.
Related: David and Victoria Beckham's Photos From Family Vacation in Croatia Are Envy-Inducing