Victoria Beckham Is a Fashion Icon. Really? Yes, Really.
According to Fern Mallis.
---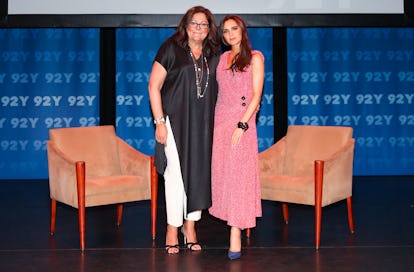 When Fern Mallis introduced Victoria Beckham at her 92nd Street Y "Fashion Icons" talk Wednesday night, she confessed that earlier she had received a skeptical Facebook message from a designer friend: "Victoria Beckham? Icon? Really?" Absolutely, according to Mallis who cited the celebrity-turned-designer's critical acclaim and many accolades before Beckham joined her onstage after a long day of Resort 2016 previews.
Yes, Beckham was a member of the most popular girl band of all time. Yes, she is one of the richest women in Britain. Yes, she's married to one of the most recognizable athletes in the world. (Mallis made sure not to miss a single detail of her family and love life.) But none of this has anything to do with her success as a designer, Mallis argued. The woman's got talent.
Fashion is something Beckham has "always wanted to do," the designer said. While she defends her time as a member of the Spice Girls—even stating that she nicknamed herself Posh ("It was real.") Beckham was unable to defend her fashion decisions of the past, like those "bloody awful platform shoes" and a PVC pantsuit she had to squeeze on while on tour and pregnant with her first child Brooklyn. Despite Beckham's hectic schedule, (either she or Beckham always pick their four children up from school), she's committed to her career. She is present at her brand's design headquarters every day of the workweek, has plans to open her next store in Hong Kong, and would love to expand to children's wear in the future. (Although she made it clear that there will be no more children in her future.)
Despite all of these powerful revelations, the true highlight of the evening was when she made a peace sign pose, a Spice Girls signature. "I had to," she said.
According to Fern Mallis.