Victoria Beckham Explains Why She Wore That "Fashion Stole My Smile" T-Shirt
Victoria Beckham explains that t-shirt, oh, and gears up to take a spin on James Corden's Carpool Karaoke.
---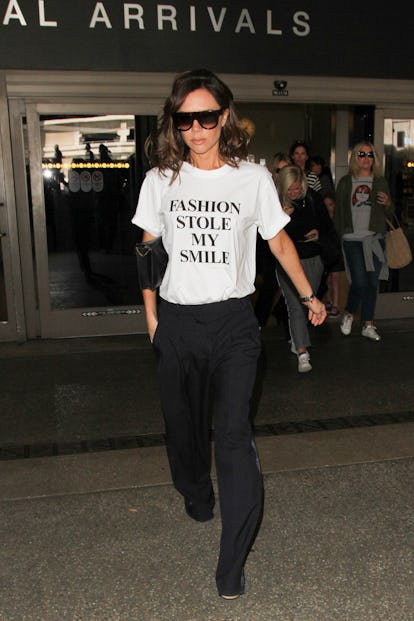 starzfly/Bauer-Griffin
Victoria Beckham's underserved reputation of being a bit too serious dates back to her time with the Spice Girls, but don't be mistaken, she has a bit of a mischievous comic side as well. This is the woman, after all, who delivered the classic punchline "What do you think about manta rays?"
The impeccably dressed designer isn't above adding a bit of comic whimsy into her wardrobe once in a while either. She recently proved as much by showing up at the Los Angeles airport earlier this week wearing a t-shirt baring the statement, "Fashion stole my smile."
On Wednesday, she popped up on The Late Late Show with James Corden (explaining why she was in Los Angeles in the first place) to admit the shirt was an intentional self-drag.
"This is me just sort of poking fun at myself," said Beckham. "The question I get asked almost all the time is 'Why don't you smile?' People think I'm so, you know, damn miserable. So this is me just having a bit of fun, laughing at myself."
Posh, who was on the show alongside Jessica Chastain and Lisa Kudrow (truly a dream dinner party scenario), was of course full of smiles on the late night chat show and wanted people to know that she's not such an "ice queen," as Corden put it. She even promised to gift Corden his own "fashion stole my smile" shirt. In case you're wondering, yes, you can buy your own in both black and white for just 95 British pounds.
Beckham also shared a story of a run-in with a pre-fame superstar. While sitting in a German airport with the Spice Girls she recalled she was approached by a boy who asked if he and his friends could sing for the group, and the girl obliged. As it turns out the five friends did indeed have the vocal goods. Indeed, it was Justin Timberlake and 'NSync.
Though, smiling wasn't the only surprising facial expression Posh employed. We also got to see her flinching face after Cordon hurled a tomato at her.
"Flinch" is apparently a recurring segment on Cordon's show, but it won't be the only recurring Late Late Show feature Beckham appears on.
Yes, she will be going for a round of Carpool Karaoke. She revealed as much on her Instagram stories.
No word on when the segment will air. It's a been a long time since we last heard Beckham sing, so we'll wait patiently for her sing-a-long trip down the street of Los Angeles. Hopefully she doesn't break any laws like Madonna did.
Related: Victoria Beckham Is a Fashion Icon. Really? Yes, Really.
Jourdan Dunn Thinks Victoria Beckham Is Fashion Royalty:
A Celebration of Victoria Beckham's Signature Beauty Through the Years
Beckham wears her brunette pixie with tousled bags and a light contour on the cheekbones with a nude glossy lip at the Spice Girls launch book "Forever Spice" event in London. (1999)

Photo by Getty.
Wearing her hair swept over in voluminous, tousled waves with a nude glossy lip, Beckham attends the Elle Style Awards in London. (2000)

Photo by Getty.
Beckham wears her tousled, highlighted locks in a loose, half up with with luminous skin at the Rock & Republic Spring 2005 fashion show.

Photo by Getty.
Beckham goes blonde with an ultra sleek pixie cut paired with a taupe smoky eye at the Graduate Fashion Week photo call. (2007)

Photo by Getty.
Beckham returns to her brunette locks wearing an asymmetrical bob with a brown smoky eye and a nude glossy lip. (2007)

Mike Marsland
Wearing her sleek pixie cut with an exaggerated dark smoky eye, Beckham arrives at the 17th Annual Elton John Aids Foundation Party. (2009)

Photo by Getty.
At the British Fashion Awards in 2010, Beckham wears a naturally tousled up do with a taupe smoky eye and a luminous skin.

Photo by Getty.
Victoria Beckham looked sleek with lots of black eyeliner and a teased up do at the British Fashion Awards 2011.

Photo by Getty.
Beckham let pieces loose out of a slightly voluminous pony tail at the Vanity Fair and Chrysler celebration of The Eva Longoria Foundation. (2013)

Photo by Getty.
Attending the 5th Global Gift Gala, Beckham wears her shiny, polished curls side-parted with a dark taupe eyeshadow and a matte nude lip.

Photo by Getty.
Attending the British Fashion Awards in 2015, Beckham wears an elegant up do with loose pieces framing her face, full brows and a grey smoky eye.

Photo by Getty.
Wearing her asymmetrical, long bob in tousled curls with a dark grey smokey eye, the fashion designer attends the launch of "Vogue: Voice Of A Century"book event. (2017)

Photo by Getty.