Victoria and David Beckham Hung Out With Elton John on Their Fourth Vacation of the Summer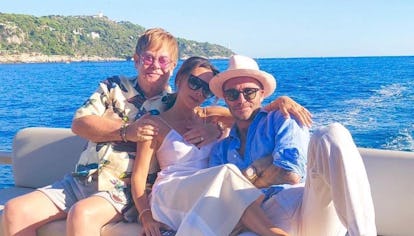 instagram.com/victoriabeckham
No one is having a better summer than the Beckhams. Over the past few months, Victoria and David Beckham, along with their children, 19-year-old Brooklyn, 15-year-old Romeo, 13-year-old Cruz and seven-year-old Harper, have trotted across the world, taking in the sunsets in Croatia, catching waves in Bali, and soaking up some rays in Montenegro. While those once-in-a-lifetime vacations would be indulgences for anyone else, for the Beckhams they were just a warm-up.
After jet-setting to Bali, the Beckhams have landed in the French Riviera, where they are enjoying their fourth vacation of the season alongside Elton John. The trio went boating off the coast of France and looked as relaxed as can be while doing so. (Who wouldn't be when your life is basically a permanent vacation?) Both Victoria and David shared photos from their outing, along with notes about their long-running friendship with the iconic artist. "Uncle Elton…. We have known each other now for 25 years .. Fun times with each other ?," the athlete wrote, providing an up-close look at John's characteristically quirky vacation attire, which consisted of a pair of floral sneakers by Gucci, purple round sunglasses, and a short-sleeve shirt printed with fish.
Meanwhile Victoria shared a photo of herself, John, and Beckham lounging on the back of their boat, which was presumably taken by John's husband David Furnish, whom she shouted out in her caption. "We love you @eltonjohn @davidfurnish X kisses," she wrote.
Furnish and Beckham almost looked like twins in their matching straw hats and sunglasses, which the filmmaker shared on his own account.
One of the reasons Beckham referred to John as "uncle" is that he is the godfather of Brooklyn. John has been a close friend of the Beckhams for the past couple of decades and, in the process, both he and Victoria have publicly supported each other. Most notably, they did so three years ago in the wake of Dolce & Gabbana designers Stefano Gabbana and Domenico Dolce making disparaging remarks about children born after IVF, as John and Furnish's children were. After John clapped back at them, Beckham tweeted, "Sending love to Elton David Zachary Elijah & all the beautiful IVF babies x vb."
If the best revenge truly is living well, then the Beckhams and John and Furnish have already won.