Victoria Beckham Was Snubbed by Stefano Gabbana on Instagram
He apparently isn't a fan of the Spice Girl.
---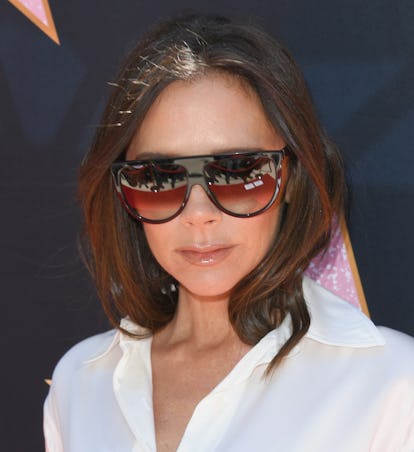 Jon Kopaloff/FilmMagic
Victoria Beckham's birthday was yesterday but one person who didn't wish her a happy one is Stefano Gabbana. Instead, Gabbana snubbed the Spice Girl turned designer on Instagram.
When Vogue Brazil shared a photo of Beckham to celebrate her 44th birthday, Gabbana commented on it with three thumbs-down emojis. As random as that comment may seem, it's another notch in Gabbana's long-running issue with Beckham as a designer. Back in 2014, when he was asked what he thinks of the singer's pivot to fashion, he told The Telegraph, "For us, she don't make [clothes] the same way like a fashion designer. She's a designer but…it's different. John Galliano is a designer…. Alexander McQueen."
Beckham, whose poker face is clearly expert level, never publicly acknowledged that dig, but she did voice her dissent from the brand Dolce & Gabbana after Gabbana and his codesigner Domenico Dolce made disparaging remarks about children born after IVF from 2015. "I call children of chemistry, synthetic children. Rented wombs, semen chosen from a catalog," he told Panorama magazine, later clarifying his stance to CNN, as Page Six pointed out: "I believe in the traditional family. It is impossible to change my culture for something different. It's me … I respect all the world, all the culture." The designers' comments prompted Elton John to speak out; Beckham later voiced her support for him.
"How dare you refer to my beautiful children as 'synthetic'," John wrote on Instagram, calling for a boycott of the brand. "And shame on you for wagging your judgmental little fingers at IVF—a miracle that has allowed legions of loving people, both straight and gay, to fulfill their dream of having children. Your archaic thinking is out of step with the times, just like your fashions. I shall never wear Dolce and Gabbana ever again. #BoycottDolceGabbana"
Beckham later tweeted, "Sending love to Elton David Zachary Elijah & all the beautiful IVF babies x vb."
Last year Beckham addressed critics like Gabbana who discredit her career as a fashion designer. "I knew people had preconceptions," she told Elle. "I was in a pop group and was married to a footballer—and no one was more aware of that than me. But nobody was mean. I was probably quite naive at first. Now I think, God, that took some balls!, but at the time I really didn't see it that way."