How These Swedish Twins Made It Into Drake's "Views"
And, eventually, made Champagne Papi get a tattoo of their name. Talk about #Twinning.
---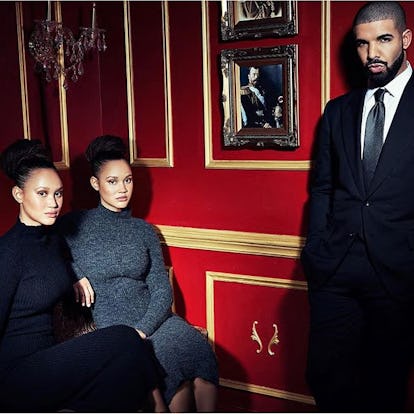 Twins Victoria and Elizabeth Lejonhjärta, 25, somehow found their way from the snowy mountains of Sápmi, Sweden to Drake in Toronto, Canada. How? With the help of their social media fame, they were chosen to star alongside the rapper in his extensive album art for Views, which dropped April 29. Clearly, they hit it off, because the twins posted a photo with him captioned: "That time we got some Canadian dude drunk and had him get a tattoo of our name." Hint, hint. With #twinning selfies and a unique natural beauty regime, the self-described "Afro-Sami" beauties, who were also recently featured in campaigns for H&M and Eytys, have gained a following of over 53,000 on Instagram. They also take full advantage of their stunning Swedish surroundings — they swear by saunas and long walks through the forest to collect fresh mountain water. Really, it doesn't get any more natural than that.
__According to your Instagram, Drake got a tattoo of your name. Did that actually happen?__ The fact that Swedish media went bezerk on the story about us getting him drunk taught us that not everyone understands even the most flagrant sarcasm. We stayed rather reclusive after that. But it's something that will always be a very fond memory and mainly an honor!
What do you like about Drake's style? How is he a man who can "do both," like the now-famous meme says? It's self-explanatory in his music; it has a wide range of emotions and this way of blending feels and hype that everyone loves. And that's very much perceptible in his style too; he can do both.
Favorite song on the album: We both have a new favorite on repeat every day, but today we're vibing massively to Too Good and Feel No Ways.
Three words that describe your style: Cyberpunk, vibes and whatever-we-feel-like-wearing.
Do you own anything that the other would never wear? What are some pieces that you borrow from each other? Well, Elizabeth does tend to collect weird things, such as '90s convertible sunglasses and this Assassin's Creed-inspired mesh silver cloak, which I'll laugh at. She'll tell me "Just wait and see," and after a while me and the rest of the world come to the realization that they're super cool.
Style and beauty inspirations: Matoko Kusanagi, a character form one of our favorite anime series, Ghost in the Shell. Not necessarily her clothes but her attitude inspires the way we dress. Every Star Wars movie ever made has admirable wardrobes and pretty much every ad Tyra Banks did in the '90s.
Beauty from the inside out: Avocado and hempseeds does wonders for our skin and hair. Also, guacamole could be the best invention known to mankind.
Secret beauty tip: Water is obviously crucial to your body, but we get ours from a cold mountain spring that you have to walk through a deep forest to get to. Not only does it feel like going on a secret magical quest à la Lord of the Rings, it's also as vitalizing as can be.
Hair routine: Since we live in a very dry climate for most of the year, sheabutter and argan oil are some of our most trusted friends.
Preferred hair professional: The Swedish fashion world would lack diversity and knowledge without hairdresser Sainabou Chune. We are in awe of her work.
Skincare routine: Dry-brushing, sauna, and jojoba and avocado oils are our go-tos. We use lemon and honey to prevent those break-outs that have absolutely no sense of timing and always surprise you just in time for a fun photoshoot or a party.
Anything you can only buy in Sweden? There's this ecological skincare and beauty brand from northern Sweden called Care of Gerd. They have magical handsoaps of cloudberry and lingonberry.
Favorite stores in Sweden: Eytys Store in Stockholm, we love their shoes but you could also go there just to enjoy the art and architecture.
Cold weather must-have: Even though our winter dream is to look as cute as JLO in a short, pink coat and bare legs in the All I Have video, the weather is just too extreme here. The alternative is to fully embrace a survival attitude and go for the badass apocalypse army look during the cold days. We love techwear!
Nighttime look: We both sleep naked a lot, but we're still obsessed with pajamas. We'll arrange sleepovers with our friends just to wear them, change into them really early in the evening, or wear them for parties with jewelry and cool shoes.
Best recent discovery: Denim from Redone. They remake vintage Levi's to create the perfect fit!
Style pet peeve: Looking uncomfortable. If something's bothering you it will show. It's all about carrying whatever you're wearing with confidence.
Trends you want to try: We're both down for wearing more lipstick in crazy colors.
Social media muses: @Sarah.Feingold, @PamelaNorah, @Odegrate, @Amy_Sall, @Kesh, @Chachhere, and @Saysable to name a few.
Photos: How These Swedish Twins Made It Into Drake's "Views"
Elizabeth and Victoria Lejonhjärta featured with Drake in the Views album art.
Elizabeth and Victoria Lejonhjärta featured in the Views album art.
Watch W's most popular videos here: