Inside the Unofficial Gym of Victoria's Secret Angels
The Dogpound in Tribeca is not for the average or the faint of heart. Even before its official opening, it's become the go to gym for supermodels and their hot boyfriends.
---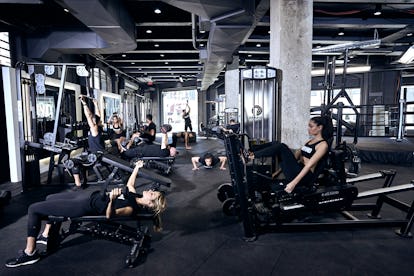 Walk into the new gym the Dogpound on a Sunday afternoon and it's like a Victoria's Secret Angel convention — every corner of the all-black, Fabien Baron-designed space is filled with models punching, lifting, and squatting. Rihanna's "Work" blares from the loud speakers and the Dogpound's co-founders, Kirk Myers and brothers Dawin Pena and Brey Pena, can be heard cheering on their clients to do just one more push-up. After the clients are done with their workouts, they like to hang out and chat. How did this gym, nestled on the quiet corner of Canal and Renwick Street in Tribeca, become a model and insider fitness haven before it even officially opened?
It all started a few years back with a small, 5:45 a.m. workout crew, led by Myers and the Pena brothers, that met every morning out of various gyms around Manhattan. The founding workout group included actor Hugh Jackman and his friends (including New York Stock Exchange president Tom Farley, Nigel Barker, and a few Olympic-medal athletes), and a slew of local influencers.
"I was a personal trainer," said Myers, 37. "I met Brey through a mutual client and we started sharing clients, who told their friends and before we knew it we had the first Dogpound clique." Shortly after, they brought in Dawin, 33, and the group grew from word of mouth. "We kept getting kicked out of different gyms for making too much noise and having too much fun," said Brey, 29.
Most recently, they were training clients out of David Barton on Christopher Street and then their Dogpound community got so big, they decided to move into their own space. The name Dogpound came about because people — including Jackman — kept bringing their dogs to the workout.
For the first-ever brick-and-mortar location, which officially opens its doors on Thursday, Baron created a very raw but sleek space, complete with smoked mirrors, raw concrete elements, exposed lights, and an industrial-style garage door that opens up to the street. It's quite masculine (perhaps a reflection of its testosterone-heavy roots), but that doesn't seem to be stopping any of the ladies from coming in.
The Victoria's Secret squad – and their super hot boyfriends – came to them by word of mouth and the domino effect was almost instant — the likes of Josephine Skriver, Jasmine Tookes, and Romee Strijd have all become regulars.
The Dogpound method — "Smash It" is their motto — is fairly straightforward, but it works and I can attest to its effectiveness from from personal experience.
"I'd say overall it's about going for it. We really try to push people — everyone who trains with us is at a different level but we try to push them a little bit outside of their comfort zone," said Myers of their program, which includes personal and semi-personal training (very small groups) -12 individual sessions will set you back $3,000 – as well as boxing and what they call their Machine Gun workout classes.
"The Machine Gun is a fusion of yoga, barre, a lot of core strength, and some strength training and cardio moves – we use the hammer, ropes, balls. It is a full body workout but very focused on the core – we believe that strength radiates from the core," he added.
And, though they've attracted a big model contingent, it's not a models-only program. "We want to help our clients achieve their individualized goals – whether it's summer-ready abs or slimming down for their wedding – by making it fun and keeping it varied," said Pena. "With the Machine Gun workout, for example, you'll never do the same thing two days in a row."
But, you know, having the Angels helps. Where they go, crowds soon follow.
Motto "Let's Smash It"
Tribes Victoria's Secret models and their hot boyfriends.
VIPs Hugh Jackman, Josephine Skriver, Jasmine Tookes, Nigel Barker, Sofia Sanchez de Betak.
Most Hardcore Trainer Dawin Pena.
Price of admission You will never leave there without doing at least 50 burpees, push-ups, and plenty of lunges.
The Basics (And Actual Price of Admission) Dogpound, 1 Renwick Street, New York, N.Y., 10013. Phone: 646-620-6533. Prices: $34 for a single boxing class; $3,000 for 12 training sessions with a Dogpound founder. Hours: Monday-Friday 5:30 a.m.-11 p.m. Saturday-Sunday, 7 a.m.- 7 p.m.
Watch W's most popular videos here:
Photos: Inside the Unofficial Gym of Victoria's Secret Angels
Models Romee Strijd, Laura Harrier, and Josephine Skriver at the Dogpound. Photo by @dogpound_nyc.
Interior of the Dogpound gym. Photo courtesy the Dogpound.
Interior of the Dogpound gym. Photo courtesy the Dogpound.
Interior of the Dogpound gym. Photo courtesy the Dogpound.
Models Hailey Baldwin and Camila Morrone at the Dogpound. Photo by @dogpound_nyc.
Dogpound founders Kirk Myers, Dawin Pena, and Brey Pena. Photo courtesy the Dogpound.